Brian Osborne
: 27, Harrisburg, PA. Studied Sport and Recreation Management at Temple University. Currently works as a teacher's aide at Camp Hill School District, boys soccer coach at Red Land High School and as an assistant basketball coach at Trinity High School.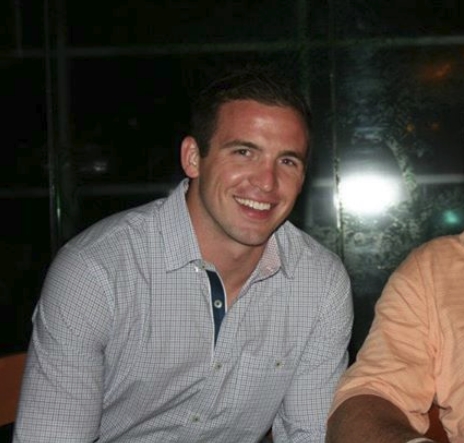 "Love is the Only Reality" -Ed Lambton

albean99

Moderator





Posts

: 13616


Join date

: 2011-06-01


Location

: Plano, Tx



*crosspost with Spoiler Thread*
(the link : https://www.youtube.com/watch?v=L7wYe9LhzBU)
for you, awesome ladies!..Coach Osborne in action!  
* i feel like exactly a year ago when i was stalking my man Chris pitching via his YT account!  
:Biggrin:
His YT account : https://www.youtube.com/user/osborneb1
Can we take a moment to appreciate the fact that he has subscribed to OneDirectionVEVO channel??..
   # StoryofHisLife  
Last edited by murasaki1393 on Thu Apr 10, 2014 12:20 pm; edited 1 time in total
https://www.youtube.com/watch?v=L7wYe9LhzBU
Another vid from HS days. I am LOL-ing at the vid description  
. Thats an awesome family right there!..
 :hug:
Thanks, Murasaki!  
Too funny, I loved his family!


"Love is the Only Reality" -Ed Lambton

albean99

Moderator





Posts

: 13616


Join date

: 2011-06-01


Location

: Plano, Tx



@albean99

wrote:Thanks, Murasaki!  

 

Too funny, I loved his family!
my pleasure albean!  
 ...me too!  
Awwww, love his parent's commentary!  Thank you Mura!

Gosh, I really hope he'll still there.  Would love to see him get a hometown date.

alwaystulips




Posts

: 2347


Join date

: 2012-04-25



@alwaystulips

wrote:Awwww, love his parent's commentary!  Thank you Mura!

Gosh, I really hope he'll still there.  Would love to see him get a hometown date.
you're welcome, always tulips!...i have the same hope. He is one of my 2 most favs this season
Full Name : Brian Reilly Osborne

DOB : December 20th, 1986
A revised Edition of Astro Compatibilty (Warning : just for fun purpose, pls dont take it too seriously  
 ) 
 and big thanks to you, our good friend!...
------------------------------------------------------------------------------------
Again, everybody can look up a lot of stuff at sites likes these. I am not making up stuff... well, not much. Ha ha!
This is a good site for looking up your signs: http://www.astrotheme.com/horoscope_chart_sign_ascendant.php
This is a good one for reading about them: http://www.cafeastrology.com/natalastrology.html
I must say that Andi seems VERY different in reality than the way she appears on TV. Although she may display some typical "Go Getter" Aries "fire", she has plenty of Pisces and Taurus making her more even-tempered. In fact, I am now wondering just how much of last season was faked for the cameras. It is doubtful that she had all that much interest in Juan to begin with. Her anger after the fantasy date was a silly overkill. Granted, I know nothing of Nikki or fellow dumpee Clare to compare her with, apart from the former being an early Scorpio and the latter a late Pisces. Yet it is obvious that Andi and Juan had nuttin' in common.
Anyhoo... some stuff does match what we've seen... and other stuff is, well, surprising.
4-3-87
Sun 13° Aries
...takes after Daddy in her personality. (Not that all Aries kids actually like Pop or Pop was even around much in their childhood, but they resemble him more than they care to admit.) Likes to be independent and do her own thang. Has a competitive streak. Wants recognition as first and foremost at something. A pioneer and explorer. Yeah... that fits Andi.
Moon Gemini
... mom was/is quite a talker and encouraged Little Andi to socialize with others her age... at an early age.  She has an emotional need for constant communication and socialization with others. That fits the busy-body we saw on TV. Wraps herself in cell-phones.
Mercury 16-17° Pisces
Similar to Desiree, which is a trifle baffling to me since these two don't talk anything alike. Pisces in Mercury is described by the "experts" as less analytical and detail-oriented than others. (Des is quite religious and spiritually minded, as well as sympathetic to the underdogs.) These folk are great at handlng the broader perspectives in life. Kinda like the hippies at Haight Ashbury during the swinging sixties. Groovy man. Groovy. Some mathmatical nerds also have this placement, but they tend to reach their equations in  a "far-out" way. To put it blunt: this is more of a poet or artist than an engineering type. Think Oscar Madison over Felix Unger.
Venus 7° Pisces
... this also doesn't quite fit the Andi we saw, but it could be her. We just haven't seen a love-to-be-spiritual-and-laid-back side to Andi yet on TV. Maybe she will this season? It seems that her storyline was more of a "I have to leran to lose control" issue. Generally Venus in Pisces folks don't fuss like that.
Mars 28° Taurus
... she likes to operate slowly and deliberately. This is the construction worker type, who makes sure a building has strong foundations first before starting the drills. Blue Collar way of operating her. Conservative and methodical does not quite match Andi, but who knows? She did say people see her differently than they way she is, so maybe this is the real Andi after all. Miss Stick-to-it-ivity.
Jupiter 7° Aries
... this and her sun sign does show us the aggressive and competitive Andi. I would say Jupiter is prominent on her chart (by house or whatever... we don't know exact details here). A go-getter attorney type would benefit with lots of luck in competitive situations.
Saturn 21°R Sagittarius
OK... here she has the same placement as she did when we thought her birthday was 1-7-88, but in a different degree of the sign. So I'll repeat what I stated before: She feels a need to add discipline to theories, philosophies and religion. Very skeptical of the "highly educated" since them folks probably talk a lot of crap. (Pardon the slang.) Many conservatives who dislike "intellectuals" have this placement. Yet both Mahatma Gandhi and Martin Luther King had this placement and they were committed to very expansive ideals and changing the status quo.
Uranus 26°R Sagittarius
Since this lines up much closer to her Saturn sign than with the other B-day I was checking earlier, she is disciplined with group "causes"... and, yeah, her introduction last season showed her advertizing her company's work for the under privileged.
Neptune 7° Capricorn
Pluto 9° Scorpio
As I mentioned before, most born the same year as her have these placements. They are considered "generational" by sign. It is their "house positions", which we don't know since we don't know the time of her birth, that are more important to the astrology geeks. The 1980s was the decade of Big Business, corporate take-overs and a fantasy for conservative "structuring" (Neptune in Capricorn), when Gordon Gekko in WALL STREET told us greed is good. Pluto is pretty "potent" in Scorpio, so these late 80s kids have plenty of passion and desire to upset the applecart.
N. Node 11° Aries
I have this "north node" sign. It is easier for us to let others walk all over us and not fight for our rights and independence. We fuss to much about hurting others' feelings when we behave more like the soldiers we are supposed to be. Fortunately for Andi, her sun sign is in Aries, so she is more successful at it. My guess is that people are OK when she gets mad at them and boss them around because they probably find her slightly amusing.
OK... Brian, now that you have 12-20-86 as his birthday.
Sun 28° Sagittarius
... the fun thing about the Sag people is that they are usually pretty honest and straight forward. What you see is what you get. Like Prince Chris Siegfried. He wasn't hiding anything from us on screen. They are among the most likable people because they are always smiling and... usually... have a positive outlook. No... not EVERY one. It depends on how much Scorpio or Capricorn you have on your chart, which may make you more *intense* than the average Sag. Brian has Venus in Scorpio, so he does have that intense side to him. BUT...
Moon Leo
... Leo, like Sag, is another fire sign. Mom was a very proud woman who generated pride in sonny boy. He is a man's man in outlook. Likes to be the boss. (Andi will enjoy cutting him down to size, I'm sure.)
Mercury 15° Sagittarius...
Here we have some problems. He and Andi are both poetic "broad" thinkers, not so fussy with details. That is good in a way. Yet they may not relate all that well in the communication department. There's a bit of a clash here, since Andi is more spiritual and introspective... and with more emotional thinking involved. Brian is more of a "giddy up!" boy.
Venus 14-15° Scorpio
Favors his Mexican food extra spicy. Also favors other items on his list with equal gusto.
Mars 16° Pisces
Jupiter 15° Pisces
... both of these line up closely with her Mercury sign.
http://www.cafeastrology.com/synastry/mercury_mars_aspects.html:
"The two of you are inclined to mentally spar with each other, challenging each other's ideas and aggressively confronting weaknesses, inconsistencies, or superficialities in each other's thinking. While this can sharpen your wits and improve your mental work, it may also lead to arguments, making you feel attacked and ridiculed by each other. Be wary of hurting each other's feelings or being overly zealous in challenging the other's ideas. Although you are compatible in many areas, you can sometimes feel like you are overly prone to arguments over various issues and opinions. However, the two of you have come together to challenge each other's manner of thinking, and you have much to learn from each other mentally. When you are in good moods, you might enjoy the playfulness between you and the good humor."
Saturn 14° Sagittarius
Uranus 22° Sagittarius
Neptune 5° Capricorn
Pluto 9° Scorpio
N. Node 17° Aries
Since there is only a few months separating their B-days, these are mostly in the same signs if different degrees. (Yeah, every degree is different but that's too much "fodder" for this simple analysis.) What is most interesting is how they impact Brian himself. Uranus is only a few degrees off his Sun sign, so he is very much a "groupie", hanging out with the guys.. or gals... or groups. This may be a good thing if Andi (being a moon in Gemini who likes a lot of socializing) actually likes his friends and associates. She can not take him away from them. Their hometown date (if he makes it) will be a key factor here. I doubt he will ONLY introduce her to his parents.
I stuck both B-days on this site http://www.astrotheme.com/astrological_love_compatibility.php and they got a pretty good 77 percent rating: "Your relationship is very smooth, and few things are likely to harm your fundamental harmony. We could even say it is pretty remarkable, not far from being exceptional... Sometimes, but in really rare occasions, and rather owing to elements that are external to your personalities, some frictions can occur, but in the majority of cases they will be solved easily. It is undoubtedly an extremely encouraging index for your continuation, you can really go for it: happiness is within your reach!"
We shall see...
------------------------------------------------------------------------------------
Looks like Brian could be the ONE---astro wise... :Clap:  
Altho im convinced i may hop on at least 2 trains this season!....#toomanycuties   
 :P
Again, just for FUN, i made this friend make a sort of comparison with Josh and Marcus (see the Astro analysis respectively on their thread
)
----------------------------------------------------------------------
Andi/Brian have a 77% "rating", a higher overall rating than Andi/Josh, but with roughly the same mix of red/blue. They also have some good stuff with Mars, Venus and Mercury. I think he's her best bet... if she is actually seeking somebody and
not just a TV show exposure to advance her career.
Both Andi/Josh and Andi/Brian relationships resemble Trista/Ryan, Jason/Molly and Ashley/JP more than Chris/Des, who have more "blue" ("comfort"). I think Sean/Catherine had more blue than red, but not QUITE the same "comfort" level as Chris/Des.
To keep it simple, Marcus is probably her second best bet after Brian. Josh offer hers the most "challenge", but that also depends on what Andi wants.
------------------------------------------------------------------------ 
 `friend`!
my comment on the bolded : it still remains to be seen, for sure!... 
*NO SPOILERS* The Bachelorette 10 - Brian Osborne - Discussion
---
Permissions in this forum:
You
cannot
reply to topics in this forum