New topic for screencaps and pics relating to Chris Soules . No discussion please. Any discussion will result in posts being deleted. If you post any pictures from any source, please use quotes and post the source of the picture. Any pictures posted without the proper quotes will be deleted. If you are unfamiliar with posting properly, please read Computing Etiquette in About Our Site or ask in Need Help? thread.

Everything starts with [ quote ] and ends with [ / quote], no spaces.

If you are posting a screencap, clearly identify that it is a screencap, and advise from what episode.
Last edited by GuardianAngel on Sat Aug 02, 2014 1:09 pm; edited 1 time in total
Last edited by SLA44 on Tue Jul 08, 2014 9:45 pm; edited 1 time in total

SLA44




Posts

: 2755


Join date

: 2012-07-31


Location

: Pacific Northwest



In FD preview, Chris looks and sounds irritated by Andi's apparent indecision...maybe he is the one to bail. They try to keep it simple on the farm (and real) and he may feel played.

bunny9138




Posts

: 14


Join date

: 2014-05-28



The mods can delete this if it is too much "discussion", but... here it goes...One of the strangest edits…

AN EASTER EGG LIST
Chris Soules was hidden much of the season, but received a cluster of bizarre voice-overs, screen framings and other highlights, suggesting that he is one of the following (take your pick)…
… F1
… Next Bachelor
… "smokescreen" to fool idiots like me
… The Mole
… Mike Fleiss' choice for her regardless of whom she picks herself
… her husband before ATFR
Chris Harrison's Ones To Watch:
I think people are going to very much fall in love with this guy. He's a small-town farmer from Iowa, fourth-generation land baron. If you say he's just a farmer, you're missing it. He's a millionaire. Very good-looking guy. He really wants to find a wife and live the American dream.
Does "people" mean "All of America" or "Bachelor Nation" (a.k.a. next Bachelor)?
1.)
The
initial
seasonal promo put out by abc.com, not the one shown in episode #1 (post spoilers, which inserts a shot of Brian with Andi), has her kissing Marcus as she says "There are things that I felt I never even knew...", then fades to Iowa and Chris "... were possible".
2.)
His abc.com bio (a.k.a. favorite movies include "Meet The Parents", biggest fear being "accidental diarrhea") reads his ideal date "is beautiful, funny, smart and can hold an amazing conversation." Obviously his first secret admirer letter (episode #4) states "As I've gotten to know you, I've begun to realize that you have every quality I am looking for in a soul mate. Not only are you
beautiful
, you're
smart, funny
, charming and your smile brightens up every room."
In both seasonal promos, Marcus leaves out "funny" but still voice-overs "Andi is smart, intellectual, she's beautiful" followed by JJ's "You are perfect" over a shot of Andi with Chris, followed by her responding "you're making me blush".
3.)
In the "Meet Chris S." intro, he repeats in the snow what Des and Chris did in the sand (but also Bryden and Des on their date) with the heart, arrow and initials. Like Sean's Catherine, he says "I'm coming for you". Like JP Rosenbaum in his intro, he is shown at work at a desk and, while out, saying "something is missing".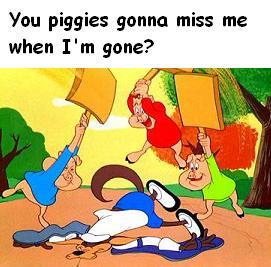 4.)
In a limo, Andrew toasts:
We only see Josh B. sitting to his left, but Andrew is not facing him. He is facing the three guys in front of him... off camera. They are one of the following...
@Aunties_Love

wrote:Actual/un-edited  limo order:                                                        

Limo #1

1  Chris         8:24:38 PM        

2  Andrew     8:26:37 PM

3  Josh B      8:27:47 PM

4  Ron     8:30:20 PM                                                      

5 Craig         8:43:48 PM   Champagne
5.)
As Andi gets into her limo, she says "Some guy is going to get out of the limo and that can be my husband. My heart is just pounding. This is the beginning…" while fidgeting at a ring.
The very next shot is a limo in the dark followed by Chris' face as Patrick voice-overs "I can't wait to get out and her face just light up..."

6.)
Mister Harrison: What are you so nervous about?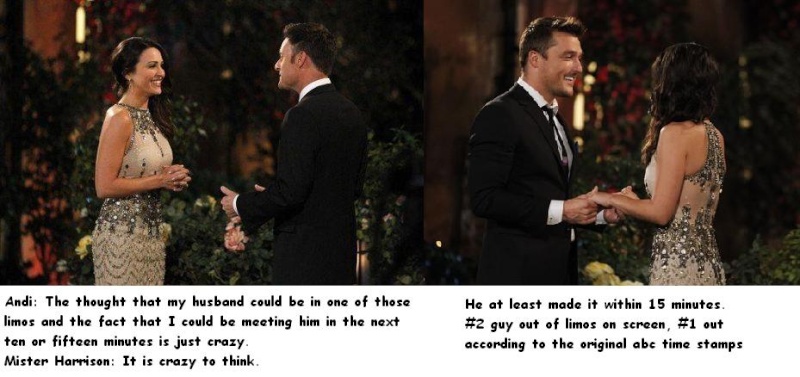 Marcus takes under ten minutes to "wow" her, so Chris can follow him as #2 guy out, right on schedule. Marcus was #13 in reality.
7.)
Andi says to the guys: "this is not my normal life" (a.k.a. being TV's Bachelorette). Cue shot of Chris. Also her "I think I can find my husband in here" straddles over Chris, Stephen, Carl and Cody seated together, although the editors are smooth to keep the H-word restricted to Andi shown speaking.
8.)
Andi refuses to meet Chris Bukowski, probably because she already has the Chris she wants… in addition to two Nicks, two Joshes, a Marcus and a Marquel. In a peculiar bit of editing, when Chris is told "I got to talk to Chris" (i.e Harrison), the security guard's badges are zoomed on by the cameraman…
twice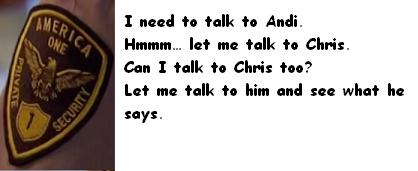 9.)
Andi to Emil: "If I wasn't open to moving somewhere else, I might as well not have come here. I might as well stay in Atlanta and try to date someone there".
10.)
Within a few seconds of that statement, she says "There are great guys here. How do you, like, just pick
one
during the cocktail hour?"… followed by her sitdown with Chris.
11.)
Before giving Nick his first impression rose, her line "
great
first impression of" is spoken over Chris,
not
Nick. Chris is then cut from the screen as the guys next to him comment on the situation... as if Nick getting the rose will only hurt
their
chances.
12.)
At the rose ceremony, Andi says over a group of Chris (and Brian, Marquel and some dumpees): "finding love here". Shortly before this, Chris Harrison says over Marcus, Eric, JJ and Bradley "If you don't hear your name"… and over Josh "you will be going home immediately."
Tweets of the week
Robert Mills @Millsy11374  •  May 19
Who's ready for #Bachelorette and more importantly, who's ready to meet our newest star - security guard Tyrone!
Cassie (L) Scalettar @cassielambert  •  May 19
by @theyearofelan "Here's a photo of andi_dorfman kissing a baby. Will she meet the man who eventually… http://instagram.com/p/oMxxKqFyNc/
Chris Harrison @chrisbharrison  •  May 19
Alright alright alright RT @DrBeckyDC: Anyone else think that Farmer Chris is a cross between @chrisbharrison and Matthew McConaughey?
Kelly Travis @kellytravisty  •  May 19
Those are not the kind of farmers we have in GA, FYI. He had all his teeth. #TheBachelorette
Tell me about the farm. Or just tell me how much you're worth. #TheBachelorette
Andi on Jimmy… the gal ain't talking one way or the other… shaking her head "no" each time asked if engaged.

JBF




Posts

: 5039


Join date

: 2011-05-29


Location

: Jack Benny Fan



One of the strangest edits…

AN EASTER EGG LIST, Part 213.)
In the 2nd episode, Andi says: "One of these men can be my husband", followed by Chris as the first guy talking at the mansion, saying "I can't believe this is happening". (As Marquel chimes in between these lines: "That's what I'm talkin' about!")
14.)
When addressing the guys, Mister Harrison says: "she might become your wife…" as the camera stops at Brett, Craig and a slightly hidden Chris seated.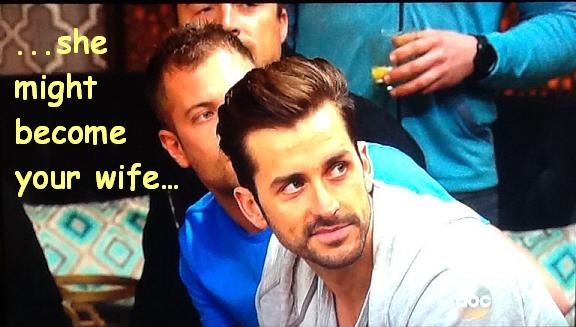 15.)
Something about this line sounds rather… celestial. Eric's date card is "Love is everywhere". His leading line: "Love can be found everywhere.
If I didn't think love could be found here, I wouldn't be here.
" In another scene, Chris jokingly calls himself Cinderella (and "putting lipstick on this pig") as Eric, in his hoodie, visibly disapproves of him putting himself down.
16.)
When Tasos reads the group date card, he says "last one" just before the camera stops at Chris (with Andrew and Marquel next to him). Then the camera pans back to Tasos and then Dylan (last one on that date card) as read by Tasos.
17.)
Well… at least he is consistent with the last three 'ette "winners" even if the 'ettes aren't all still with them…
Chris
: "Knowing that the guys got out of hand last night, Craig in particular, it is unfortunate and I hope it doesn't affect how Andi feels about our date today. All I really can do is show her a good time and be the gentleman that I am and make her smile and help her forget about last night's date... and hopefully we have a great time."
Andi
: "Last night was disastrous, but today Chris put me back on track." / "After the group date, I was definitely down about this group of guys and wondering who's just here to party here and who's actually here for love and then I went on my date with Chris and that was such a breath of fresh air, so going into tonight I am still hopeful and I do see myself hopefully being with one of these guys and at the end of this, walking away engaged."
Last year's F1 Chris
: "I'm not sure what her conversation with Bryden is about right now, but the only thing that would make me upset about this is if Des comes back upset, because then I would have to like completely change course and figure out how to alleviate her pain. That's the only thing that's worrying me right now." / "Even though we talked about it a little walking into the brewer house and the plaza, the situation with Bryden, the conversation needs to be broached one more time because it is really important in a relationship to develop a very good level of communication."
Desiree
: "Today was so hard on me, but I am so happy that it was Chris on this date and nobody else because I can trust Chris with my heart. He is supportive, he's kind, he's romantic, he's expressive. He's everything I could want in a husband."
F1 Jef Holm
: "Yesterday seems to have been a pretty emotional day for Emily... and when the guys came back, they told me what happened. So... one of my goals for today is definitely make sure Emily is feeling OK... and I just want to let her know that I am there for her and I care about her."
Emily:
Going into today I was really stressed out about the whole Kalon thing and Jef's rolling it and it made me feel really good that Jef stood up for me…"
F1 Jordan Paul Rosenbaum
: "I know she had an emotional night on the group date. I know Bentley going home today couldn't have been easy for her, so I don't know how emotional she is going to be, but I do want to know that she's OK and once I touch on it, then we are going to go on with the rest of the night."
Ashley
(slowly coming out of her "funk"): "There's something about JP's kisses… even comparing them to a kiss I had with Bentley. JP over Bentley… in the Kiss Department."
18.)
Andi: "I know very little about Chris. I know Chris lives in Iowa. He's a farmer. I'm definitely a city girl, but if that's what farmers look like,
I need to move
to the country." Despite the total lack of chemistry everybody on this forum claims, she adds later "I'm hoping that Chris is that gentleman that knows how to
treat
a lady because… (pause for a slight smirk) …
I need it right now
." Followed by a trumpet outburst.
19.)
Chris is focused on over Andi's "Maybe all I have to do is bet on the right horse…" After being told by the older couple…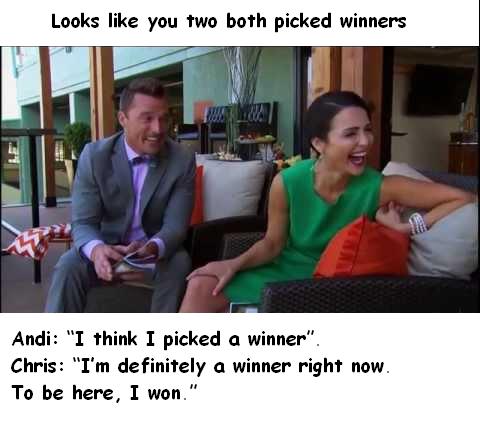 He may not be F1, but the abc.net photos are sure teasing us to think so…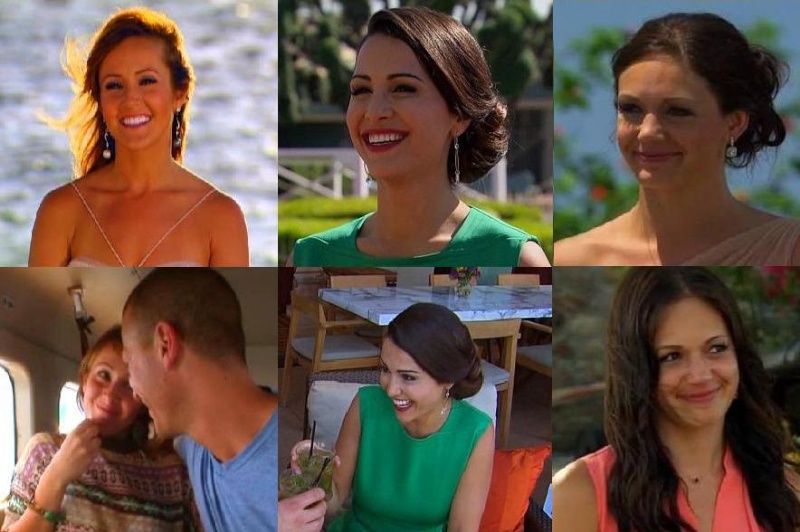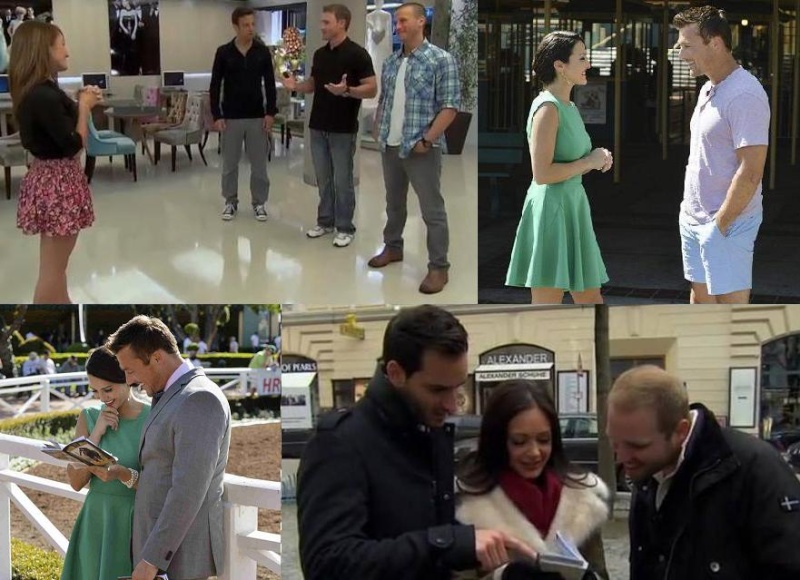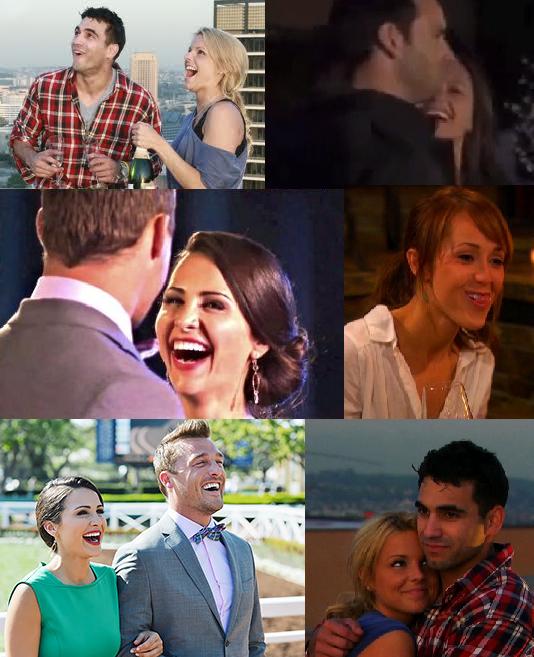 20.)
Pro-Josh tidbit to toss here in case he happens to get heartbroken: The older couple greeting Chris and Andi in Santa Anita met at a
baseball field
and have been married for 55 years. Alas… Josh may have gotten too-too many "bad signs" this season, starting in episode #1 with Rudie's exit speech (being a bit too-too similar to the "Meet Josh M." video introduction): "This is a curve ball. It is not what I expected, because when I came in here... I was aiming for the fences. Y'know I thought I was gonna hit that ball right out of the park. Everyone in my life was, like, 'Oh my gosh! Like, you guys are gonna get married and have kids!' BUT... she didn't get a feel for that with me. Maybe she just wasn't attracted to me, y'know. It didn't *click* with her. I think finding love is very important. I think I could have had that with Andi but... y'know."
21.)
Morbid and tasteless egg yoke: Nick S. says "besides the three guys who have a rose" over just… Chris. Eric is shown next with his rose, but over the word "everybody" (and he gets this pronoun twice this episode), while Marcus (afraid of roses) is nowhere in sight. Then Josh and Craig are declared as "on the chopping block". Nick then ends with "so to get time with Andi tonight is
do or die
".
Tweets of the week
Mike Fleiss @fleissmeister  •  May 26
Tonite's episode is full of romance!!!
Kelly Travis @kellytravisty  •  May 26
Good call... Take him on a date with horses since that will be your only friends if you marry him!! #TheBachelorette
Robert Mills @Millsy11374  •  May 26
This is our male version of the Pretty Woman date We cut the part where Chris had to call @chrisbharrison because they wouldn't let him shop
Robert Mills @Millsy11374  •  May 26
The last Chris to get the first kiss - @chrisjbukowski Yeah, this is gonna end well #TheBachelorette
Mike Fleiss @fleissmeister  •  May 29
Repeat of episode 2 is on right now!!!

JBF




Posts

: 5039


Join date

: 2011-05-29


Location

: Jack Benny Fan



One of the strangest edits…

AN EASTER EGG LIST, Part 322.)
Episode #3: when reading the date card, Marquel says "Last but not least, gentlemen" as the camera zooms on Chris. He then reads Marcus' name over Dylan (who was last named the previous week on the group date card) and then Marcus is shown. (See above Easter Egg #16.)
23.)
Andi is informed by one of the Boys II Men troop: "When you are singing it, you gotta find the guy that you are focusing on. Yeah… you can do the sexy eyes. Just look at him, like.."
Andi: "I'll make love to you?"
"I'll make luuuuv to you."
Andi to the cameras (not to any guy on that group date):" I'll
close my eyes
. I'll make a wish. I'm gonna concentrate on YOU. Tonight is your night."
24.)
Boys II Men comment on that date Chris didn't attend: "If this is any indication of who she's gonna choose, you won't have one on this show. She should just leave by herself."
Andi also apologizes to somebody watching the guys' performance for the first time (having not attended the date)…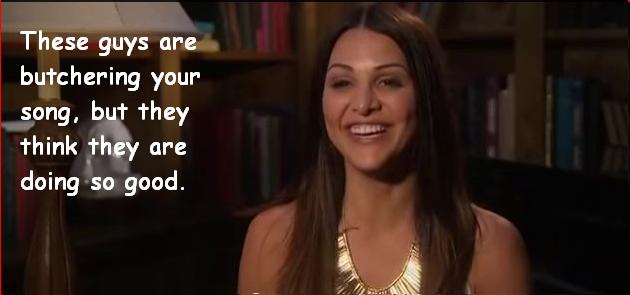 25.)
Obvious "foreshadow" edits:
During JJ's date, Andi says twice "til death do us part". The second time she says this, we get Ron packing his luggage and leaving.
Chris says of Ron "We are all really concerned for him and hoping everything's OK."
Ron says, before he leaves for his deceased friend, "I just wanted to say my goodbye" to… a surprised
Eric
.
When Ron hugs
Chris
, Dylan voice-overs: "There was a death of one of his friends." (a.k.a. Ron's friend and Chris' friend in the future).
Later… also interrupting the scenes on JJ's date, Dylan (again) discusses the deaths in his family with Chris. The line of "It was just the call I never wanted to hear" is spotlighted over Chris listening, followed by his description of his brother lingering for a while "brain dead".
26.)
Andi says at cocktail hour: "Whether it is 25 guys or 1 guy here, like, I genuinely care..." (camera then pans on Chris solo) "about each and every one of y'all".
Tweet of the week
Robert Mills @Millsy11374  •  Jun 1
I love Farmer Chris doing the mental math trying to figure out how this works if Andi isn't here. #TheBachelorette
27.)
Despite being welcomed to "center court" with Brian (who "half courts" her post-game), Chris is on the losing basketball team in episode #4. Andi voice-overs that is "heartbreaking" that they lost over a key Chris/Andi hug shot. Earlier he misjudges "We are not going to lose this game. We are going to win and play our hearts out", followed by a quick shot of Andi calling "get it, Chris".
Josh: "I hate losing and the fact that 'we' lost and I won't be able to see Andi just makes it worse". Edit cut to Chris. Edit cut back to Josh as somebody sighs, "I'm not a sore loser but…"
28.)
Not an Easter Egg, but one completely
depraved
reference to an old movie every reality TV editor has watched in their training: The name Rosebud… for the winning team… was both the first line spoken (by Orson Welles) and last (printed) line (on a burning sled) in
Citizen Kane
. William Randolph Hearst was furious at RKO studios for releasing a film about a newspaper tycoon that used his own private nickname for Marion Davies' ____. (You folks can google the details.) Of course, they just
had
to show the Rosebuds shaking bottles in a shower with their backs turned to us and Josh looking flaccid by the bleachers. Alas… despite The Rosebuds' victory… Orson's Kane loses his Rosebud in the movie.
29.)
When Andi and Marcus scale down the building, they discover the guys are watching them from the window ("That's our room"). Marcus asks "should we kiss in front of them?" at the exact moment Chris is shown looking out the window. Her response is an instant "no".
30.)
Oddball editing of Chris following Eric's departure… and this argument:
Eric
: This is the
real
Andi I am talking to. Do you feel like you have been natural and comfortable the whole time?
Andi
: Am I comfortable and natural the whole time? Not a chance. But do I work my ass off and stay up late so that everybody knows that I am here for them? Yeah I do. You have no idea what it takes! You have no idea how exhausted I am!
You have no clue how f***ing difficult it is to look in someone's face and send them home!
When back with the guys, her "strikes a nerve" line brings Chris into focus. She tells the guys "If you don't feel this is real, the door is right there. This is so real to me. Every single day this is real to me." Chris is then shown in two back to back shots
out
of focus (with Tasos and Marquel in focus) as if the speech no longer applies to him except in that fleeting moment.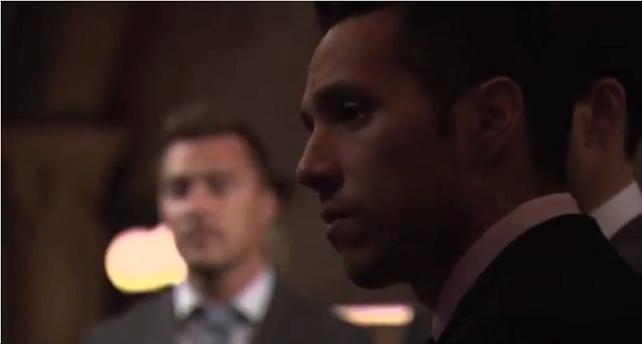 Speaking of "out of focus", part of the Bachelorette banner and videos at abc.com is.
On his hometown date, Chris and Andi play Ghost In The Graveyard.
31.)
At the 4th rose ceremony, Nick follows Josh (in episode #1) receiving Harrison's line of "If you do not receive a rose, you will be going home immediately", while Chris is solo-shown after Harrison completes his line of…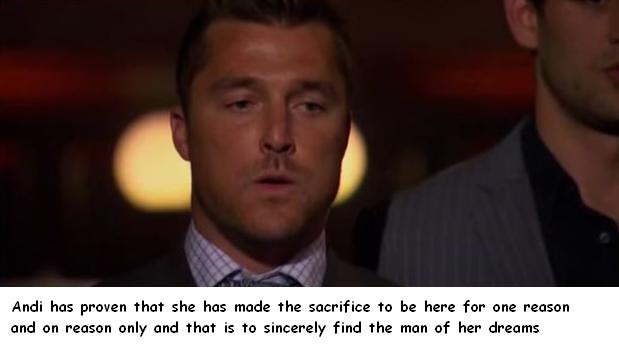 32.)
Luvstruck
caught this one I missed. Chris is shown in a PI referring to their losing the 5 of hearts basketball game as being a "bitter pill to swallow". Andi is talking with Chris Harrison
after
the 4th episode, repeating "tough pill to swallow" regarding not being able to see Eric again. (Then again, Cody and Dylan also say it later.)
33.)
Another
tough
pill to swallow…
PI session "Seeing Nick coming back with Andi was tough because I definitely wanted to be that guy who was able to spend some time consoling her in a difficult moment, so yeah, it was definitely tough."
-Secret admirer letter #2: "I realize last week was very tough for you and wish more than anything that I could have been there for you, to hold you, to comfort you and to dry your tears."
34.)
During Josh's date in Marseille (episode #5), Chris Harrison visits the guys in a "deleted" abc.com scene. First lines out of the guys is "what's up, Chris" over… the other Chris. Key words Chris H. states over Chris S. include "keeping your eye on the prize" and "just keep you eye on what's important." After Harrison's "Good luck this week", the guys (obviously) respond "thank you Chris."
35.)
During the miming date (a.k.a. "there are no mimes in Iowa… guaranteed")…
-Nick says "I'm excited to see France. I'm excited to see Andi", then hides his face behind Chris when he says "I'm not necessarily excited to be on a group date".
-Patrick says "the group card said… … … heart Andi. I don't know what that means, but once I find out what that means, I'm all about it" Cue Rue de Venise sign as Andi says "follow me" as she and Chris lead the pack.
-Cody talks like he is at a race track: "I've got my mime on my money and my money on my mime, y'know what I'm saying?" Next shot Chris.
-Chris walks behind Nick as he voice-overs "this would be an incredibly fun date
with
Andi" (a.k.a. no competition)
-Chris' face is covered by his arm next to a scowling Nick when Andi comments "Why would you be on a group date when you are feeling strongly for somebody?" She then continues "but the other part of ME is… you're here. You are not going anywhere on the group date so you might as well take advantage of the moment."
- During the evening portion of the mime date, we hear Andi narrate with the following screenshots:
"Today was a lot of fun with the guys"... Andi and guys in dark, hard to make out faces
"... and I'm looking forward to tonight"... all guys still in the dark but Chris walking under a light so he appears like a flashbulb.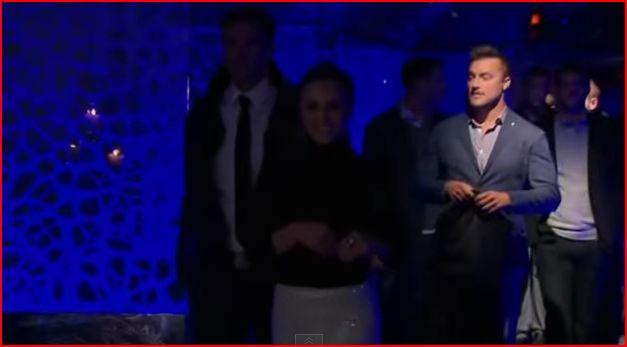 36.)
Later, Brian discusses his upcoming date: "I hate cooking. But…" (camera pans on Chris) "if Andi was there, I would be a mime".
Curious line by Cody at this time (right before Brian's date): "On one of these 1 on 1s…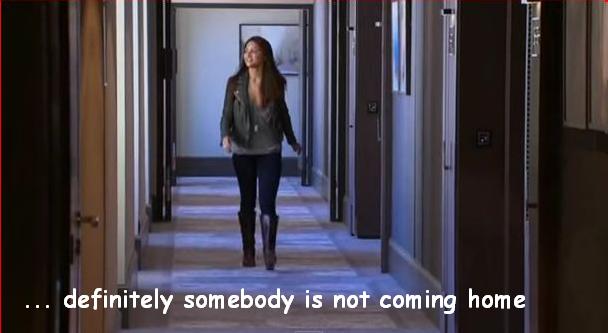 Although this line is obvious foreshadowing of his future elimination the next episode, the curious quote over Andi suggests she also might not come home as well… to Atlanta?
37.)
Odd wording by Andi later on the group date: "I don't want to bring his
fate
into the drama in the house, but heck… we had a date about communication, so I am obviously going to bring it up." Fate? Why is his fate separate from the drama?
Speaking of "we had a date about communication", she tells him: "You don't feel like I am pushing you too much about what's happening, but… that is something important about my husband. He will tell me anything. It is that bond."
(Later she asks Nick "
If
I was your wife would you tell me?" Long pause… "yeah". "OK" "Fine. Fair enough".)
38.)
Farm talk: "I need to open my husk a little bit."
39.)
A nebulous succession of Easter Eggs before the 5th rose ceremony:
-As Patrick says "I think she already knows now" the camera frame blocks off Chris to the side of him.
-Josh responds "There's nothing wrong with that. There's nothing anybody could have said today to change her mind. If she knows, she knows".
-Patrick later says "anyone who was confident" (face shot of Nick) "is off the table" (over himself and Chris). Only Patrick is shown when he says "No one's confident now".
Conclusion: Nick and Patrick are not confident and Chris is "off the table", while Josh insists her mind is made up.
Nick says over himself… and Cody… "no more guarantees as to what is going to happen". After that rose ceremony, Andi says "I feel very confident" over Chris and Cody… but Cody obviously isn't spared since he previously made a last moment plea to save himself for one more week (abc.com "extra") and is cursed by Nick's statement.
Tweets of the week
Andi Dorfman @AndiDorfman  •  Jun 16
I must say, definitely the most handsome group of mimes I've ever seen... #TheBachelorette #Marseille
chrisbharrison
#tbt to when I flew to France with this crazy lady in front of me @andi_dorfman Think she's ready? #thebachelorette

JBF




Posts

: 5039


Join date

: 2011-05-29


Location

: Jack Benny Fan



One of the strangest edits…

AN EASTER EGG LIST, Part 440.)
Early in ep #6, Andi says "I get to spend more quality time with guys that I definitely, y'know, picture my life with". Chris is shown over "definitely".
41.)
Very weird editing that makes little sense right now…
There's an out-of-focus zoom on Chris (just before he walks behind Dylan) over the pronoun "they" in the following line about taking Nick on a second 1 on 1: "I know my decision might not seem like the most popular decision to make, but part of this is making sure they know to trust me."
Over a shot of Nick and Andi impishly grinning as if about to have shop-talk, she continues "This is my journey for love and I need to do everything I can to find that love and part of that is knowing when I need more from somebody". More what? Poems? Letters? Information about somebody else? Cody later questions Chris: "Is she really into Nick or maybe she wants some questions answered today?"
42.)
Uh oh… a pig's head at the market!… and Josh is a bit shocked in his expression. There is a nice wacky sequence of "stuff" here…
Chris: "I'm excited to be on a group date today. It's gonna be fun. Still six guys and one girl… that is not the ideal situation for any of us."
Chris "tying the knot"…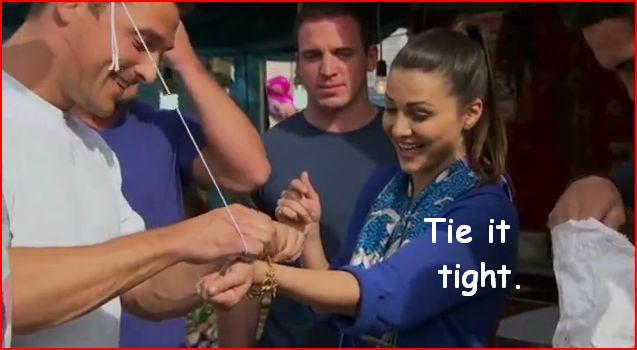 Josh: "It's the first time I have really seen her since our 1 on 1 date." (Cue shot of the unicorn balloon bobbing up and down, a cute homage to Brooks in Atlantic City comparing Desiree to a "mystical creature".)
"I miss her a lot." (Now a marionette show with wooden puppets… not sure what the editors are insinuating here with Josh.)
"Of course, I just wish it was a 1 on 1 with me and Andi, but I am just want more time with her." (The group all says "grazia".)
Then Brian steps in with a cute baseball line obviously intended for Josh (repeating what Rudie said back in episode #1):
"The date card says 'I'm looking for true love'. So it was hard to figure out what we will be doing. I wouldn't be surprised if there's a curve ball."
43.)
In the torture chamber, Chris is the one getting her "in order to find the truth in this room…" (i.e. regarding the secret admirer letters). Twice she mentions "two way street", once facing Chris in the room.
Andi lied about two questions, but apparently not these: "Are you in love?" and "Do you think your husband is among the remaining guys?"
Later, with the group in the evening, she says regarding ripping up the answers "There's a part of me that is, like, why did I rip it up? It was just... I think it was more about just wanting to know some of the answers." (smile to Chris).
44.)
Her sob speech during the Chris scenes: "It is tough being in my position and feeling vulnerable. You know… I'm not here putting my life on hold. I'm not putting myself out there, y'know, opening myself up for nothing. I came here for love. I came here for eternal love, for a husband and I don't know how genuine it is. Just tough to feel like I was maybe so wrong."
(Of course, this was before he reveals himself as her letter writer.)
Then again, all of these 'ettes are blubbering every season. Even after poem after poem, Desiree was still blubbery (over a similar music score) during her finale: "It's hard for me to accept how much Chris loves me because I never felt that before… y'know, to be ready to allow someone in."
45.)
"Chris is always that dash of hope when it's a bad day and times it is rough, it is weird how Chris is always there to swoop in. I like it."
Before giving Chris his rose, "I'm not gonna lie, it is getting weird for me."
BTW, the word "weird" has been used a lot this season:
Eric to Andi:
The biggest part of it is seeing other people that I knew and loved before get married and I still know and love them. They didn't disappear. They didn't become weird.
JJ:
From the day we arrived here, we are dating Andi. Granted, there are 25 of us. Granted, that may be weird to a lot of us at first. It weirded me out that the first opportunity that he had to interact with other females, he comes back with a girl's number
Eric to Andrew:
Every rose ceremony, even with that rose, there is that weird vibe going into it.
Nick:
There's
no
denying it is
not
going to get weird.
Nick:
It is weird but I am not going to be insecure about that.
Andi on Nick:
It is weird because he is admitting what he said and it is all in line with what Cody told me.
Andi on Brian not kissing her:
It's kinda weird that it is so weird.
46.)
Interesting music choices played a bit too early.
Back in episode #1, Chris arrived from his limo with the exact same music used on ATFR montages.
After Andi says "Chris, would you accept this rose?" in episode #6, he says in a PI session: "It is not only about the rose. Roses only mean you are developing a relationship. It kinda reassured me that she is excited about where we are at and what I had done". The music played here tends to be used in FRC scenes. For example, it was played as JP Rosenbaum stepped out of the Fiji plane to greet Ashley. This music is played lightly again over Chris scenes in the Belgium monastery in episode #7, although other guys are also present... along with the rose that went to Nick. The point: this music means "relationships are more than just about roses".
Also during Chris' speech, she hugs each of the other four guys on the date good night. During the key line "Roses only mean you are developing a relationship" is spoken when she hugs Josh. (Josh later complains "It doesn't feel good to see another guy get a rose from Andi. I'm not gonna say I'm happy about it.")
47.)
Not so much an Easter Egg, but an interesting parallel. Chris is revealed as the writer of her Secret Admirer Letters. Cody and Andi read others' letters in Verona.
Cody gushes with her, after answering a Jason letter, that she makes him feel like a "16 year old kid", only contrasting slightly with Nick feeling like a "12 year old boy" in Santa Barbara. Cody also repeats what Josh stated earlier: "I haven't felt like this in a long time". Alas… poor Cody gets dumped… and it was a tough pill to swallow (phrase both Chris and Andi used in episode #4). As she escorts him at the end of the date, he repeats Chris Bukowski's episode #1 line "You're killing me now".
48.)
And it is still… weird (i.e. Easter Egg #45)
"It is a very weird feeling. Seven guys left… and I'm like… I dunno. I don't ever want to be the cause of somebody's pain or heartbreak or anything. I would rather feel the pain than I did last night, like, a million times over then do what I just did, like, I'd rather it be me than anyone else."
This speech is spoken after Chris casually observes Cody's luggage being taken away. (To date, Cody and Nick are the only two shown with luggage during their dates, although Nick did not leave in Santa Barbara.) Josh comments "This is the first 1 on 1 date when somebody's left" over…  
himself
.
49.)
Not to be outdone, Nick… ever confident…and ever "alternative" and nebulous in his bizarre speeches…
"Riding up to this place in an old school Bentley…" (cf. Ashley's heartbreaker on her season, Bentley Williams, and the car that Desiree drove her own "heartbreakers" Brooks and Bryden in)
"… a beautiful mansion lit up. It is truly out of a story book." (Josh opens the door in this storybook setting)
"This place is amazing… and I can't wait to… " (Nick shown walking with the guys)  
"… enjoy the company…" (Chris shown walking, then to Nick's PI session)
"of an elegant beautiful lady".
JJ says "somebody will be sent home" over a shot of Chris, Nick and Josh walking in formation, but it is doubtful all go home… unless she accompanies one of them.
Tweets of the week
Mike Fleiss @fleissmeister  •  Jun 23
U ready for drama and romance, #Bachelornation ???
Chris Harrison @chrisbharrison  •  Jun 23
You'll find out the secret admirer tonight! #Thebachelorette RT @HawkesAllison: @chrisbharrison who was that love letter from!
Andi Dorfman @AndiDorfman  •  Jun 23
Another letter from the secret admirer... Who do you think it is?! #TheBachelorette
Robert Mills @Millsy11374  •  Jun 23
We cut out the "P.S. Tyrone wouldn't let me up to see you on night 1" from the letter #TheBachelorette
Sean Lowe @SeanLowe09  •  Jun 23  
I think @clmgiudici is Andi's secret admirer.
(Catherine was F1 on Sean's season and she too had a letter.)
Robert Mills @Millsy11374  •  Jun 23
Everybody's freaking out and stressing out. We all saw 'Meet The Parents' #TheBachelorette
(Ironically, this movie is listed on Chris' abc.com bio.)
Robert Mills @Millsy11374  •  Jun 23
The lesson as always: Dont **** with a farmer. #TheBachelorette
50.)
Episode #7 Belgium was essentially the Nick & Josh Show. The editors threw everything at us to convince there is NO WAY she will choose anybody besides either of them. Yet… there are some Easter Eggs of interest:
Harrison's "get to take Andi to their hometown and meet their family" is spoken over Chris. At least we can be confident of THAT. He also says "the man that gets that rose" over Chris too. Although he doesn't get it on the group date, he does at the ceremony…
Regarding Nick's sneaking and grabbing her after Marcus' date, Andi croons "they
should
want to sneak over. This is week 7. GO for it." She later discusses Chris before the rose ceremony "He plants one on me. Like, you GO farmer."
51.)
After Chris called out Nick's move in Venice as a "jack-ass move", the start of his group date… in which Nick receives his hometown rose… shows a jack-ass grazing.
52.)
Among Andi's voice-overs in episode #7 involving Chris face-shots include "This is beautiful in my opinion". Although the monastery is sacred, she left the grounds with Chris for pottery make-out time. "We can be fun and flirty and it is OK there."
53.)
Brian and Dylan may have been dumped this episode, but they said some Chris-ish lines of interest:
Brian on group date: "I am going to have blinders on today. My focus will be just on Andi." (This comment applies to how Chris is handling the situation. "I block it out" as he later tells Nick. The blinders also make a nice "horse" reference… a.k.a. Santa Anita… and jack-ass… a.k.a. Nick.)
Dylan: "The ruins stood the test of time and I am hoping Andi's and my relationship can also stand the test of time." (Again… this goes against Nick speeding through this… and peddling the fastest.)
Brian's comment about "the biggest rose" is spoken over Andi escorting Chris away from the group… and the rose that Nick won't stop talking about.
(OT: Dylan's "dagger right to the heart" was also spoken by Andi in Verona.)
54.)
Not an Easter Egg for Chris, but a pair of Easter Eggs for Nick, paralleling Ashley's season back in 2011.
In Taiwan (Ashley's episode #7), Ben Flajnik confidently told Ashley he knew he was getting a hometown date. This proved correct. Nick repeats over and over that he will be "sailing into the hometowns". That is correct. Unfortunately, Ben didn't get the girl in the end.
Ashley refused to kiss Ben by an elephant temple in Chiang Mai (episode #5) because it was "scared grounds". Andi repeats Ashley's line exactly when sitting with Nick.
… and like last year's Desiree saying she thinks Brooks "could be the one in the end" over fireworks in Madeira (her episode #7), Andi says she sees Nick at the end with fireworks.
55.)
During the Nick The Strategist Drama…
Over Chris, Nick says "I watched every episode of Desiree's season." Did he watch the ending with another Chris winning? He then says: "I don't know what the hell I got myself into."
56.)
Very weird wording in this line… as if Andi is making a distinction between three guys and somebody else: "Each of the guys that I went on a 1 on 1 date with this week has said they are falling in love… and that changes things. It's like, I am actually finally dating guys that are there, that are falling in love. Not only are
they
falling in love, but
I am
too."
"… and it is such a bizarre feeling to know that this is the end of a chapter of this whole journey. It is different this week. It is not just… oh, here's a rose and I'll see you next week… it's here's a rose and
I'm
going to come into
your
family's home."
Next shot is Chris, the first one she hugs as she enters the room.
57.)
More weird talk but I am clueless here: "It shouldn't be easy at this point. I'm glad in a weird way that this is the toughest decision I've made so far" (camera pans on Dylan) "I don't have a single regret of any person sitting here" (Chris shown) "and that is a real true testament to y'all. So thanks you guys." (Marcus & Brian, but mostly Brian)
58.)
Brian has the last word when he leaves…
"She
was
the girl of my dreams" is spoken over teary Andi with Josh and Nick in the background.
"I will give my all to the girl that I end up with… and y'know what… I was convinced it was Andi." (Brian talking)
"If she doesn't get the guy that she deserves (pan on Chris solo)
"I will be furious" (pan on teary Andi)
Andi then responds "There is a sadness obviously but also this bitter sweet thing about it" (another shot of Chris)
Tweets of the week
Chris Harrison @chrisbharrison  •  Jun 30
Find out what made @AndiDorfman say "you go farmer" & it's the men vs Nick tonight & it gets personal! #Thebachelorette
Kelly Travis @kellytravisty  •  Jun 30
If sweet got you laid Chris wouldn't be on this show. #TheBachelorette
"You go farmer!" Ok but really I'm glad overalls are back in. #TheBachelorette
Andi Dorfman @AndiDorfman  •  Jun 30
Ghost reenactment time with Chris! #steamy
That's right... You go farmer! #TheBachelorette
Last edited by JBF on Thu Jul 10, 2014 12:01 pm; edited 1 time in total

JBF




Posts

: 5039


Join date

: 2011-05-29


Location

: Jack Benny Fan



One of the strangest edits…

AN EASTER EGG LIST, Part 5theyearofelan • July 6, 2014
Marcus, Josh, Nick, and the wrong Chris (and the right Chris) will be taking @andi_dorfman to visit hometowns tomorrow night on #TheBachelorette (don't look too closely at this picture)
chrisbharrison • July 16, 2013
Stardust Rooftop Lounge At The Beverly Hilton
My view from the roof last night #TheBachelorette
(a.k.a. view of CHRIS Harrison with CHRIS Siegfried missing.)
59.)
Episode 8: Chris describes his town as having "a population of 758 and today it has a population of 759 and that is because Andi is going to be here." Foreshadowing?
60.)
Pronoun trouble…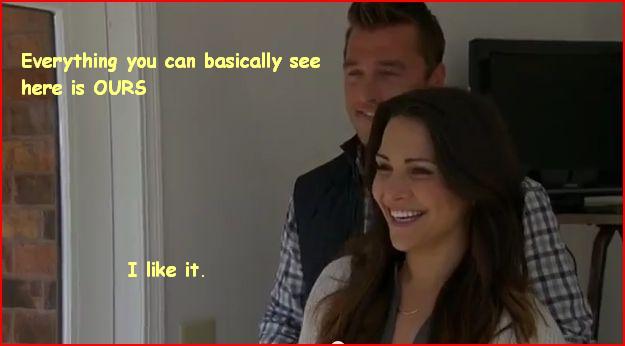 61.)
Andi lines of interest:
Chris is the epitome of a man He's the hottest farmer ever.
Just like looking at this is like being in Italy countryside. (OK… she lied about Italy being her favorite country in the Venice lie-detector test.)
Chris line to toss here: "She asked if she could sit on my lap and I said I would never turn that question down from you. I swear to God."
Meeting people's families is always nerve-wracking, but being out here in the country... it puts a little more pressure on meeting Chris' family. I know that these are people that
I am going to see a lot more often being out here
, so I have to know that I want to spend a lot of time with them and I want them to feel like they want me around them as well.
You have three sisters. That's their little brother, like… they want this. They want their brother to be happy. They want this for him. I will be very happy to have them as MY sisters… without a doubt.
62.)
When Chris presents her the plane with the "Chris loves Andi", she comments (choking on her tears): "Seeing that sign just shook me, like, totally melted my heart. I mean… this is a guy proclaiming his love and it was just the sweetest cutest gesture. I mean… without a doubt, the most romantic thing
anyone
has ever done." Desiree stated last year's Chris "melted my heart in a good way" in Madeira. Other F1's getting that MMH line include Ed in Jillian's (thanks
Guardian Angel
) Music played is similar, if not exact, to JP Rosenbaum's at Ashley's FRC when he did the "ILY" part.
"No more secret admirer from here on out."
63.)
Andi tells Linda how much she wants children. Response: "Times have changed and I want you to know that if you want to have your career, if you don't want to have your career… what ever you want… you can do that. It is a great experience on a farm if you've got that gumption, it's a great thing. I've got gumption. You've got gumption." ("You've got some gumptions…" ) "You are a tough cookie. I can tell by looking at you, you are a tough cookie. Chris can see that in you. If you love somebody, you are going to make it no matter where you live, but you don't know what is going to make you happy. You just have to know what's in your heart. That's what you go by."
"Chris' mom is amazing. That's a heart of gold right here and she is able to give me the experience and the advice that
nobody else
really can."
64.)
Most important line in episode 8 hometown: "I really saw Chris for who he was and
saw a life with him
". (Also, "I felt like I was a part of somebody's family.")
65.)
Says she's on Cloud 9. (Trista said the same at her FRC when Ryan Sutter proposed. Usually the
guys
say this instead of the Bachelorette.)
66.)
"My head is spinning at this point. There is definitely a huge momentum with Chris, like… maybe it is taking a hometown for me to realize this is a man who has been standing in front of me the whole time."
67.)
In the promo for fantasy dates, Chris asks her "Where is your gut right now?"
She also sobs "My head and heart don't match up"
Regarding "gut"... in episode 2's date, Chris discussed proposing to a girl before and realizing it wasn't right.
"One thing that kinda resonated with me today with the couple (who said he and Andi looked like a perfect couple) was I asked them that question of when do you know? How do you know? She is, like, you just got to know in your gut, you know? When I proposed, I knew it wasn't in my gut. I was using my
head
instead of my
heart
. I will never do that again."
After eliminating some guys (including Bradley and Nick S) in rose ceremony #3, she says "Not easy but… I'm gonna go with my gut and my gut looks like it was right now."
Both "heart" and "head" were brought up in Chris' hometown.
"Seeing that sign just shook me, like, totally melted my heart."
"My head is spinning at this point. There is definitely a huge momentum with Chris, like… maybe it is taking a hometown for me to realize this is a man who has been standing in front of me the whole time."
68.)
In the abc.com deleted scene, the two plant a rose bush. Back in episode #2, the key lyrics of the Wild Life song include… not a bush… but… "We lay on our backs out on the front yard / Holding your right hand, I say life's been so hard / The shade of the tree we planted / It grew strong with roots and branches"
Tweets of the week
Andi Dorfman @AndiDorfman  •  Jul 7
Is Chris the best looking farmer you've ever seen? #TheBachelorette
In his big green tractor... #Iowa #TheBachelorette #behindthescenes #hometowns
What an amazing family, right? Is it an Iowa thing? #thebachelorette
Kelly Travis @kellytravisty  •  Jul 7
Ghost in the graveyard!!! Almost as fun as cards against humanity with @AndiDorfman fam. #TheBachelorette
These two tweeted the same ABC.com promo…
(Chris' twitter account still sporting the Santa Anita banner of him and Andi dancing)
Chris Soules @C_Soules  •  Jul 8
Dominican Republic Sneak Peek - The Bachelorette - http://ABC.com  http://abc.go.com/shows/the-bachelorette/video/_m_VDKA0_597at2f3 …
Retweeted by Andi Dorfman
The Bachelorette @BacheloretteABC  •  Jul 9
Can @AndiDorfman get over her fear of horses and enjoy her date with Chris? Here's a sneak peek at Monday's episode! http://abc.tv/1w1q0bt

JBF




Posts

: 5039


Join date

: 2011-05-29


Location

: Jack Benny Fan



One of the strangest edits…
AN EASTER EGG LIST Part 6
Well... got my final answer.

His edit was strange because it was all "smokescreen" to fool idiots like me.

JBF




Posts

: 5039


Join date

: 2011-05-29


Location

: Jack Benny Fan



Hey JBF, you did a great job and Chris is a class act and total gentleman. Remember it's not over until the fat lady sings!  

SLA44




Posts

: 2755


Join date

: 2012-07-31


Location

: Pacific Northwest



Looking forward to seeing Chris on Monday at MTA and hear what he has to say after watching the show. Especially interested to see interaction between him and Andi since he was the last to leave. The way he kissed her hand as he left was a tear jerker for me. He is looking mighty fine in pics after the show and hopefully we will get to see more of him as next Bachelor. 

Luvstruck




Posts

: 1333


Join date

: 2011-06-22



Chris Soules Bachelorette 10 - Fan Forum ScreenCaps-Pics-Vids - No Discussion
---
Permissions in this forum:
You
cannot
reply to topics in this forum