Page 19 of 19 •

1 ... 11 ... 17, 18, 19
Melanie my orange kitten found a great home within a week of my getting her, so naturally I had to get another foster ... or two.
This is mamma Bella with her baby Benjamin. She is about 1 1/2 and he is now about 3 months. Sadly her owner passed away and she found herself a girl in trouble....hence Benjamin. She is a great mom and will be fixed now that Benji has stopped nursing. He will be neutered as soon as he is old enough. He looks all sweet and angelic there, but he is a little holy terror. He jumps on everyone, tackling them to the ground and wrestling with them. I have never laughed so hard watching it all.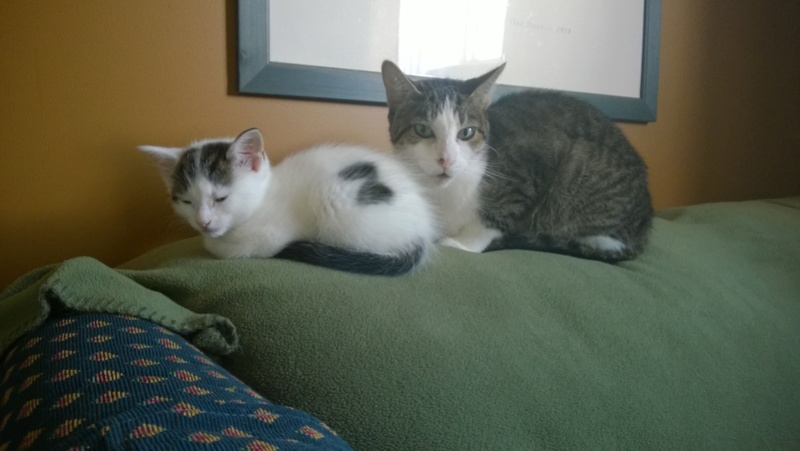 https://www.petfinder.com/petdetail/36193042
https://www.petfinder.com/petdetail/36192874

Sprite




Posts

: 5265


Join date

: 2011-12-04


Location

: London ON



You are a animal savior!
Both are so lucky to have you and are cute to boot!
My doctor asked me: "Does anyone in your family suffer from mental illness?" My answer:"No they all enjoy it immensely."" Let's all take a moment and put our petty Team This and Team That aside and remember when all is said and done we should be Team BBF first.   
 
Life really is too short. This is a show. " - Kasha 

Kashathediva

Moderator





Posts

: 21133


Join date

: 2011-03-23



They are adorable!
@Sprite
You're an angel for all you do!
___________________________________________________________________________________________________
"Have a nice life"
.
Gord Downie #TheHip
Follow @BachSpoilersFan
All Rules
Posts without source will be deleted.
NO SPOILERS in any threads other than those titled Spoilers.  
Page 19 of 19 •

1 ... 11 ... 17, 18, 19
Pets - Animals - Photo's - Discussion - Health
---
Permissions in this forum:
You
cannot
reply to topics in this forum