Page 2 of 2 •

1, 2
Lee as F1
- EDIT PERSPECTIVE
(complete post :
http://www.bachandbachettefans.net/t3709p156-lee-elliott-guy-3-in-1st-promo-video-the-notebook-date-guy-bachelorette-australia-season-2-sleuthing-spoilers
My prediction is Lee the F1 based on what i have gathered. Presented here are the key findings.(FWIW).  .Basically i tried to find the "scattered puzzle pieces"...and put the 1+1 of pieces that seem to fit or go togeher. The matched pieces are written in capital and in parenthesis. All JMHO.
For easy reference:
- Episode 1
here
- VOs in the Preview
here
Key Findings:
1. Key from GL 's INTRO
(of Episode 1..after meeting with her family)
- GL  in  PI on 06:58 "I believe
in the one
. But I believe
it takes a while
to find that one. And everybody finds him differently"
- GL in PI 07:15: "If someone could make me laugh...
say really bad puns and really bad dad jokes..
and then pulled out the guitar and sing a song to me..i reckon i found the guy."
- VOs and PIs usually taken after the fact to enhance the storyline/fulfill the gap/foretelling of what is to come. IMHO VOs and PIs are the 'backbone' of the editing work.
- My interpretation of "it takes a while" is tied into the
A rocky road to romance
implied in the Preview. It also lines up well with her media interview about first impressions means nothing (or something along the line).  
- As for the line "
say really bad puns and really bad dad jokes
" shown Lee on his entrance and their banter on 1st SD (point no 2 and 3  as follows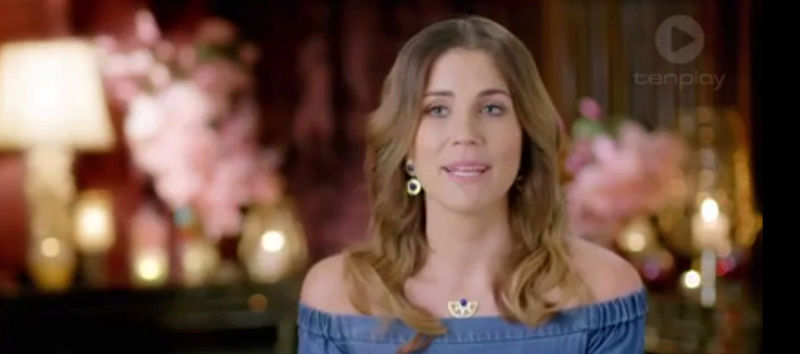 My SC from Episode 1  
2. Key from Lee's Entrance
: Lee said to GL :
"i am mad for a pun and dad jokes"
.
- Imo... can't it be more obvious?
- Matched with point 1 of (...say really bad puns and really bad dad jokes..)
***(1+2 = Lead intro and *(H)F1 entrance linkage )... Note: *H(F1) refers to Hypothetical F1 since its still need to be proven/remains to be seen.
3. Key from 1st Single Date
: We are shown their banter of pun and dad jokes.
***( 1+3 = Lead intro and *(H)F1 SD linkage)
4. Key from Lee's Bio
: http://tenplay.com.au/channelten/thebachelorette/bachelors/lee
-
Do you believe in "the one"? "Most certainly. She's currently at large but I have every intention of finding the elusive "one."
- out of GL's remaining men, only the one and only
Lee got " do you believe in the one " question
in Bio
- this is matched with aforementioned Point No.1 (GL intro in  Ep 1 at 06:58.
."i believe in the one"
(GL in PI)
- IMO tbh This is uncanny... .this is not the first time on the show that the Bio se"I believe in the one" rves somewhat as part of /complemetary for the Storyline. I have found several cases in the past US series as well.(likewise, with the ongoing Ette CA 1 ). But its really rare that I get to see the Bio's" nugget" as clear as
this one
(pun intended
) I might think i hit the jackpot... thank you TPTB!!  
***(1 + 3 = Lead intro and (H)F1 bio linkage)
5. Key from Preview
:
here
-VOs of Lee and GL:
Lee = I want someone to share the rest of my life with
GL = I can't wait for this next chapter to begin and meet my forever person
- IMO there is specific reason on why Lee and his VO was shown last...right before GL* and what they said hold the same meaning.
- While the other 2 guys previously shown obviously want different things:
Cameron wants fairy tale and Matty wants someone to sweep him off his feet
- *Lee shown on the last scene before GL to me translated to as somewhat foreshadowing that he was the last man standing IMO (reiterated on point no.8)
***(Storyline through Beginning matched: G and L want the same thing)
- Additional observation using comparison with past seasons of the US: Lee is relatively hidden- only far away shot on the NB date (relatively typical F1. Not shown talking or being intimate with up-close shot. (ala typical F2 and/or F3/next lead).

Joy15




Posts

: 649


Join date

: 2015-12-23



The F1 Kiss Riff
The Riff posted by
@AllAboutLove
here :
http://www.bachandbachettefans.net/t3646p84-bachelorette-australia-georgia-love-season-2-f1-f6-discussion-sleuthing-spoilers
@Joy15

wrote:Did anyone else notice?

https://twitter.com/BacheloretteAU/status/788661657622806528

Lee and GL Dirty Dancing act and kiss got the same riff over Court-GL first kiss (the same as past F1s first kiss)?

so it might not over their first kiss..but Lee definitely got the "F1-riff"over his kiss on this date. IMO
@Joy15

wrote:

@AllAboutLove

wrote:I posted the same thing in the episode thread

@Joy15

Lee got the F1 music riff and replacing Court just like you posted

great to know! and beyond glad to know that im not imagining things

 

so the Lee replacing Court theory* seem starting to come into play...Court got the riff over the

1st

kiss..while Lee on the

2nd

kiss....Those sneaky editors!!
*Based on some edit clues i found (point no 8), posted here  :
http://www.bachandbachettefans.net/t3646p636-bachelorette-australia-georgia-love-season-2-f1-f6-discussion-sleuthing-spoilers

Joy15




Posts

: 649


Join date

: 2015-12-23



Page 2 of 2 •

1, 2
Bachelorette Australia - Georgia Love - Season 2 - Possible F1 Evidence - No Discussion - *Sleuthing - Spoilers*
---
Permissions in this forum:
You
cannot
reply to topics in this forum