Page 10 of 10 •

1, 2, 3, 4, 5, 6, 7, 8, 9, 10
I just watched both of the videos here and feel better about them as a couple. I like that they're not jumping into anything like living together. Taking it slow worked well for Jason & Molly as well as Chris & Peyton who all handled the distance relationship beautifully. Kevin will never be my type but have to say that he's looking good with the new hairstyle.

I know some of you don't like Roz but I thought he did a good interview. He asked the questions that needed to be asked imo.


"Love is the Only Reality" -Ed Lambton

albean99

Moderator





Posts

: 13137


Join date

: 2011-06-02


Location

: Plano, Tx



Putting this here as well: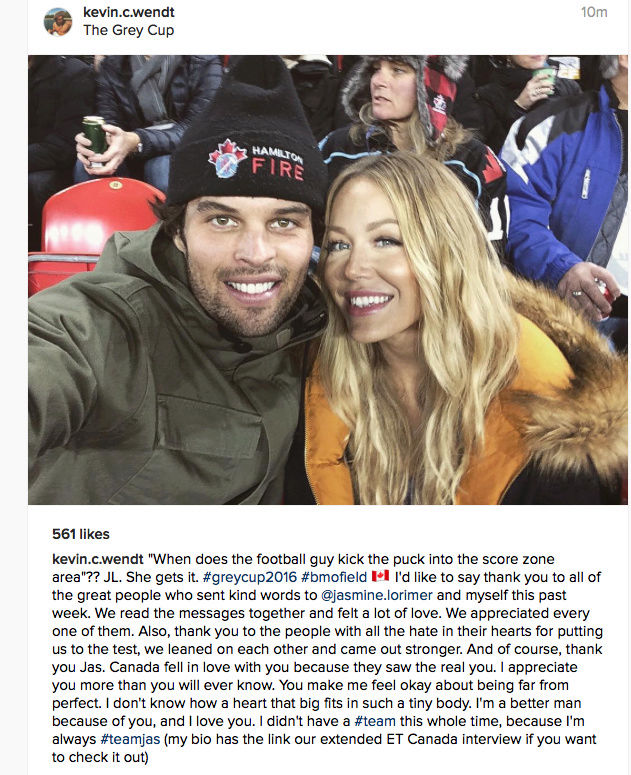 source[/quote]

iamreal2u




Posts

: 3942


Join date

: 2011-06-22



Kevin has shown to be a big person, mature, and respectful of Jasmine after the show. His comment, that Jasmine had feelings for two guys, and didn't get the closure you usually get, was really amazing. Props for him for it. I've changed my opinion of him s lot post show.

I didn't like how he handled his jealousy or arguments during the show, I didnt like him walking away. But that's just a snippet we saw, the ugly part. We didn't see him return, and how he handled it from there.

IMO Jasmine was an amazing lead, she seems like a wonderful person, and I wish for her and Kevin a lot of luck and love. I'm rooting for them.

Cocoasneeze




Posts

: 3325


Join date

: 2016-01-13


Location

: UK



@notarose

wrote:

@Sprite

wrote:Well, I seem to be in the minority. Yes, Jasmine was holding on to Kevin for dear life, but I thought they seemed awkward and not that enthusiastic. Maybe it was because of Roz being the one interviewing them and he was definitely not a Kevin supporter.

I thought Kevin was much more comfortable (same as ATFR) than Jasmine.  Comparing her manner to  interviews she gave before the season started airing, this looks like a different girl to me.  I think it will greatly benefit her to return home, go back to work, and hang out with friends.  The relationship will either grow or flounder from there.  
yes i completely agree. She seems to me to have lost her sense of self a bit. Jmho.  Being torn at the end and then having issues with Kevin all through would make her question whether this was really the ideal ending she expected. It must feel like a huge anti climax if you still feel conflicted after choosing one man over the other. Especially if you truly believed 'the process' would work perfectly. Reality must be a crashing bore after living the dream. Of course i'm biased as will always beleive she chose the wrong guy. Could Kevin's apparent confidence and maturity stem from the fact he is now calling the shots and narrating the official story for them both. Meanwhile Jasmines guilt over being unsure means she is playing along for now. It's just my cynical theory and I hope I am wrong. All jmo.

ukglasgowkiiss




Posts

: 578


Join date

: 2016-08-07



I'll give them the benefit of doubt because they seem to be happy. We'll see if they can do the distance romance thing now that they're able to openly be together. It's not easy but others have managed.


"Love is the Only Reality" -Ed Lambton

albean99

Moderator





Posts

: 13137


Join date

: 2011-06-02


Location

: Plano, Tx



Page 10 of 10 •

1, 2, 3, 4, 5, 6, 7, 8, 9, 10
Jasmine Lorimer - Kevin Wendt - Bachelorette Canada Season 1 - Discussion
---
Permissions in this forum:
You
cannot
reply to topics in this forum