Page 77 of 80 •

1 ... 40 ... 76, 77, 78, 79, 80

@coolangel

wrote:

@atem

wrote:There are no other women that can be added to the roster unless one dropped out.  The only hold out is a male and it's already been guessed it's some baseball player.

You can't have all 3 guys, Sasha/Artem/Mark being on.  There are 12 slots.

Of course, it's not Raven.  You only have to check her Instastories to see she's at home, working and being with family at some High School or Middle School girls basketball games.

There is speculation that Sasha's olympic gymnast partner dropped out and Mark might be back with a surprise contestant. I am not going to go into details coz this is not a DWTS forum.

We might find out more about it tomorrow after the official announcement on GMA. JMO.
Vanessa over Simone Biles?  Talk about scrapping at the bottom of the barrel and people would have a fit! IMO.

atem




Posts

: 23211


Join date

: 2011-07-26



@atem

wrote:

Vanessa over Simone Biles?  Talk about scrapping at the bottom of the barrel and

people would have a fit

! IMO.
People will have a fit no matter what.
It's like the bachelor - either the cast is terrible, or the editing is terrible, or there is a fake storyline or there is too much producer manipulation. It's the reality of all these 'reality' shows IMO.
Also, there are a lot of people like me who are tired of watching ringers on DWTS. I for one would take someone untrained over a trained gymnast any day. Vanessa has my vote.
All JMO.

coolangel




Posts

: 2473


Join date

: 2016-09-17



You can't have all 3 guys, Sasha/Artem/Mark being on. There are 12 slots.
Just for the record, there have been multiple seasons of DWTS with 13 couples.

lleyki




Posts

: 1478


Join date

: 2012-05-26



I keep forgetting Vanessa is only 5'2. She would definitely be partnered up with the shorter male pros,IMO. That's if this is even happening. So either Mark or Sasha?

Cila51290




Posts

: 2211


Join date

: 2016-03-04


Age

: 27


Location

: Sunnyside



@Kashathediva

wrote:There is a saying: throw out as much chit as you can, just to see what sticks.
I borrow this quote (tho' I believe it was a reference to the "historic announcement" on ATFR) ... but also to speak of an article about Nick ... and many similar ones, including "gossip from the source/staff of TB" ... where they keep writing about Nick's alleged arrogance, "god given" complex, "ego" behavior, someone who treats people badly, disrespecting, ... , that I find that rumor, whoever started it, a very good negative promotion - that has stuck.
Some people buy it, since Nick is "all negative" they cannot stomach, some people clearly see him as fake/manipulative fame-w**** who can change faces and act respectful and humble one moment and become this "entitled" d*bag the next.
I don't, I can't, I believe he is a straight forward "azz****" (said it himself) who doesn't hide his negative or positive traits and not for naivete ... but I've never witnessed him acting haughtily like some rumor/articles state, I've always seen him be respectful of people around him (minus some ATFR incident, apologized) and most of people among the show-biz who got to meet him and talk to him had nice things to say about him (when asked), including his "entertainment" friends who talk about his sincerity and integrity. That doesn't mean he can't have bad days or that everyone should like him, when personalities don't mash or that all his "jokes" are funny, but in terms of that saying "where is smoke..." IMO it's just that, BS - all IMO, end of a rant.

happygolucky




Posts

: 4913


Join date

: 2013-04-17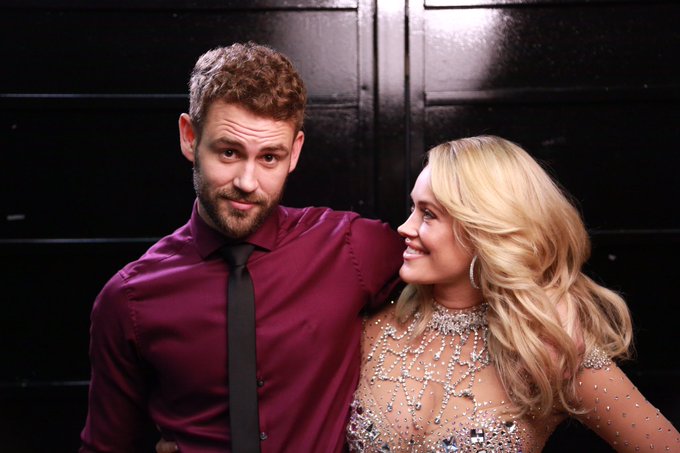 @DancingABC
Bachelor Nation, are you ready to see @viallnicholas28 embark on a new journey with @PetaMurgatroyd to win the Mirrorball Trophy?

ElonM




Posts

: 4526


Join date

: 2012-07-02


Location

: Germany



I was going to watch anyway since I always watch DWTS but I am looking forward to watching them. I like Peta and I'm excited to see how she does so soon after giving birth.

And I love how apparently they were being all mysterious at the live announcement this morning on GMA about who Peta's celebrity could possibly be and there's People Magazine and the official DWTS account posting Nick and Peta's promotional shot. So what's the point of the mystery?
Last edited by lleyki on Wed Mar 01, 2017 1:17 pm; edited 1 time in total

lleyki




Posts

: 1478


Join date

: 2012-05-26



Well I now really have to find my password to vote
Is it possible to vote outside of US online or only by phone? (I actually have no idea about the voting) I really like the brothers Chmerkovskiy, read good things about Peta, so I'm thrilled to see something other than TB ... oooh and Nick doing some Latin dance, with very deep V

happygolucky




Posts

: 4913


Join date

: 2013-04-17



@happygolucky
yes that is what I do vote by computer at ABC dwts board.
Please discuss DWTS Nick in this thread. Please do not discuss any information about his current season of TB until ATFR.
DWTS Nick and Peta
___________________________________________________________________________________________________
RIP Sophie Little Girl  
Follow @BachSpoilersFan
All Rules
Posts without source will be deleted.
NO SPOILERS in any threads other than those titled Spoilers.  
Mike's announcement is not that Vanessa is on the cast...
IMO. Whatever it is though, I'm sure it'll be pointless, as are most of his announcements IMO.

Lennoxcolinrolland




Posts

: 5161


Join date

: 2016-05-09



Page 77 of 80 •

1 ... 40 ... 76, 77, 78, 79, 80

Bachelor 21 - Nick Viall - Media SM Vids - Discussion - *Sleuthing Spoilers* #4
---
Permissions in this forum:
You
cannot
reply to topics in this forum