Page 78 of 80 •

1 ... 40 ... 77, 78, 79, 80

I thought that pie IG story was a little sexual innuendo...

maybe just my dirty mind. LOL

Cila51290




Posts

: 2211


Join date

: 2016-03-04


Age

: 27


Location

: Sunnyside



If she's there, IMO, they will be holed up and catered to in a SH, not eating out in public, when he's not practing of course.  He will get to leave for practice and all.  And if she's lucky a handler might let her go out in public to do something.  Especially if Raven is already there and can be seen out too to leave some mystery of which one is there with him.  They would not be allowed out in public together, IMO the week before the finale, even if they were in disguise.  Just don't see it happening, but that's JMO.

And in the past, if I'm remembering correctly, a few couples have even been kept apart before and after the People photoshoot to add more tension and doubt/worry to the already struggling couple before they get to see each other on stage at the AFTR.

Ladybug82

Moderator





Posts

: 8928


Join date

: 2011-07-26



https://instagram.com/p/BRcGUjAB2B6/

If there was ever a doubt...

Maya




Posts

: 211


Join date

: 2017-01-22



I'm starting to think she reads this forum
bc she always suddenly post something when we questions them
Source IG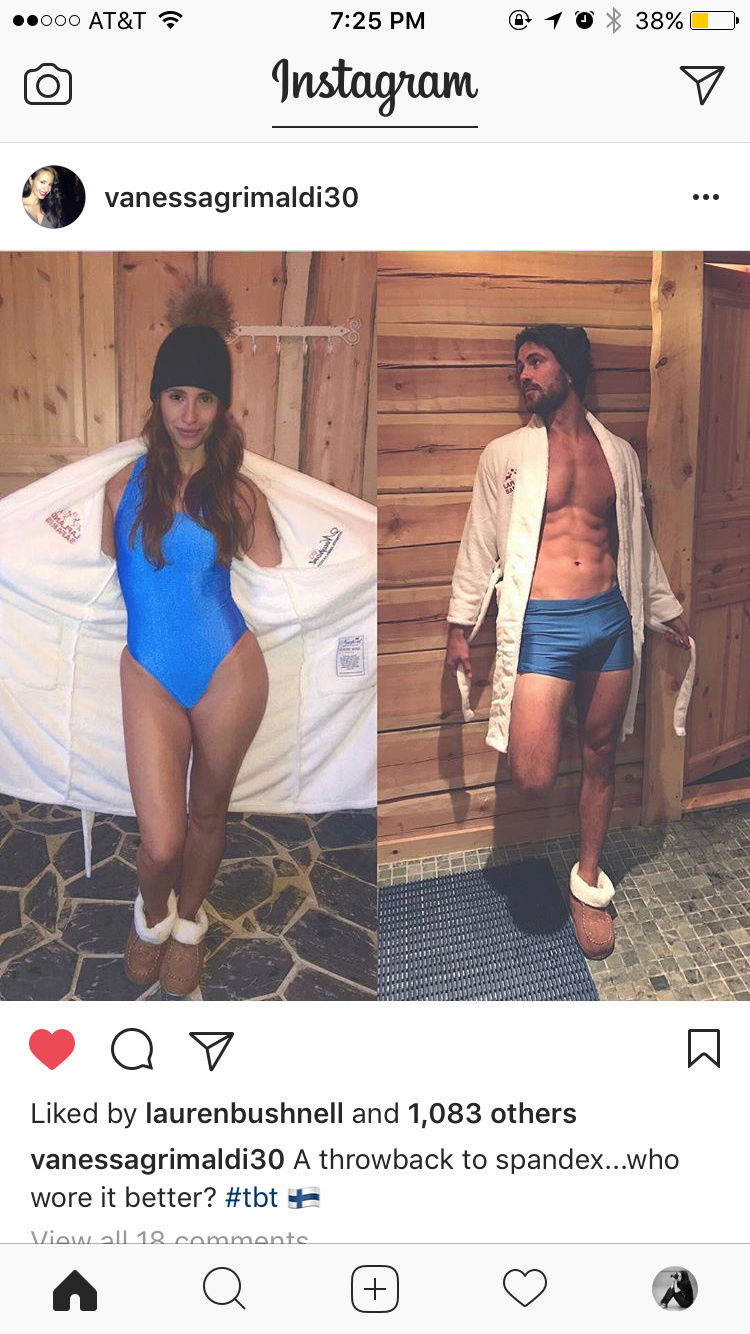 TPTB are really good at splicing. On the preview for MP, Mr Viall was talking to Nick about "her" bering like all the other women Nick has ever been with and without much success. At first at thought it was Raven because it was after Mr Viall's conversation with her. But, when I look at their sweaters, it was actually the same one Mr Viall was wearing during his conversation with Vanessa. (There goes my insecurities again. I have never doubted a spoiled F1 as I have with Vanessa. I must really like her and Nick together.)

2ndcampbell




Posts

: 406


Join date

: 2013-03-01


Location

: Would rather be in Costa Rica



Her body though! If there were ever any doubts Vanessa looks pretty happy to me.

Cila51290




Posts

: 2211


Join date

: 2016-03-04


Age

: 27


Location

: Sunnyside



Her social media is spot on. Always positive and not annoying. I actually look forward to her posts and captions. Can't wait to see their posts when they can post freely.

SeekAny




Posts

: 461


Join date

: 2016-03-13



I really like that she decided to repost this photo of Nick. I always thought it was a silly photo and didn't agree with all the negative comments! Way to support her man!

Maya




Posts

: 211


Join date

: 2017-01-22



I found myself wondering today.... When nick said in the hot tub that they were similar in that they're both stubborn and like to be right...on what was he basing that, do you think? On things she'd said about herself, or on things that he had experienced during their convos???

Billysmom




Posts

: 705


Join date

: 2017-03-03



I posted similar in Nick's SM thread since his pic had been posted there... but to me this pic that Vanessa posted on her IG confirms for me that Nick's pic had to do with Vanessa and I wouldn't be surprised if they took the photos of each other.
It also shows Vanessa gets Nick's sense of humor and his goofy fun self and from what had been sleuthed about Vanessa even pre-season I have no doubt that's because she is just like Nick and shares his goofy fun sense of humor and can be fun and silly just like him (after all they are so similar in so many ways and this is just one of them).
What I especially love about this pic by Vanessa is that she chose to include the
same
pic of Nick which not only tells me she likes it  
but that she also supports her man and what Nick posts on his IG!  
Heck, maybe Vanessa told Nick to post that pic of himself since he has gotten so much negativity and body shaming and no doubt she knows the truth about his body so I can just see her telling Nick to post the pic because no doubt she approves of it as she posted it herself!
Go Vanessa and Nick  
A throwback to spandex...who wore it better?

#tbt

 by @

vanessagrimaldi30

AllAboutLove

Moderator





Posts

: 26534


Join date

: 2014-09-26



She looks great. He looks ridiculous IMO.

alwaystulips




Posts

: 1823


Join date

: 2012-04-25



I think they both look great! Fit couple.

mindless




Posts

: 6776


Join date

: 2014-08-16



Page 78 of 80 •

1 ... 40 ... 77, 78, 79, 80

Vanessa Grimaldi - Bachelor 21 - *Sleuthing Spoilers* #5
---
Permissions in this forum:
You
cannot
reply to topics in this forum