Page 13 of 13 •

1, 2, 3 ... 11, 12, 13
He is so great!

Kels0012




Posts

: 1037


Join date

: 2012-06-05



A real sweetheart. I wish him all the best.

pavalygurl




Posts

: 5073


Join date

: 2011-05-17



https://www.msn.com/en-us/sports/nfl/nfl-player-clay-harbor-updates-his-status-after-suffering-injury-on-the-bachelorette/ar-AAyxCup?ocid=spartanntp
You could be the juiciest, most ripe peach, but there is still going to be someone who doesn't like peaches.

Sprite

Moderator





Posts

: 12392


Join date

: 2011-12-05


Location

: London ON



I hope Clay gets picked up by both a great team and great gal.  After his appearance on this season, there must be a lot of woman that haven taken notice of him.  He is a keeper!

MiniDiva




Posts

: 3990


Join date

: 2011-04-06



I really like Clay. I'd be happy to see him as TB but that's not going to happen as long as he has a shot to stay in the NFL, imo.


"Love is the Only Reality" -Ed Lambton

albean99

Moderator





Posts

: 13622


Join date

: 2011-06-02


Location

: Plano, Tx



One of the most genuine good guys to appear on this show. Hope he has a HEA on field and off.


Been watching this crap show like forever

Norcalgal

Moderator





Posts

: 2350


Join date

: 2011-06-05


Location

: Northern California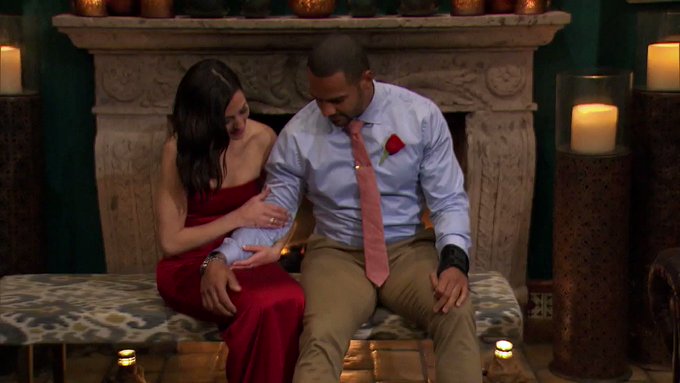 The Bachelorette @BacheloretteABC
Not sure what's more painful...Clay's broken wrist or our broken hearts.
#TheBachelorette
pic.twitter.com/Hzqt7IVguf
https://www.gracebarry.com/beccas-season/2018/6/14/power-ranking-the-bachelorette-guys-week-3

Maddy




Posts

: 10781


Join date

: 2014-01-20



Sharleen wrote:Sadly, the ACTUAL professional football player gets injured on this date and is whisked off to get medical attention. Brutal.

In the evening, when Clay returns, note how editing makes it seem like the guys are irritated at the attention he receives, yet how you can see them smiling warmly when in the background of actual shots from this moment...

In short, those irritated-looking faces could have been taken from just about anywhere. The tone of these faces, to me, is that they've already been waiting many hours for this evening to be over and then just when they probably thought it WAS over, Clay returned (which can easily tack on another hour or so). The classic use-tired-and-bored-faces-to-look-like-annoyed-and-jealous-faces trick.

When Becca presents Clay with the rose, note how editing suggests Blake expects it by showing him smile at "somebody who makes me feel like a princess". But observe how Leo's sitting next to Blake in that smiling shot, yet how Leo's next to Clay in this Group Date rose moment...

Ah, the power of editing. So you can pretty much assume that ANY facial expression or word used can and will be used to create whatever narrative.
http://www.alltheprettypandas.com/bachelorette14/episode3

Maddy




Posts

: 10781


Join date

: 2014-01-20



Page 13 of 13 •

1, 2, 3 ... 11, 12, 13
Clay Harbor - *Sleuthing Spoilers*
---
Permissions in this forum:
You
cannot
reply to topics in this forum