Page 18 of 18 •

1 ... 10 ... 16, 17, 18
Garrett's sm is open to everyone to debate, and I have no problem with what people think of him, positive or negative. However, I disagree with the assumption that just because his friends sm are private, they, like Garrett, "also like alt-right memes on IG". I don't think it's necessary to bring his friends into the discussion, IMO.

sdmom




Posts

: 6022


Join date

: 2012-07-23



@facelessblood

wrote:I don't know what the big deal is that he's following people, who he presumably knows personally, that are private on social media.
Because he already has a private account, _gy_yrigoyen__
https://www.instagram.com/_gy_yrigoyen__/
which was originally garrett_yrigs12 when he was playing let's change IG accounts he changed the name to _gy_yrigoyen__ and he deleted 58 posts from the original one.
https://www.instagram.com/garrett_yrigs12/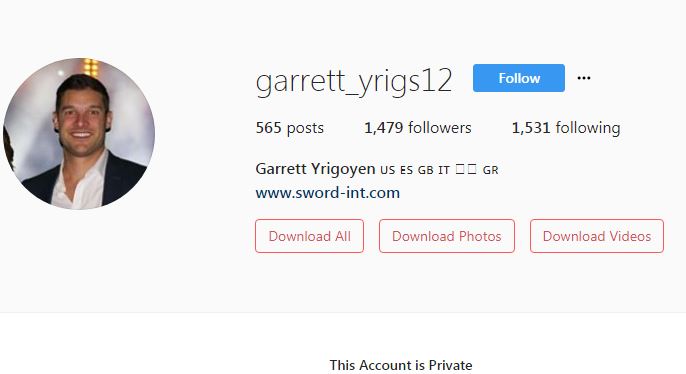 Why follow the same people on two different IG's that are private? We don't know that he is following people he knows that are private. He could be following people that he doesn't know, simply because they are private.
http://www.bachandbachettefans.net/t4761-garrett-yrigoyen-sleuthing-spoilers
___________________________________________________________________________________________________
RIP Sophie Little Girl  
Follow @BachSpoilersFan
All Rules
Posts without source will be deleted.
NO SPOILERS in any threads other than those titled Spoilers.  
I follow both accounts. From what I can see, he never uses _gy_yrigoyen__.

He is following his friends on his new account, absolutely nothing wrong with that!

IrelandRose




Posts

: 499


Join date

: 2016-05-25


Location

: Ireland



@GuardianAngel
Eh I really don't think that is the case. He's only following 292 accounts and of those that are private, I assume they're friends and family. He's probably using the new account primarily and wants to follow those that he knows? IMO I don't see the problem at all.

facelessblood




Posts

: 26


Join date

: 2017-05-19



gy_yrigoyen
Find someone who you can always laugh, be happy, and have fun with. Watch the @bacheloretteabc tonight as I continue my search for that!
Source
Source
Source

bluwavz

Moderator





Posts

: 10988


Join date

: 2011-05-27


Location

: South Carolina



@sdmom

wrote:

@mbl

wrote:While a lot of people have private SM accounts, most of the time a person will follow some people whose accounts are not private.  Almost all of the people Garrett follows are private.   I've always assumed that Garrett has told his friends to change their accounts to private because they also like alt-right memes on IG and he wants to protect him/them for being called out for it.  Protecting himself b/c if he, Garrett, likes a friend's post of a fish the friend caught and someone following G looks at other photos on the friend's IG, they could see alt-right stuff that would prompt negative comments for the friend and G.  I just don't think Garrett was operating in a vacuum on his IG likes, I imagine others in his circle were liking the same stuff.  All IMO.

Sorry I respectfully disagree with the assumption. I make all my sm private because there are crazies out there and I don't want them to stalk me. That's for security reason, IMO, not because I have something to hide.

And frankly, I don't blame his friends to make accounts private after Garrett's appearance on the show. I am sometimes uncomfortable with how people, not only on this forum, but on other places, will search friends and families, even when they don't appear on the show. In fact, I think all families and friends should make their sm private.

And does it matter if they are private or public? It's their lives and they don't seek for public attention so why should I care?

All Jmo.
In my view, unless you are trying to make a living off of social media or otherwise promoting something, your accounts SHOULD be private. It's a security and privacy issue. This is something all my real life friends agree on, and that we teach to our kids.
I do have a public Instagram but I NEVER post pictures of people or anything "in the moment" on it. Its for travel pictures to share within the public travel photo community. I've enjoyed the international aspect of it, having a public account, but I would never do that with something that had my kids (or nieces and nephews) photos in it, or even my home town specified.
I'm not worried about anyone's impression of me or my friends. I'm worried about our privacy mostly for the simple sake of privacy, of which there is so little in today's world, but also because some people on social media are truly scary.

dw_a_mom




Posts

: 3377


Join date

: 2011-08-04



Agree with all of that, dw!!!

Billysmom




Posts

: 769


Join date

: 2017-03-03




bluwavz

Moderator





Posts

: 10988


Join date

: 2011-05-27


Location

: South Carolina



Page 18 of 18 •

1 ... 10 ... 16, 17, 18
Garrett Yrigoyen - *Sleuthing Spoilers* - #2
---
Permissions in this forum:
You
cannot
reply to topics in this forum