@bluwavz

wrote:

'The Bachelor' Kicks Off the New Year WIth a Bang, Premiering Monday, Jan. 7, With a Three-Hour, Live Special

'THE BACHELOR' KICKS OFF THE NEW YEAR WITH A BANG,
 PREMIERING MONDAY, JAN. 7, WITH A THREE-HOUR, LIVE SPECIAL
The 30 Bachelorettes Who Look to Capture Colton's Heart Are Revealed

Season Highlights Include Celebrity Appearances by Super Bachelor Fan Couples

 Megan Mullally and Nick Offerman, Terry and Rebecca Crews,
 Actor-Comedian Billy Eichner and Comic Actor Fred Willard                                                                                                                                                                                  

 "2301" – What does a pageant star who calls herself the "hot-mess express," a confident Nigerian beauty with a loud-and-proud personality,; a deceptively bubbly spitfire who is hiding a dark family secret, a California beach blonde who has a secret that ironically may make her the Bachelor's perfect match, and a lovable phlebotomist all have in common? They're all on the hunt for love with Colton Underwood when the 23rd edition of ABC's hit romance reality series "The Bachelor" premieres with a live, three-hour special on

MONDAY, JAN. 7

(8:00–11:00 p.m. EST), on The ABC Television Network, streaming and on demand.  


Bachelor Nation viewing parties from across the country will be featured during the live, three-hour premiere.
The game that captured the hearts of Bachelor Nation is coming back soon with all-new gameplay! Fans can get ready to play The Official Bachelor Fantasy League, which allows players to compete with family, friends and the rest of #BachelorNation by building a weekly lineup of Bachelorettes based on weekly categories ranging from who will get a rose to who kisses Colton. Look out for a launch announcement at the end of the month to create your lineup for the premiere!

Before his journey begins, Colton sits down with Chris Harrison for a frank discussion about the backlash he received after he was announced as the new Bachelor and his readiness to become a husband.  What about the fantasy suites? Colton wants to keep an open mind – anything is possible. However, he is somewhat nervous at the prospect of simultaneously juggling 30 smart, beautiful women.

The Bachelor's anxiety is only matched by that of the group of eager, accomplished women, who want to make a lasting first impression and finally meet their possible future husband. Once the Bachelor enters the mansion, all bets are off and the race to find love is on. Colton is swept away by a very assertive woman, and he is surprised at how much chemistry he feels with some of the women … there are even a few kisses. One persistent lady steals him away four times – much to the dismay of the others. Will the aggressive moves impress Colton or turn him off? Although the women scramble to get time with him to earn the coveted first impression rose, he ends up giving it to the lady who helped him feel the most comfortable in this very new situation.

At the end of the night, 23 bachelorettes remain to embark on wild romantic adventures with Colton around the world and attempt to become the love of his life. This season, romantic excursions will take Colton and the women to spectacular places around the globe, including Singapore, Thailand, Vietnam and Portugal, and even to Colton's hometown of Denver, Colorado.                      

Romantic and adventurous dates will test the women's perseverance in pursuing their romantic objective, along with fun, exciting and exotic dates that will elicit real and raw passions. Happily married couple and huge Bachelor fans, Megan Mullally and Nick Offerman, are on hand to offer some unconventional advice and unusual performance tips to a group of the women who must share their personal stories with Colton about their "firsts."

Actor/comedian Billy Eichner oversees a fierce summer camp-type competition as some of the bachelorettes relive their childhoods. Terry and Rebecca Crews put a group of powerful and passionate women through the "Bachelor Strongest Woman" competition, with Chris Harrison and Fred Willard adding the play-by-play. Up-and-coming country star Tenille Arts performs her hot new song, "I Hate This," for Colton and one special lady. Country superstar Brett Young sings his hit "Here Tonight" as Colton surprises one of his wonderful dates.

As the journey continues internationally, relationships have a chance to flourish and more surprises await the unsuspecting Bachelor. Will Colton open his heart and find the woman of his dreams who will love him back?    

The 30 women who will vie for Colton's heart are the following

:

 Alex B., 29, a dog rescuer from Vancouver, British Columbia, Canada

 Alex D., 23, a sloth from Boston, Massachusetts

 Angelique, 28, a marketing salesperson from Hamilton, New Jersey

 Annie, 23, a financial associate from New York, New York

 Bri, 24, a model from Los Angeles, California

 Caelynn, 23, Miss North Carolina 2018 from Charlotte, North Carolina

 Caitlin, 25, a realtor from Toronto, Ontario, Canada

 Cassie, 23, a speech pathologist from Huntington Beach, California

 Catherine, 26, a DJ from Ft. Lauderdale, Florida

 Courtney, 23, a caterer from Atlanta, Georgia

 Demi, 23, an interior designer from Red Oak, Texas

 Devin, 23, a broadcast journalist from Medford, Oregon

 Elyse, 31, a makeup artist from Soldotna, Alaska

 Erika, 25, a recruiter from Encinitas, California

 Erin, 28, Cinderella from Plano, Texas

 Hannah B., 23, Miss Alabama 2018 from Tuscaloosa, Alabama

 Hannah G., 23, a content creator from Birmingham, Alabama

 Heather, 22, never been kissed from Carlsbad, California

 Adrianne "Jane," 26, a social worker from West Hollywood, California

 Katie, 26, a medical sales representative from Sherman Oaks, California

 Kirpa, 26, a dental hygienist from Whittier, California

 Laura, 26, an accountant from Dallas, Texas

 Nicole, 25, a social media coordinator from Miami, Florida

 Nina, 30, a sales account manager from Raleigh, North Carolina

 Onyeka, 24, an IT risk consultant from Dallas, Texas

 Revian, 24, an esthetician from Santa Monica, California

 Sydney, 27, an NBA dancer from New York, New York

 Tahzjuan, 25, a business development associate from Castle Pines, Colorado

 Tayshia, 28, a phlebotomist from Corona Del Mar, California

 Tracy, 31, a wardrobe stylist from Los Angeles, California

Plus, there will be a special guest appearance by Lucy, 70 (age in dog years, but she is actually 10), a pet Pomeranian from Ft. Lauderdale, Florida.

Hosted by Chris Harrison, "The Bachelor" is a production of Next Entertainment in association with Warner Horizon Unscripted & Alternative Television. Mike Fleiss, Martin Hilton, Nicole Woods, Bennett Graebner and Elan Gale are the executive producers. "The Bachelor" is broadcast in 720 Progressive (720P), ABC's selected HDTV format, with 5.1 stereo surround sound.

*COPYRIGHT

2018 American Broadcasting Companies, Inc. All photography is copyrighted material and is for editorial use only. Images are not to be archived, altered, duplicated, resold, retransmitted or used for any other purposes without written permission of ABC. Images are distributed to the press in order to publicize current programming. Any other usage must be licensed. Photos posted for Web use must be at the low resolution of 72dpi, no larger than 2×3 in size.

ABC Media Relations

 Cathy Rehl

 (212) 456-6749

 cathy.rehl@abc.com

Courtney Kugel

 (818) 460-6089

 courtney.e.kugel@abc.com

Greg Khach

 (818) 460-6373

 greg.g.khach@abc.com

Photography and video available at www.disneyabcpress.com. Photography request line (818) 460-6611.

For more information on "The Bachelor," visit abc.com.

Follow ABC Publicity on Twitter and Instagram.

Facebook

: @TheBachelor

Twitter

: @BachelorABC

Instagram

: @BachelorABC

Hashtag

:

#TheBachelorCheat tweet

: Meet the lucky 30 bachelorettes Colton meets on night one! Will he find his soul mate? Follow Colton's search for his one special woman as the next @BachelorABC premieres Monday, January 7, 2019, 8/9, with a three-hour, live special on @ABCNetwork!

#TheBachelor #ABCPublicity

Source
___________________________________________________________________________________________________
RIP Sophie Little Girl  
Follow @BachSpoilersFan
All Rules
Posts without source will be deleted.
NO SPOILERS in any threads other than those titled Spoilers.  
Mike Fleiss @fleissmeister
4 weeks from tonite!
#TheBachelor
begins! Best season in years!
10:29 AM - 10 Dec 2018

Maddy




Posts

: 9019


Join date

: 2014-01-19



Here's the limo arrival list the best that I can figure it. Some are missing. If there arrival pics for those and I missed them...so sorry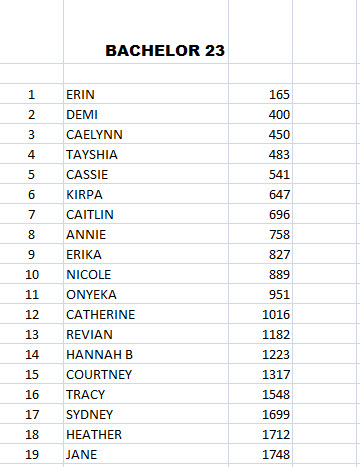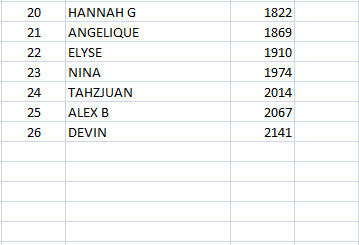 Candace:
There is nothing better than an Auntie's Love!

Aunties_Love




Posts

: 9518


Join date

: 2011-10-26


Age

: 49


Location

: Island Time



Bachelor 23 - Colton Underwood - Episode Jan 7th - *Sleuthing Spoilers*
---
Permissions in this forum:
You
cannot
reply to topics in this forum