Page 10 of 10 •

1, 2, 3, 4, 5, 6, 7, 8, 9, 10
@Zaynab

wrote:

Note Jessica Brody's comment, I can see when they are public still being friends with a few of the girls, especially as Chelsie was well liked. Similar to how Laura and Matty, Georgie and Lee are still friends with other contestants. Also note that Jessica was just hanging out with Chelsie and a few of the other girls a few days ago.

Zaynab




Posts

: 468


Join date

: 2017-03-17



Episode 6 —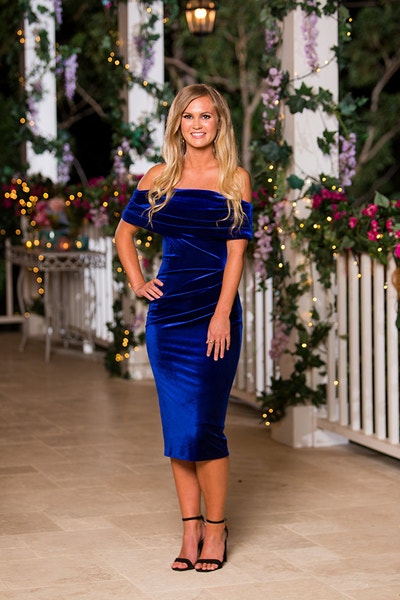 Dress: Nadine Merabi.
Jewellery: Zingara (earrings & rings).
Shoes: Tony Bianco.
Style Gallery

butterflylove




Posts

: 432


Join date

: 2019-05-10



@butterflylove

wrote:These cuties!

thebachelorau

Honestly, how cute are Matt and Chelsie?!

florencealexandras

WINNER!

megan.leto.marx

She's an absolute legend

jessica_brody

Nothing but respect for my presidential couple

butterflylove




Posts

: 432


Join date

: 2019-05-10



Honestly, can he cheese any harder?
The truth is rarely pure and never simple ~ Oscar Wilde 

Idlemess




Posts

: 2784


Join date

: 2011-05-29


Location

: New York



@Bobette

wrote:

I'd actually say the opposite - IMO her outfit is less coordinated with him than just about anyone else!  Maybe the colours look different IRL but her shade of blue is off by a few tones on the colour chart and clashes with his grey-blue IMO.  

To me his suit complements Vakoo, Kristen or Mary the best  A few flecks of red in his pocket square and he would be a perfect match for Abbie.  Contrasting colours are a better match than ones that are almost the same but not quite IMO.  

As for the red carpet, he was in a black tux and white shirt with black bow tie so it would by design match everyone, and Chelsea's outfit matched no better than any other IMO.  When the F1 is spoiled it can influence how things are viewed, IMO.
I meant matching. My partner and I dress a lot in the similar colors, even if different hues (even black has different tones), very matchy matchy and that's what I saw with Chelsie and Matt (we've worn almost the exact outfits Chelsie and Matt were wearing in the blueish hues - so we're totally off if we're not matchy
 but that's ok). 
Considering they're styled by a stylist, it's similar to how I saw it with Lee and Georgia where the stylist did the same thing often, not just in matchy matchy with color/tone/hue but also style (so both more dressy). Straight away my eye was drawn to the fact they're both wearing bluish tones and the majority of their outfit is bluish (full dress, suit and jacket).
I never even saw Vakooa dress being a match in style at all being short like that and the colors I don't see matching either unless I looked super close to try match things up. So not looking at it like a final rose ceremony type thing, rather what immediately caught my eye on the style and the color and the best match imo is Chelsie and draws my eye. I noticed it with other front runners for past seasons and knowing they are dressed I think it's part of a narrative.
For the first night outfit the style of Chelsies black dress for example was definitely chosen for a reason and being more dressy and suited better with Matt imo. Elly's in contrast while white was far more casual in style and didn't suit Matt's tux as well as Chelsies did. Imo these are planned this way. Just like Lee was put in the best suit and matched well with G on his first night. MattyJ was second with the best outfit. I do feel a lot of it is because of how attractive these people are but at the same time I also think it's planned to accentuate the contestants the show has for the lead. No different than the gimmicky outfits that are planned (and production has to make happen) for villains or MOTs.
So for me personally, it's just something I've noticed when sleuthing and regardless of spoilers it's something I think about because I know Chelsie would not have been put in a gimmicky outfit or a clashing one. So was just posting my thoughts and that's all. Trying to have some fun and overanalyze so if I'm totally wrong that's ok.  I had fun posting about it. Jmo

AllAboutLove

Moderator





Posts

: 29179


Join date

: 2014-09-26



Chels in the same bathers she wore on her date with Matt. Her body is ridiculous. 
I loved how Matt was fanning himself at how hot Chelsie is and her body and abs. 
When he said he has never met a scientist as hot as her it all clicked. 
Matt's "type" is hot blonde. His "dream" type though is hot blonde nerd. That's Chelsie
Love them together. Both hot nerds. Match made in a heavenly lab. 
https://www.instagram.com/p/BsFB3lBlj6h/
https://www.instagram.com/chelsiemcleod/

AllAboutLove

Moderator





Posts

: 29179


Join date

: 2014-09-26



Been busy but just checking in to say that the chemistry between Matt and Chelsie is palpable. I am liking their dynamic!

olive54321




Posts

: 95


Join date

: 2018-10-30




butterflylove




Posts

: 432


Join date

: 2019-05-10



@butterflylove

wrote:

thebachelorau

There's nothing like a Bachelor group date to put a smile on your face

butterflylove




Posts

: 432


Join date

: 2019-05-10



Page 10 of 10 •

1, 2, 3, 4, 5, 6, 7, 8, 9, 10
Chelsie - Black 1 Shoulder-sleeved Dress - Bachelor Australia - Matt Agnew - Season 7 - *Sleuthing Spoilers*
---
Permissions in this forum:
You
cannot
reply to topics in this forum