Page 14 of 14 •

1 ... 8 ... 12, 13, 14
It was becoming more and more apparent as the weeks went on that something was up with them.I'm sorry to hear of their breakup. I thought for sure these two would make it. The best to both of them individually in wherever their lives take them.

Jolena




Posts

: 2791


Join date

: 2011-06-07


Age

: 65


Location

: Nj



Hi Bachie fans, just posting this here since all the other Matt Agnew The Bachelor threads are already locked. A little lookback at and question about the former Bachelor.
Just stating that for someone who took all the trouble of botox (speculatively
) and obviously hair dyes, eyebrow darkening and consistent and rigid gym trainings plus massive calorie restrictions (ouch), and also! studying like a true nerd "how to screen kiss"  
, all to shape up as The Bachelor with the innermost (IMO) intention to become a Science TV/Media person (aside from the snoggy perks left & right, of course
), his SOCIAL MEDIA has been MOSTLY SILENT since coming out of the show, as far as Science talk is concerned.
Aside from a little snippet of what appears to be small sciency thought one week, then an upcoming science event announcement the next, NOTHING SUBSTANTIALLY
SCIENCY
has really been coming out of the former Bachelor, Dr. Matt Agnew.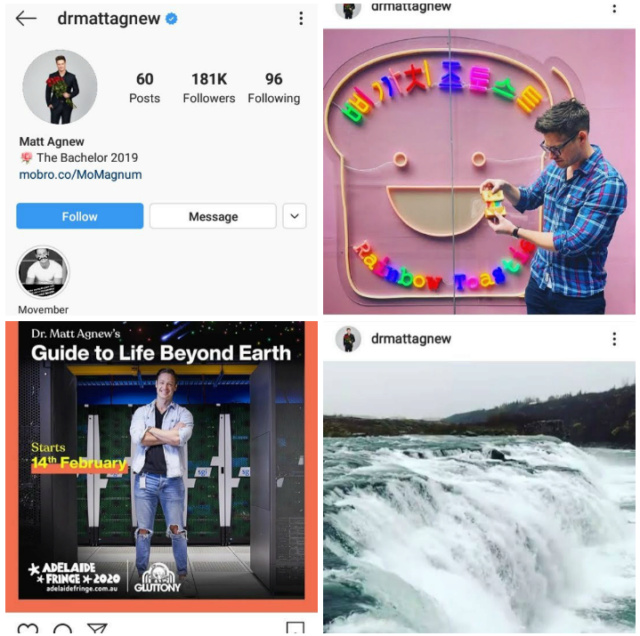 *CRICKETS*   *CRICKETS*   *CRICKETS*
Matt has stated in many interviews and guestings during and after the show that he'd "always wanted to make science easily accessible" to the public, along that line. Though he had a disclaimer of not having "the delusion", but hey, being The Bachelor stages a person to wide open gates, right? No doubt.
https://youtu.be/dwTxA9mI92A?t=389
And for a TV star to unnecessarily place (as a fellow Bachie viewer has stated here)
"Dr."
on his instagram handle, with
181K followers
(well that's A LOTTTTTTT compared to a lot of Australian TV stars, including Osher's 139k who's in The Bachelor every single season
) DR. Matt Agnew has been totally wasting precious golden exposure to make his contribution to "
making science
", Astrophysics in his context, "
accessible to the public
".
Aaaaand with the
#AustralianBushfires
going on, Dr. Matt could have
that
golden opportunity to glowingly fill the brains and curiousities of young and not so young Bachelor followers on climate change=bushfire=atmosphere=outerspace talks.
Hey, it doesn't take a social media expert or a stat scientist to figure why his instagram should have been his own personal medium for
educational molten gold
!
Well, that's just all my opinion. I'm not particularly a STEM person, but I so dig science talks in popular media. Maybe the very reason why I decided to waste my time watching The Bachelor because of the overly-hyped
scientist
lead that the show "discovered".  
I don't blame him if Chelsie is not really "the one" for him. It's the way he handled
most
things in public that have been just too superficial or actingy (IMO) to give off that genuine love aroma coming from him. Chelsie seems to have a fragile heart who needs quality & quantity time from a relationship, and Matt obviously could not give that for some reasons. Despite having his little calculation of "The Bachelor Australia has a pretty good statistic of finding long term relationships of 50%", maybe he's already figured by now, thanks to "just life"
, it's now down to 43%. But who can really blame the guy, he's just a person on his own growth, just like everyone else, after all.  
But failing on the public sciency pursuit bit after being The Bachelor?  

IMO he is doing some sort of
sacrifice
. A sacrifice Matt Agnew makes just to
hide
from all your fan questions out there  
. Really, he has been mostly hiding from all instagram exchanges with fans regarding Chelsie since they went official. I still believe though that they had a real relationship, but lurrve as much lurrve as Chelsie had for him??? Nah. A person as extroverted a geek as Matt wouldn't be able to stop talking about what he's passionate about if he really had been passionate about that relationship.
We understood they were kind of going the "private route' with only 2 or 3 poorly snapped date photos together post-show like they were still hiding. But opportunities for Bachie fans to flood his science post with Chelsie questions even if he didn't have to reply to everyone while they were still on? Not for extroverted Matt, it appeared.
So there, Matt Agnew, former Bachelor star, a genuine pursuer of being a 'Science Man for the public" with 181K Instagram followers and 6 weeks of The Bachelor Australia, is a
Silent Science Man
 .
By the way, speaking of stats, this "sample size" convo with Lee Constable is kind of funny.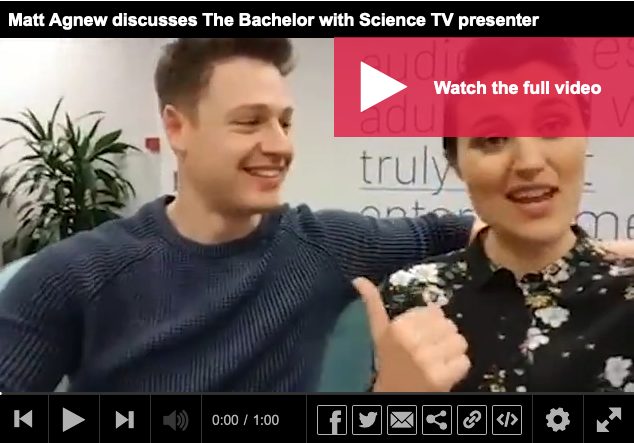 https://www.dailymail.co.uk/tvshowbiz/article-7358657/Bachelor-Matt-Agnew-gets-flirty-Science-TV-presenter.html#v-8299131836368731207

ZeegaZigHah




Posts

: 48


Join date

: 2019-08-19



'Silent science man'
Love it
@ZeegaZigHah
You're right though! Omg with 180k followers he could (and should, imo) do a lot of public education on 'science stuff' like climate change and plastics in landfill etc. Yes I know that's not astrophysics stuff but I don't think that matters at this point in time, someone with a public face and a doctorate in any kind of science field really should be taking advantage of the opportunity imo. Then he can sneak some 'aliens are out there' stuff as well.

leavers




Posts

: 300


Join date

: 2019-08-21


Location

: Australia



Yeah
@leavers
, especially that bushfires always effects on atmospheric pressures, he can have a lot to say about that. And yes, people can never get enough of "aliens are out there" speculations.
Little children of all ages always want, and need, to know science, you know.  

ZeegaZigHah




Posts

: 48


Join date

: 2019-08-19



Yep would be great to see him in some type regular media presenter/educational role, would be a shame to see his passion and education go to waste after the exposure from the show imo.

Probably he's just keeping a low profile because of the break up, and the potential back lash he may get if he was seen to be flogging a new venture off the back of the show. To be honest, I respect him for his quietness, no pretence, and what I've seen of his public activity since the show and I hope he's ok. I feel the same about Chelsie.

rosefun




Posts

: 38


Join date

: 2019-11-16



He did mention before that he had absolutely no aspirations to be an instagram influencer. His social media presence (or lack of) is consistent with that statement. The dude has a day job which is not an easy one too ( I am a chem engr trying to pivot to data science like he did and I find it very challenging). I think he spoke true when he said he went to the bachelor to find love (or at least he wanted to kiss many girls)...but he is cut from a different cloth compared to previous bachelors. If he doesnt wanna promote himself or science....let him be. A gregarious personality may not necessarily extend to social media, especially if his bread and butter isnt dependent on it. I wanna see more of him though. He is too cute to go back to oblivion

potpot712




Posts

: 19


Join date

: 2019-11-15



@potpot712
IA, he is too cute to just disappear completely. I thought I'd like to hear him talk at his event in Adelaide on 14 Feb. I wonder if he regrets not choosing Abbie

Just Looking




Posts

: 1331


Join date

: 2016-07-28



@Just Looking

wrote:

@potpot712

IA, he is too cute to just disappear completely.  I thought I'd like to hear him talk at his event in Adelaide on 14 Feb.  I wonder if he regrets not choosing Abbie
Haha, yes he is very cute. I was planning to go to Adelaide too specifically for his event. Not sure how I feel about him now after their break-up though. But yes, I wish he doesn't fade away just like that.

potpot712




Posts

: 19


Join date

: 2019-11-15



Page 14 of 14 •

1 ... 8 ... 12, 13, 14
Matt Agnew - Chelsie McLeod - Bachelor Australia - Season 7 - Fan Forum
---
Permissions in this forum:
You
cannot
reply to topics in this forum