Page 3 of 3 •
1, 2, 3
@Bobette

wrote:Long sleeved clothing every episode.  I WONDER WHY.  
I find it interesting that Jessica didn't have to / chose not to cover hers, but Isabelle did.

butterflylove




Posts

: 977


Join date

: 2019-05-10



@butterflylove
I don't think the girls get any say in what they wear - their outfits are chosen by TPTB to reflect whatever character they've been cast as IMO (e.g. Abbie sex bomb in red during the "stolen kiss" scene, Elly on the first night in white with marshmallows to reflect her sweet nature).  
Jessica's playing the classic "edgy tattooed bad girl" role so they don't need another one and Belle's tattoos are so.... odd... they probably decided it was best just to hide them.  She'll be eliminated tonight anyway IMO and the public will never know the horror concealed beneath those sequins.  

Bobette




Posts

: 13328


Join date

: 2016-10-10


Location

: Australia <3



She's not too bad physically. She's in shape and has nice legs.
The truth is rarely pure and never simple ~ Oscar Wilde 

Idlemess




Posts

: 3021


Join date

: 2011-05-29


Location

: New York



Episode 4 —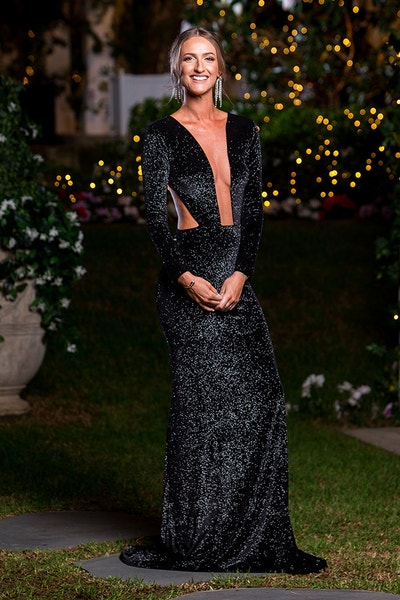 Dress: Karen Hurley.
Jewellery: House of Emmanuele (earrings) & Mezi (rings).
Shoes: Tony Bianco.
Style Gallery

butterflylove




Posts

: 977


Join date

: 2019-05-10



COPYRIGHT! 
The extraordinary reason why Pilates instructor Isabelle Davies was forced to cover up her colourful body art on The Bachelor... but Jessica Brody was allowed to show hers

By DAILY MAIL AUSTRALIA REPORTER

Fans were left stunned when they recently discovered that Bachelor star Isabelle Davies had a colourful Simpsons-themed full sleeve arm tattoo, after producers made her cover it up for the show's first cocktail party.

And now the stunning Pilates instructor has revealed the real reason why she was not allowed to show off her arm ink.

The 29-year-old told Yahoo Lifestyle it was because of copyright issues she was forced to conceal her inkings.

'I've got a full Simpsons sleeve and as you know (the show) is owned by 21st Century Fox, so obviously we didn't want to step on anybody's toes,' she told the publication.  

Isabelle's ink possibly posed a big problem for Warner Bros., the producers of The Bachelor, as they are in direct competition with 21st Century Fox, who own the rights to the popular animated series.  
Source

Bobette




Posts

: 13328


Join date

: 2016-10-10


Location

: Australia <3



I'm sure Matt was told to let her go so that they didn't have to worry about covering the Simpsons tatts anymore! How about next time you don't cast anyone with potential copywriter issues ON THEIR BODY! 

Dirty Street Pie




Posts

: 2228


Join date

: 2015-09-26


Location

: Australia




butterflylove




Posts

: 977


Join date

: 2019-05-10



Page 3 of 3 •
1, 2, 3
Isabelle Davies - Gold Sequin Dress - Bachelor Australia - Matt Agnew - Season 7 - *Sleuthing Spoilers*
---
Permissions in this forum:
You
cannot
reply to topics in this forum