Page 2 of 2 •
1, 2
I think he may have been eliminated. Luke S. just started following him.

sportsgirl94




Posts

: 201


Join date

: 2018-05-31



@sportsgirl94
thanks for posting.
As per the previous page, it looks like he was eliminated last week as his IG became active after being offline.
It is still private. Posting for reference in case he become public and we can see other activity for the others. Nice rose.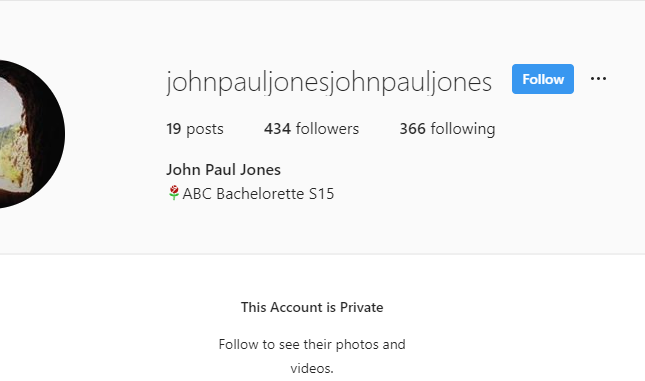 https://www.instagram.com/johnpauljonesjohnpauljones/
ETA: correction. He was not private when he re activated his IG. see previous page, but he is private now.
________________________________________________________________________________________________
Follow @BachSpoilersFan
All Rules
Posts without source will be deleted.
NO SPOILERS in any threads other than those titled Spoilers.  
John Paul Jones
, 24, a John Paul Jones from Lanham, MD
Source
John Paul Jones
24
John Paul Jones
Lanham, MD
Bachelor Biography

John Paul Jones is a financial analyst from Maryland who is here looking for the real deal. When John Paul Jones isn't daydreaming about his future wedding, he enjoys traveling the world and contemplating the meaning of life. Could Hannah be John Paul Jones' future bride? - When referring to John Paul Jones, always use his full name: John Paul Jones. - John Paul Jones's favorite drink is Champagne. - John Paul Jones rarely uses words that are less than three syllables long.
Source

bluwavz

Moderator





Posts

: 14561


Join date

: 2011-05-27



He reminds me of Heath Ledger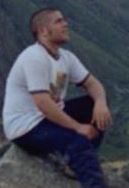 "If I have seen far, It is because I have stood on the shoulders of giants"
- Quoted by my beloved son Daniel on his HS Yearbook, June 2001 - Photo taken in Cusco, Peru by his best friend Thomas

TrishB




Posts

: 416


Join date

: 2015-08-03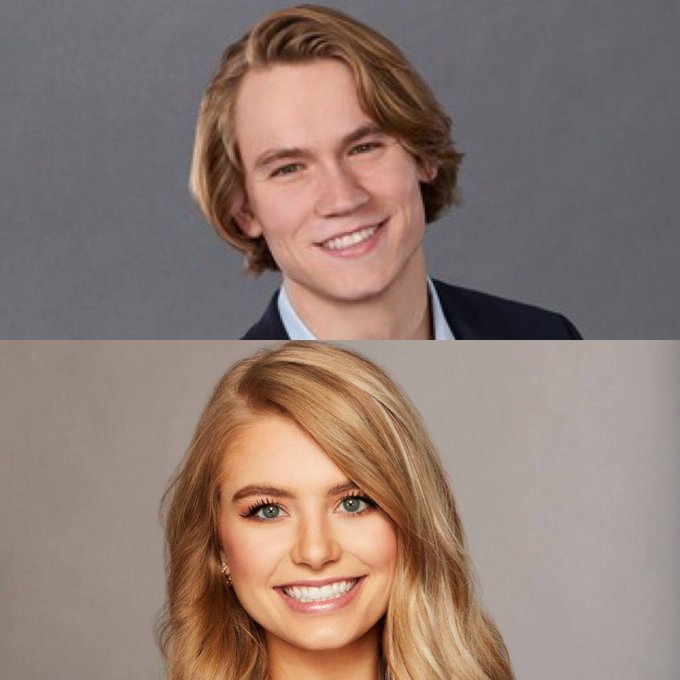 Panda Hat Girl @Panda_Hat_Girl
If John Paul Jones goes home, I want to see him on BIP with Demi. Both there for free food, booze, and giving zero fu*cks.
#TheBachelorette
pic.twitter.com/JBO8ZhL5dt
https://mobile.twitter.com/Panda_Hat_Girl/status/1133919966212775936?p=v

Maddy




Posts

: 11167


Join date

: 2014-01-19



I'm on Reddit. Why do people like him so much? Barely any screen time and just there. And he leaves this week.

Kels0012




Posts

: 1057


Join date

: 2012-06-05



@Kels0012

wrote:I'm on Reddit. Why do people like him so much? Barely any screen time and just there. And he leaves this week.
I just find him fun. True, he hasn't had much screen time, but the moments we have gotten from him have been silly and lighthearted and it makes a nice contrast with all the down Luke drama.
You could be the juiciest, most ripe peach, but there is still going to be someone who doesn't like peaches.

Sprite

Moderator





Posts

: 14091


Join date

: 2011-12-04


Location

: London ON



Page 2 of 2 •
1, 2
Bachelorette 15 - John Paul Jones - *Sleuthing Spoilers*
---
Permissions in this forum:
You
cannot
reply to topics in this forum