Source: www.matrixpictures.com.au
@Agent99

wrote:

@butterflylove

wrote:I spied at least one intruder too

@Bobette

! Elly and the guy with the alpacas?!

Screenshots should now be up girls! Phew.

I think that's bad hat (and I was sure he would go home first night

)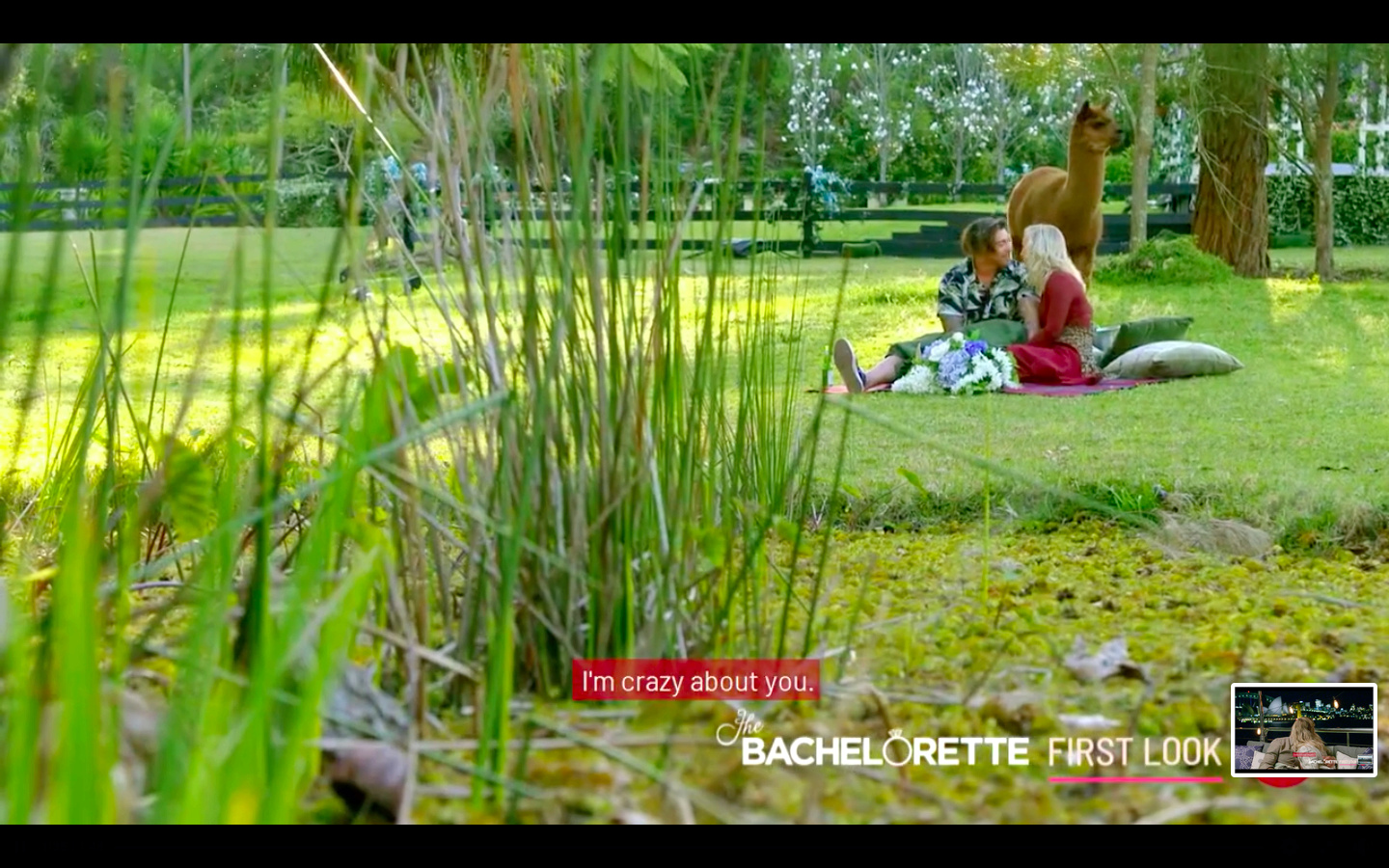 Source: Tenplay
@Bobette

wrote:I think this is Bad Hat too:

And is this him too?  Same shoulder tatt?  Whoever he is he's jacked - look at those arms!  Could be part of the same date/location IMO - similar ferns at the base of the hot tub.

Environment looks semi-tropical.  Did they go up North?  Is this near the end of the season?  Are they trying to recreate their Timm magic by taking the weirdo to the FRC?
@Bobette

wrote:Elly - Not sure about Frazer now, he fits the age/state profile but seems

super

visible in the promos, pap pics/articles, and I can't look past those BiP girl follows...

I want to know where Bad Hat's from.  We haven't seen him on any follow lists and that SC of him and Elly under the waterfall looks like final 2 business IMO.  

Also he looks like he'd be up for anything - Frazer on the other hand seems more measured, so if they wanted a fake F1, he might have been a better option.

This looks like QLD-coloured water IMO - thoughts?

Source
@Bobette

wrote:Really want to work out who this guy is.  Thought this might be a promo for the t-shirt brand but can't see him on their IG nor in any tagged pics so he remains a mystery for now.
@Bobette

wrote:

@Agent99

I see kitesurfing in the background.  He shouldn't be too hard to find surely.

That waterfall shot has my spidey sense tingling - feels very End of Season to me.
@butterflylove

wrote:Are they parasailers or kite surfers? Either way, it does have a very QLD feel to the photo. Could he be a lifeguard? Or surf instructor of some kind?
@Bobette

wrote:

@butterflylove

LOL you quoted me right before I edited my post - yeah kitesurfers IMO.  There are several kite surf schools between Noosa and Cairns, and  the water is the right colour for that part of QLD IMO...

Source
@Bobette

wrote:

@Agent99

wrote:I agree, at the very least a second SD, but in these stricken times, it could very well be F2 date.

Yeah I get big Ali and Todd vibes from the whole scene.  

I've searched the region all round the mansion (Oxford Falls does not have as many waterfalls as the name implies

) but there's nothing that fits.  Those ferns look semi-tropical to me and there are loads of waterfalls up towards the border with QLD.  

They wouldn't bother to go that far for a normal date IMO, and remember that article which said

most of the dates were doubles

which this doesn't appear to be, so I'm definitely thinking late season, and he could easily fit Sbet's QLD 26-28 IMO.

If Becky picks Harry they'd want Elly to have a contrasting F1 IMO.  Frazer and Harry are pretty similar looking - they'd be too matchy matchy IMO.  Plus, if Elly's going to fake a relationship for a few months a beach lover would fit right in on her IG.  
@Agent99

wrote:Not a good start for kiteboarder.  He is number 3 in SD's ig post.

Source
@Bobette

wrote:

@butterflylove

wrote:Huh. Just saw this comment. Clicked on the two girls and they're both private, seem quite young, and neither have their location.. But maybe a whiff of one of our 4 unknowns?

Source

Well well well - Bad Hat = Adrian.  Those cheeky tweens know something IMO.  My money's on Adrian too, ladies!
Last edited by Bobette on Sun Oct 04, 2020 8:38 pm; edited 1 time in total

Bobette




Posts

: 15216


Join date

: 2016-10-10


Location

: Australia <3




Bobette




Posts

: 15216


Join date

: 2016-10-10


Location

: Australia <3



@Bobette
All the boys' ig handles are on the Bachelorette IG stories.
Adrian is still private but a lot are now public.
https://www.instagram.com/adrianbeanzz/

Agent99




Posts

: 1279


Join date

: 2017-11-28



Cool thanks I have added his surname to the thread.  
  Current stats:
Source
He's in Elly's Top 2 IMO (waterfall!) and potentially even F1 IMO if Frazer wussed out before the end and thought he could do better in Paradise (or maybe eyeing off Next Lead?)
Adrian looks like he's adventurous IMO so I could see him happily playing along, and he would provide a "young and fun" contrast to Becky's F1.  Damn I sound like a cynic don't I.  
ETA: Adrian is now public.  
Source
Can't see TPTB letting an F1 leave some of this stuff on his IG.   Hmmm...  F2 then?
Source
This is Adrian's voice at 1:35 saying "I'm not scared to fall in love" IMO.  Thoughts?
You've never seen a season of #BacheloretteAU like this! Get your first taste right here!

It all kicks off, 7.30 Wednesday on 10. pic.twitter.com/yCnBpT4xIC

— #BacheloretteAU (@BacheloretteAU) September 30, 2020
Source
ETAA: OK so it turns out the beach in this pic is actually El Gouna (Red Sea) not QLD.  
But since he's from QLD we still guessed right... in a round about kind of way.  
Source  
Also for those curious there's a tonne of pics of Adrian with his ex-girlfriend floating around on Instagram and by contrast I think it's safe to say he'd have quickly gotten bored with Elly and her vanilla, curated, superficial
#spon
lifestyle.
Dodged a bullet IMO.  

Bobette




Posts

: 15216


Join date

: 2016-10-10


Location

: Australia <3



Adrian seems SUPER excited about the premiere on SM.  Maybe he's just looking forward to getting it over and done with but IMO he could be one of the big winners out of this season if he gets a sympathetic Timm-style F2 edit and plays his cards right IRL.

Bobette




Posts

: 15216


Join date

: 2016-10-10


Location

: Australia <3



@Bobette

wrote:

@Agent99

wrote:I don't think Adrian will flip to Elly. Tv guides for next week and imo this is the alpaca date. It's an unusual pairing, but I'm interested to see how it will play out.

Source

OK so these must all be Becky then I guess. Weird, still looks more like Elly to me but they are practically clones.

Source: Tenplay

In which case, Adrian is Becky's F2, and Joe is Elly's F2?

No one else has enough screencaps to get to the end IMO.

Bobette




Posts

: 15216


Join date

: 2016-10-10


Location

: Australia <3




Bobette




Posts

: 15216


Join date

: 2016-10-10


Location

: Australia <3



Bachelorette Australia - Adrian Baena - Discussion - *Sleuthing Spoilers*
---
Permissions in this forum:
You
cannot
reply to topics in this forum