SELECT CONTENT
@butterflylove

wrote:Name of a potential contestant via bachiegossip. Must be a day for Bachie things, because I've been working on something Bach related as well

.

Stevie.

ETA:

And I just found her with a quick search of last year's girls, ha.

https://www.instagram.com/steviejeangrey/
________________________________________________________________________________________________
Follow @BachSpoilersFan
All Rules
Posts without source will be deleted.
NO SPOILERS in any threads other than those titled Spoilers.  
"Spread love everywhere you go. Let no one ever come to you without leaving happier." - Mother Teresa
Copied from the potential contestants thread back in October last year.  Take a bow
@Dumb
you called this one super early.
@Bobette

wrote:

@Dumb

wrote:Charley tagged someone. Potential contestant next year? She does have connections.

Great minds think alike

@Dumb

I noticed that too, and the girl certainly seems keen.  

She's currently public - noting in case she suddenly goes private around filming time.

https://www.instagram.com/steviejeangrey/
@Dumb

wrote:

I've been extremely bored during the holidays and decided to do some sleauthing of the contestants above.

That Stevie girl has connections with Niranga

But idk if she has a boyfriend or not.

In the hashtags it says bestfriends and bff, ext. Probably could go on the show for insta fame and end up dating this bloke when she gets eliminated.
@ariwolf

wrote:she's private now.. could be nothing tho

source: steviejeangrey Instagram

Bobette




Posts

: 15964


Join date

: 2016-10-10


Location

: Australia <3



Noting that the medal is from the International National Bodybuilder's Association - a bikini comp for QLD fitness models.
Source

Bobette




Posts

: 15964


Join date

: 2016-10-10


Location

: Australia <3



@Bobette
I'm kind of proud of myself.
There was a facebook link on her insta bio
https://www.facebook.com/StevieWhoo
So I think she has a hair salon.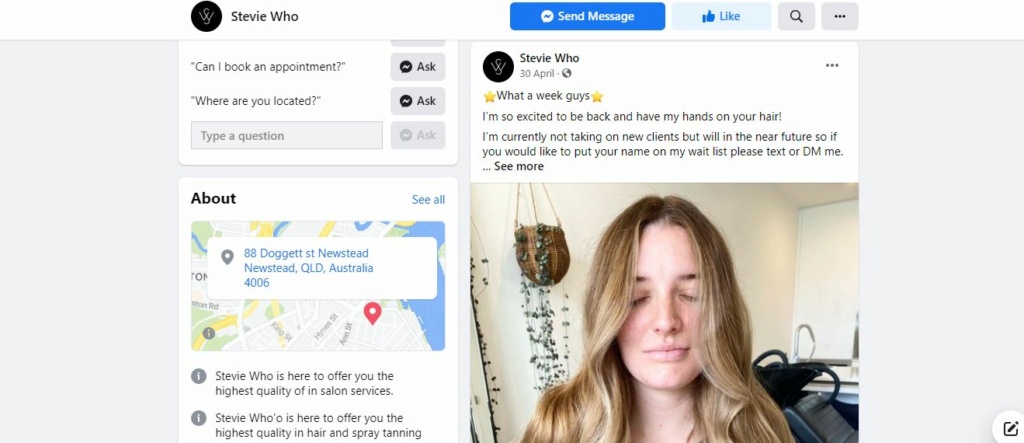 Source
Last post was 30th April, the one before was December last year.

Dumb




Posts

: 200


Join date

: 2020-09-15



Noting that the April 30 post says "excited to be back" so probably eliminated the week before and not a contender IMO.
Source

Bobette




Posts

: 15964


Join date

: 2016-10-10


Location

: Australia <3



Bachelor Australia - Season 9 - Jimmy Nicholson - Stevie Jean Grey - *Sleuthing Spoilers*
---
Permissions in this forum:
You
cannot
reply to topics in this forum