SELECT CONTENT
Page 2 of 2 •
1, 2
I know....just remarking the changes. For many years SM has given us a clue to the chances that someone is still there or not. Been doing the filming schedule for a ton of seasons now.
Candace:
There is nothing better than an Auntie's Love!

Aunties_Love




Posts

: 10510


Join date

: 2011-10-26


Age

: 53


Location

: Island Time



________________________________________________________________________________________________
Follow @BachSpoilersFan
All Rules
Posts without source will be deleted.
NO SPOILERS in any threads other than those titled Spoilers.  
"You cannot do kindness too soon, for you never know how soon it will be too late." —Ralph Waldo Emerson
Instagram fan/spoiler account posted that Lyndsey viewed her stories today. Looking like she is out. Edit to say she deleted the story and on Reddit the account holder said she got a message from Lyndsay's sister saying she view the story from Lyndsay's account and she is managing it. Umm okay I don't know if I trust that story so much. I leave the post up for now Justin case. If we see her in Europe I'll delete.
https://www.instagram.com/stories/bachelorwhatever/2691027939050386721/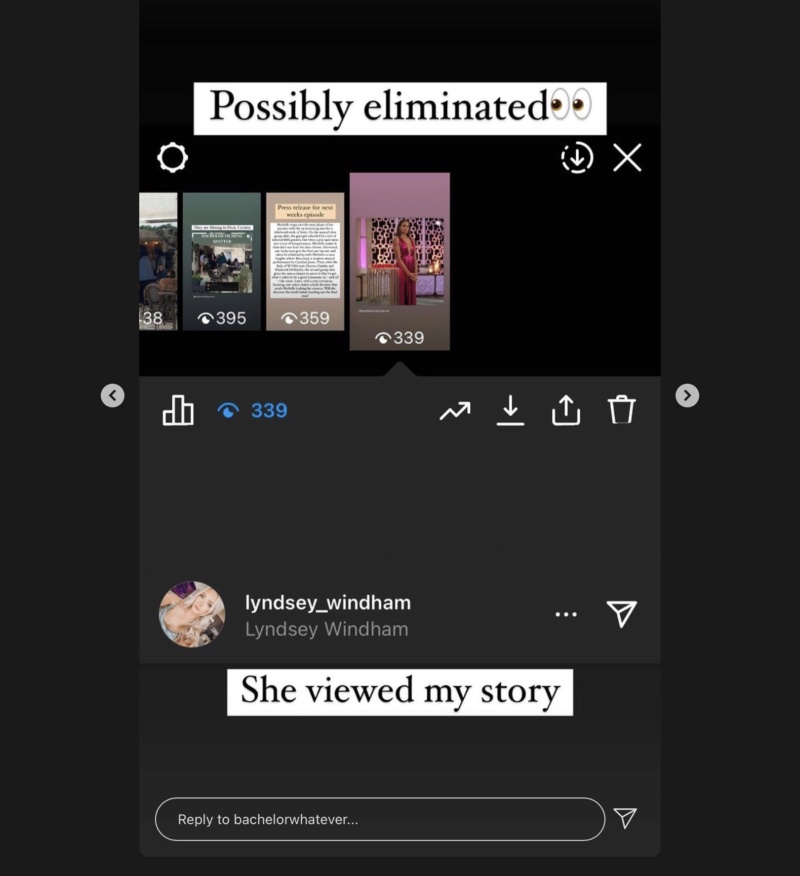 smg2587




Posts

: 2607


Join date

: 2017-05-22



Hometown: Houston, Texas

Age: 28

Occupation: Industrial Sales Representative

When it comes to living life, Lyndsey likes to just go for it! A small town girl making moves in the big city, Lyndsey isn't afraid to take great risk if it means great rewards. She is looking for a man who is humble, reliable and ready to be her best friend. Her faith is incredibly important to her and nothing would make her happier than to share that with the man she loves. Lyndsey is ready to stop wasting her time on men who don't deserve her and find someone who will make her the priority. Lyndsey believes true love is within reach and we hope she's right!

Fun Facts:

· Lyndsey W. doesn't do clowns.

· Lyndsey W. cannot sleep without a white noise machine.

· Lyndsey W. says she is much more of a Baby Spice then a Sporty Spice.
https://bachelornation.com/2021/12/15/meet-the-women-appearing-on-clayton-echard-s-season-of-the-bachelor/

bluwavz

Access




Posts

: 18216


Join date

: 2011-05-27



Page 2 of 2 •
1, 2
Lyndsey Windham - Bachelor 26 - Discussion - *Sleuthing Spoilers*
---
+4
southerngirlatheart
ariwolf
GuardianAngel
bluwavz
8 posters
Permissions in this forum:
You
cannot
reply to topics in this forum