SELECT CONTENT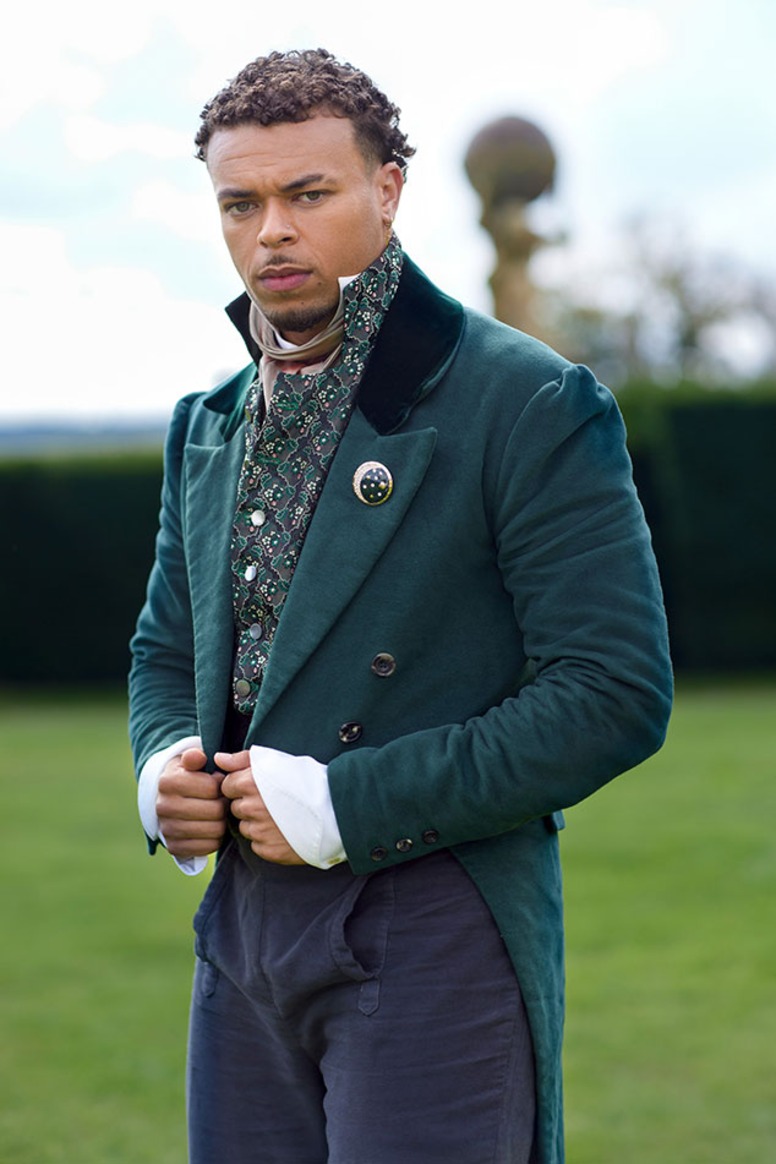 Caleb Ward
Age: 24
Occupation: Content creator
Location: Hampton, VA
Social: @calebcward_
This academic All-American not only was the first in his family to graduate from college, but he also completed his master's degree. Caleb has used dating apps in the past and has even considered searching for love abroad since dating domestically hasn't landed him "the one." Despite being a "free spirit," Caleb can always count on his dad for great life advice and loves to plan romantic dates. His dream girl is someone who is kind-hearted, family-focused, independent and open-minded.
https://www.eonline.com/photos/33977/the-courtship-meet-the-suitors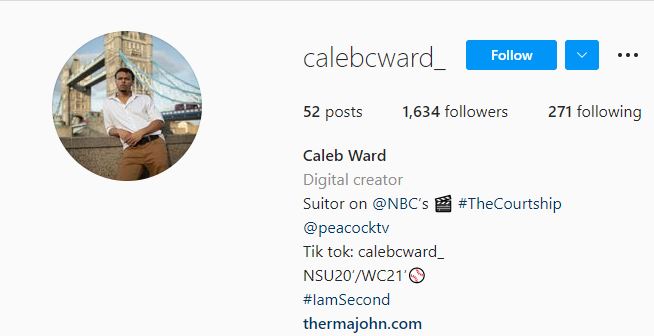 https://www.instagram.com/p/CZ5NlUnPD1-/
https://www.instagram.com/calebcward_/
________________________________________________________________________________________________
Follow @BachSpoilersFan
All Rules
Posts without source will be deleted.
NO SPOILERS in any threads other than those titled Spoilers.  
"We have to understand the power of being kind" Zac Clark, "regardless of race, class or nationality." GA
He seems like a free spirit

chasus71




Posts

: 3075


Join date

: 2020-12-19


Location

: Spanaway, WA



This guy is very educated/successful, and those eyes are mesmerizing but beyond that he just could not get beyond himself to really connect with Nicole on night one, so I understand why she did not keep him around.

chasus71




Posts

: 3075


Join date

: 2020-12-19


Location

: Spanaway, WA



I'm glad she sent Mr Ward home on the first ep. As soon as I heard him say TikTok, it was dead in the water.

He was looking for a meal ticket, not love #TheCourtship pic.twitter.com/86zzjboQ92

— Scotty Thee Sexfluencer (@ScottyUnfamous) March 14, 2022
https://twitter.com/ScottyUnfamous/status/1503207070920806407

chasus71




Posts

: 3075


Join date

: 2020-12-19


Location

: Spanaway, WA



Even though he was eliminated night one just wanted to post some of his IG posts here, there are some links to some funny reels he did related to his short time on the show
:
https://www.instagram.com/reel/CbWD6qKlbZv/?utm_source=ig_web_copy_link
https://www.instagram.com/reel/CbiF_Hqle1C/?utm_source=ig_web_copy_link
https://www.instagram.com/reel/CcHT35ul5-Y/?utm_source=ig_web_copy_link
https://www.instagram.com/reel/Ca5Ypmil-oS/?utm_source=ig_web_copy_link
https://www.instagram.com/reel/Ca-k53sFyIQ/?utm_source=ig_web_copy_link
https://www.instagram.com/reel/CbAwmSqlrXu/?utm_source=ig_web_copy_link
https://www.instagram.com/reel/CbDT-WWFX82/?utm_source=ig_web_copy_link
https://www.instagram.com/tv/CbGEzGGFAjU/?utm_source=ig_web_copy_link
https://www.instagram.com/p/CcJNUCSPl6F/

chasus71




Posts

: 3075


Join date

: 2020-12-19


Location

: Spanaway, WA



Caleb Ward - The Courtship - *Sleuthing Spoilers*
---
Permissions in this forum:
You
cannot
reply to topics in this forum