Current date/time is Fri Jul 03, 2020 10:50 pm
Search found 337 matches for 1
@GuardianAngel
I was ready to pass out waiting!! Then the NHL logo was revealed and
I guess the teams who get eliminated in the first round have a shot at it? idk it's not fair! I would still think that if Kings didn't get
#2
.
Also
yes when we read the first impression rose went to "so and so" we were all def. in the Top 4! oh they got this kind of date def. f1
now it's like oh so the Rangers got eliminated they have a chance for
#1
!!
by Linds911

on Tue Jun 30, 2020 2:03 pm
Search in: Real Life
Replies: 940
Views: 12477
@Linds911
I was so confused by everything, none of it made sense to me. Twitter was blowing up.
It's kind of trying to figure out who goes on what date and where it places them on TB and the 'ette.
How can
#1
go to a team still in the playoff's? I still haven't found a reasonable explanation on why they did that.
on Mon Jun 29, 2020 1:21 am
Search in: Real Life
Replies: 940
Views: 12477
When they got to Top 3 and Kings weren't announced yet my heart started beating super fast!! Gah almost
#1
!! Oh well
#2
is much better then where they've been landing. Now
#1
goes to a team still in the playoffs. How is that fair??
by Linds911

on Sun Jun 28, 2020 2:23 pm
Search in: Real Life
Replies: 940
Views: 12477
@Astrobach
if
#1
pale blue jacket was Glenn, that means the woman with the chipped red nails would have to be Renee.
Renee is an Indigenous woman, and that skin tone looks more Olive/Middle Eastern to me, hence me thinking it's Sogand.
Also I still think the freckle is a closer match for Jamie than Glenn but TWT. A couple more trailers and we'll sort it out IMO.
by Bobette

on Wed Jun 17, 2020 6:12 pm
Replies: 129
Views: 5703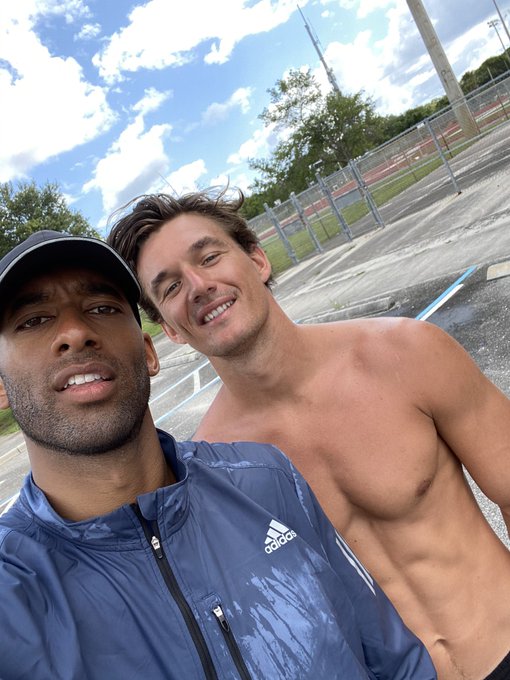 Matt James @mattjames919
Lots of excitement and energy! Workout
#1
in the books - blessed & honored
https://mobile.twitter.com/mattjames919
by Maddy

on Sat Jun 13, 2020 4:03 am
Replies: 74
Views: 4931
@just me

wrote:

                                                                             I agree. She appears to also want the father with her for raising her baby. If it was not so, she could try to have a baby on her own with the eggs she already has stored. The focus of the show is that these are men wanting to be fathers- now- not years from now- like her. I do not remember Kristy on the Bachelor or whose Season she was on. Was she one of the final women?
I had to look it up
https://en.wikipedia.org/wiki/The_Bachelor_(season_11)
Brad W
1
.0
I didn't watch that season so have no prior impression of her. I noticed her profession was listed as acupuncturist that season.
by notarose

on Thu Jun 11, 2020 11:38 am
Replies: 44
Views: 3113
                                                                             I agree. She appears to also want the father with her for raising her baby. If it was not so, she could try to have a baby on her own with the eggs she already has stored. The focus of the show is that these are men wanting to be fathers- now- not years from now- like her. I do not remember Kristy on the Bachelor or whose Season she was on. Was she one of the final women?
by just me

on Mon Jun 01, 2020 4:00 am
Replies: 44
Views: 3113
The baby is
#1
, but I really think that even if she is prepared to be a single mom if she has to be -- I don't think that is her preference.
by suzq

on Sun May 31, 2020 10:14 am
Replies: 44
Views: 3113
@just me

wrote:

@Bobette

wrote:

Source

If she does pick Marcus I would just like to point out that I called it from ep

1

.

 The rest of that final four looks like Producers Picks to satisfy various agendas IMO - I don't think she's into any of the other three.

That said, I can't imagine a DOCTOR would be stupid enough to actually commit his genetic material to this process, so I wouldn't be surprised if he backed out before the deed was done and she ended up single.  

Although... the massive delay between filming and airing

would

allow time for Kristy to come trotting out with a preggo belly (or newborn) at a live reunion episode so maybe they're going for a mic-drop final episode.

                                                                                                                                                From my understanding she is also looking for a husband in this

and wants to start a family with him right away. Am I understanding this wrong? Matthew seems the most anxious for children- IMO- so far and very protective. There is something about Marcus - who is IMO obviously her first choice so far- that does not seem real. I am wondering why Alan the protective poet and writer would not be a good choice. I think I get into these shows way to much and end up wishing I did not watch. Hope this is not the case again.
Kind of? I feel like the baby is the
#1
.
by leavers

on Sun May 31, 2020 7:21 am
Replies: 44
Views: 3113
I loved watching the sheep!!! I have it in the background and I can hear them 'bahhing"
@veg_out
thanks for the online gamer, that's a great site.
Sklyon Tower is in Niagara Falls Canada, with a revolving dining room at the top.
Challenged Issued YOU are going to tackle the Skylon Tower from HOME! #1 - Count the # of stairs in your house. #2 - Divide the number of stairs you have by 660. #3 - That number is how many times you have to go & your stairs. #4 - Snap, Share & Tag us! #COVID19 pic.twitter.com/5tpXKyGQ5X

— Pathstone Niagara (@PathstoneMH) April 17, 2020
https://twitter.com/PathstoneMH
Sklyon Tower is in Niagara Falls Canada, with a revolving dining room at the top.
on Fri Apr 17, 2020 11:42 pm
Search in: Real Life
Replies: 37
Views: 928
During the 3/18/20 Ohio press briefing, Dr Amy gave a timeline of the virus and what Ohio Department of Health was doing.
At approximately 40:00 to 48:00 in this video:
https://www.youtube.com/watch?v=KTiy8WXv9kM
12/31: Wuhan case became public... note Ohio is a sister "state" to Hubei where Wuhan is located and many industries in our state have ties to Hubei and Wuhan
Dr. Amy heard about it on a call with global CDC health folks first week of January. She also is a professor in global health.
1
/13: US Case
#2
returned to USA.
1
/15: Symptoms shown case
#1
. ODH Pandemic planning began
1
/16: First case in Japan
1/17: CDC Health Advisory published with very strict definitions of virus
1
/20: Washington state confirmed Case
#1
, Case
#2
identified/confirmed by CDC Chicago, first case in South Korea
Late January: First cases in France, Australia, Canada
1
/27: First case in Germany
Late January, 2 students from Miami University were under investigation for the virus per the CDC definition. Specimens were sent to CDC.
2/
1
: Definition (PUI) of virus was extended to include people with severe symptoms, hospitalization after travel to Hubei Province, China
2/2: Test results returned for Miami U students, negative
During February 8 others under investigation were tested with negative results
2/3: Travel restrictions were implemented
2/7: Received test kits from CDC that were not usable. 2 of the 3 reagents in the kit did not work. Ohio was one of the handful of states to receive these kits. No testing could be handled by labs in Ohio because of it so had to rely on CDC testing.
February: Ohio monitored during this time because of everything going on with the various cruise ships, etc.
2/27: First press conference
2/28: CDC changed PUI again
3/3 & 3/4: Decisions started being made such as number of people in mass gatherings
3/5: Test kits received. Takes 2 days to validate. Kits were set up on 3/6 and validated by the 8th.
3/9: First positives.
In the Stay At Home order by the Ohio Department of Health on 3/22/20, this timeline is documented for steps taken by the Ohio Department of Health:
1
/23/20: ODH issued Director's Journal Entry making COVID-19 a Class A reportable disease in Ohio.
1
/28/20: ODH hosted the first statewide call with local health departments and healthcare providers regarding COVID-19.
1
/30/20: the International Health Regulations Emergency Committee of the World Health Organization declared the outbreak of COVID-19 a public health emergency of international concern.
1
/31/20: HHS Sec Azar declared a public health emergency for the US to aid the nation's healthcare community in responding to COVID-19.
2/
1
/20: ODH issued a statewide Health Alert Network to provide the local health departments and healthcare providers with updated guidance for COVID-19 and revised Person Under Investigation (PUI) criteria.
2/3/20: ODH trained over 140 personnel to staff a call center of COVID-19, in the event it was needed.
2/5/20: ODH began updating and notifying the media of the number of PUIs in Ohio every Tuesday and Thursday
2/6/20: ODH updated all agency assistant directors and chiefs of staff on COVID-19 preparedness and status during the Governor's cabinet meeting.
2/7/20: ODH and Ohio Emergency Management Agency met to conduct advance planning for COVID-19
2/13/20: ODH conducted a Pandemic Tabletop Exercise with State agencies to review responsive actions should there be a pandemic in Ohio.
2/14/20: ODH held a conference call with health professionals across the state. The purpose of the call was to inform and engage the healthcare community in Ohio. Presentations were provided by ODH, Hamilton County Public Health, and the Ohio State University.
2/27/20: ODH and OEMA briefed the directors of State agencies during the Governor's cabinet meeting regarding preparedness and the potential activation of the Emergency Operations Center.
2/28/20: the "Governor DeWine, Health Director Update COVID-19 Prevention and Preparedness Plan" was sent to a broad range of associations representing healthcare, dental, long-term care, K-12 schools, colleges and universities, business, public transit, faith-based organizations, non-profit organizations, and local governments.
3/2/20: ODH activated a Joint Information Center to coordinate COVID-19 communications.
3/5/20: ODH hosted the Governor's Summit on COVID-19 Preparedness, a meeting with the Governor, cabinet agency directors, local health department commissioners, and their staff.
3/6/20: ODH opened a call center to answer questions from the public regarding COVID-19.
3/9/20: testing by ODH confirmed that 3 patients were positive for COVID-19 in Ohio. This confirms the presence of a potentially dangerous conditioni which may affect the health, safety and welfare of citizens of Ohio.
3/9/20: Ohio EMA activated the Emergency Operations Center.
3/9/20: Governor declared a State of Emergency in Executive Order 2020-01D.
3/11/20: WHO declared COVID-19 a pandemic.
... and there is more but I'll quit with that.
This is why I am glad I live in Ohio. My state has been pro-active not reactive like some others. We still have cases but not in the numbers that some other areas do.
by HavaDrPepper

on Tue Mar 24, 2020 1:46 pm
Search in: Real Life
Topic: General Chit Chat - #2
Replies: 306
Views: 7109
@Bachhh022

wrote:

@atem

wrote:One thing I have learned is to trust by first gut reaction (which was spot on about HS being F1 and them not working out) on what happened and not try to fit things to fit RS's narrative.  

I also learned that tracking SHV is not like it used to be with Instagram and the fact Peter and HS didn't meet all of Jan.  I still want to know what happened to create that.  

HS got mad that Madi was getting all the attention when she was F1 (even if it was all just a forced engagement tome).  Madi was affected by all the attention knowing she wasn't, but lingering feelings brought back with the focus on just their relationship.  If the show had a more even handed approach to each relationship, a better understanding and I think Madi would have not been so hurt/conflicted with her choice of self eliminating.

IMO

I blame CH for a lot of Madi's conflict

...I don't think she would have ever reached out to Peter on her own. She did it because Chris came and told her that he basically broke off his engagement because he still had feelings for her when Peter said it was only part of the reason.

There was def some manipulation from TPTB to try to get a "happy" ending.
This is so obvious to me as well.  Let's remember that CH Is not just a 'host' but an EXEC PRODUCER now. and I would venture to say that Madi was certainly not left without any producers contact, after they came back from filming. I think it's even CH who admitted that they were in touch ' making sure she was OK'.    In other words they were testing the waters to best plan their live show for maximum effect. They knew things were less than peachy between Peter and HS,  they were in all their ears through producers- Peter, Hannah and Madison - and had direct access to all their inner feelings and thoughts. Why was there SO MUCH Julie LP in Peter's life AFTER he came back? Same reason Hannah B had 2 or 3 producers
constantly
 with her when she came back and was trying to set her life up in LA before the AFTR. They - TPTB- have mastered the art of controlling their contestants so that they can achieve the results they are aiming for. Simple rule
#1
of control:
ISOLATE
from the significant people in the equation. Peter was sequestered for
3 full days
away from family and friends, and obviously, from HS and Madison, right before they filmed AFTR ( thanks Barb for that nugget of info !
)  No wonder CH was teasing that ' even Peter didn't know' what would happened...you bet he didn't , they made sure he didn't and was utterly confused.
They played a very similar game than last year IMO
They purposely took advantage of Peters strong feelings for Madison, coupled with his inability to hold his own and make a decision that he would stick to, as he shared his heart, feelings and body to others in an attempt to please as well as find 'clarity'' They saw firsthand his family dynamics and his weaknesses and exploited them to the max.
I can't help but see the similarities with Hannah's season, and the disaster of AFTR with the last 5 minute Tyler appearance to try and salvage the ' ending'. And we are now witnessing the far reaching effects of their manipulation with Tyler and Hannah reuniting and having spent
for the first time
in a year, - after that fateful August night- some alone time where they can truly connect and compare notes about what was REALLY going on and all the lies and fabrications that TPTB played on them and those involved around them as well. So many assumptions, so many opinions based on S/M and twisted from reality. As the contract expires, they get more freedom to reach out and do something that would have been the
natural
thing to do in a ' normal ' life,
right after
the events, as opposed to wait for 'the coast to be clear ' to speak earnestly. They both made mistakes, had ups and downs and can now look back with more maturity and awareness at what was and what it is they freely chose to do.
As
@GuardianAngel
reminded us, the SHV sleuthing was pretty clear and it never les. They either ARE or ARE NOT together.
All JMHO
by Astrobach

on Tue Mar 17, 2020 6:33 am
Search in: Bachelor 24 - Peter Weber - Contestants
Replies: 837
Views: 43551
Page 1 of 29 • 1, 2, 3 ... 15 ... 29