Current date/time is Fri Jul 03, 2020 10:26 am
Search found 1 match for 10Newsat11
One of our San Diego Sports Directors (fittingly on the ABC station here - KGTV/10) is also named Ben Higgins.
Both look enough alike and have verified accounts that from just the little twitter pic people have been confusing them since Ben was on Bachelor last season.
The two Bens met earlier in person for press stuff because the Ben who's the Sports Director decided he's gotten enough of his emails and tweets it was time.  
It finally happened. Coming up on @10News at 11a...Ben Higgins & Ben Higgins, the interview.

#TheBachelor

@benhiggi
https://twitter.com/BenHigginsSD/status/684797298765778944
The moment 10News Sports Director @BenHigginsSD met The Bachelor @benhiggi

#news #TheBachelor #producer
https://twitter.com/brileywu/status/684798499829854210
And Bach Ben tweeted about it and included it in a few interviews:
Two Bens collide! Finally I met the other @BenHigginsSD
https://twitter.com/benhiggi/status/684801846100103168
And his station, 10 News has always done things a few times during the Bach/ette on the news at 11 pm if locals are on the show, so Becca's been talked about a lot since she's local and made it so far last season also.
I'm sure this will end up on at least Sports Director Ben's twitter account, but probably also on the 10 News website somewhere tomorrow, but in case anyone wants to watch online, it'll be on in 10 minutes and you can watch on their website or app, etc.
How did @BachelorABC's @behiggi cross virtual paths with a San Diego sports star tonight? This Ben Higgins will show you on

#10Newsat11
https://twitter.com/BenHigginsSD/status/699480241132204032
Sports Director Ben has been posting some of the tweets he's gotten all season since having Bach Ben on, but tonight it's also coinciding with a Jimmy K "mean tweets" thing - which happens to be perfect timing since he's getting bombarded with mean tweets for letting Becca go.
Only obviously it's the wrong Ben Higgins. LOL.
https://twitter.com/BenHigginsSD/status/699469428639989761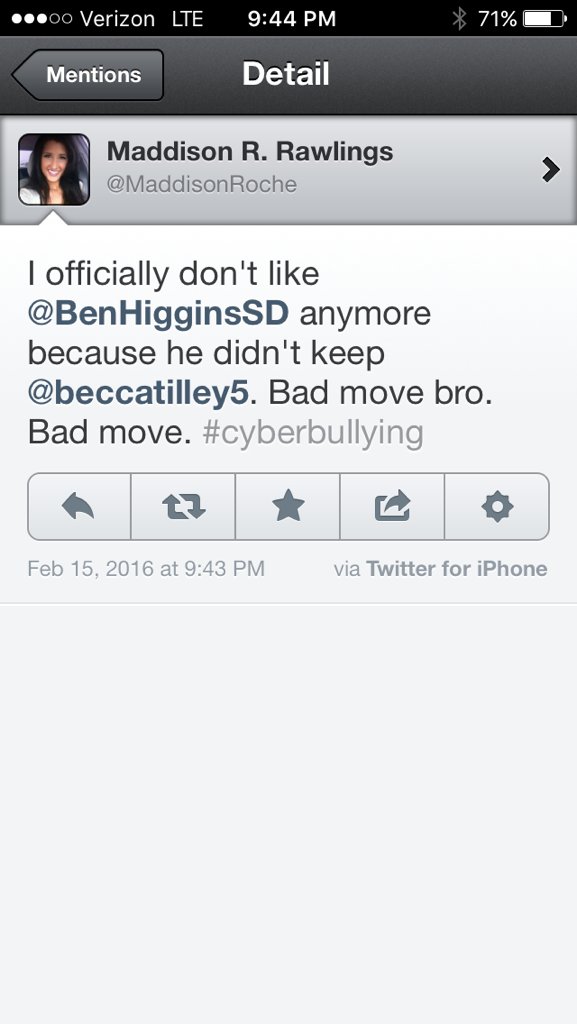 https://twitter.com/BenHigginsSD/status/699464605710446593
#Kimmel

has "Mean Tweets" tonight after

#10NewsAt11

, but I can get the party started with a little @BachelorABC love
It's been quite funny to watch on SM and on the news, as it was all love notes and proposals for most of the season, and requests to date him, but he's still rolling with the hate mail so far too! Ha
by kikora

on Tue Feb 16, 2016 1:53 am
Search in: Bachelor 20 - Ben Higgins - Episodes
Replies: 626
Views: 37068