Current date/time is Sat Oct 31, 2020 12:50 pm
Search found 16 matches for PCAs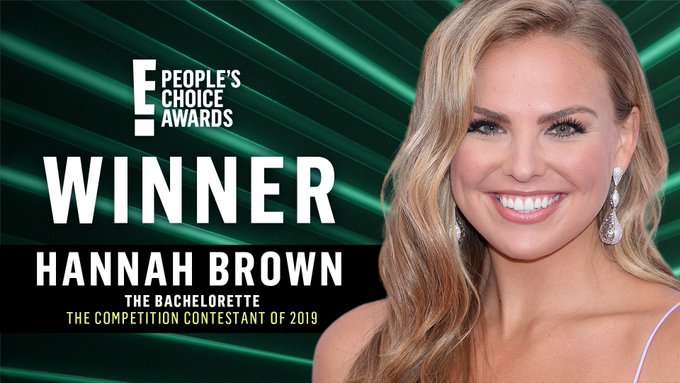 The Bachelorette @BacheloretteABC
The people have spoken and @HannahBrown is
#TheCompetitionContestant
of 2019!
#PCAs
pic.twitter.com/7RLvfMUZNC
https://mobile.twitter.com/BacheloretteABC/media/grid?idx=0
by Maddy

on Tue Nov 12, 2019 1:59 pm
Replies: 341
Views: 25301
by bluwavz

on Mon Nov 11, 2019 12:56 am
Replies: 644
Views: 48352
Congratulations to Hannah!
"Thank you for allowing me to be that girl from Alabama, and to shine my light." @hannahbrown is your Competition Contestant of 2019 #PCAs pic.twitter.com/MH81mXW0FE

— etalk (@etalkCTV) November 11, 2019
by bluwavz

on Mon Nov 11, 2019 12:51 am
Search in: Bachelorette 15 - Hannah Brown - Contestants
Replies: 963
Views: 52669
by bluwavz

on Mon Nov 11, 2019 12:17 am
Replies: 94
Views: 11627
@Jolena

wrote:

Does anyone think this kind of clears up the rumors that Hannah and her Partner may be more then just dance partners and friends? just wondering.  I just saw on E that the Bachelor people have two tables inside and Hannah is sitting with Colton and Cassie (I didn't hear who else is at that table) and table right next to them is Tyler , his mom and Wells and Sarah ( don't know who else is sitting with them ) maybe someone here can find out more. I m sure Hannah will talk to Tyler and his mom tonight without a doubt and I wouldn't be surprised if Tyler takes his mom to DWTS tomorrow night either. jmo
@Jolena
IMO the fact that Alan isn't Hannah's date tonite means nothing. They are current partners on a reality show. Like every other season, the single male pro is subtlely alluded to be in a dating relationship with their partner. It's common and unfailing like clockwork, every season. Also, like clockwork, when the season ends they admit to being great friends and go their separate ways. We will soon see if these two follow suit.
In any case, now would be a tasteless and lousy time to attend a public and nationally televised event together. It would be roundly criticized as a vote manipulating stunt by many and rightfully so, IMO. So the fact Alan is not her date doesn't tell us anything, either way. All IMO
by Chgohighlife

on Sun Nov 10, 2019 11:20 pm
Search in: Bachelorette 15 - Hannah Brown - Contestants
Replies: 963
Views: 52669
Does anyone think this kind of clears up the rumors that Hannah and her Partner may be more then just dance partners and friends? just wondering.  I just saw on E that the Bachelor people have two tables inside and Hannah is sitting with Colton and Cassie (I didn't hear who else is at that table) and table right next to them is Tyler , his mom and Wells and Sarah ( don't know who else is sitting with them ) maybe someone here can find out more. I m sure Hannah will talk to Tyler and his mom tonight without a doubt and I wouldn't be surprised if Tyler takes his mom to DWTS tomorrow night either. jmo
by Jolena

on Sun Nov 10, 2019 10:35 pm
Search in: Bachelorette 15 - Hannah Brown - Contestants
Replies: 963
Views: 52669
Page 1 of 2 • 1, 2