Current date/time is Tue Sep 22, 2020 5:28 pm
Search found 7 matches for friendship
nickviall
Team Bachelor❤️ heads to Finland
by Maddy

on Mon Feb 27, 2017 10:47 pm
Search in: Bachelor 21 - Nick Viall - Episodes
Replies: 567
Views: 30425
New Blog Post! Gift Sets for All - A Molton Brown Story
**** Lapp pine bark with crisp juniper berries and oakmoss
Love reading the descriptions on the back of each scent... Molton Brown's limited edition Fabled Juniper Berries & Lapp Pine Collection even has bells around each bottle
the cutest thing... feel like I'm walking through the arctic forests of Laponia in Sweden that inspired this holiday fragrance
Wrapped a few gifts in @MoltonBrownUSA Soho store.. and picked up a few things for my own home - Read more about all of their opulent gift sets on the blog
link in bio
#AFestiveFable
#moltonbrownpartner
by @
cailaquinn
#ootd
http://liketk.it/2pSpR
#liketkit
: @nicolebalsamophoto by @
cailaquinn
MUSE PAINTBAR GIVEAWAY
For those of you who need last minute gift ideas
I just picked up a few @Muse_Paintbar certificates for my family & friends for this Christmas. It's perfect, because they have locations all over the East coast! *** In the holiday spirit of togetherness - I wanted to thank you all for an amazing year, so I'm gifting two lucky winners certificates for 2
. Tag a friend you would like to go to Muse with - no limit to the number of entries, just tag each friend's name in a new comment to increase your chances! Winner will be announced Friday at 10am on Instagram Live.
#withlovecaila
by @
cailaquinn
When it's your friends birthday (@cailaquinn )and your other friend (@teejsterific ) surprises you coming from Chicago and you have no clue!!!  
by @
andrewbudsock
Lieblings Leute!! Happy 25th @cailaquinn !!!
by @
andrewbudsock
LOVES
by @
andrewbudsock
Had a pretty great view of the bday girl. So did the clementines...
#happybirthday
#latergram
#welcometo25
#loveyou
by @
ashleyparklady
Yesterday was fun y'all! @broadway_style sure knows how to throw a soirée!
#BSG
#myrtr
#loves
#oscardelarenta
(
: everyone's fave @abbydephilips) by @
ashleyparklady
12*12*16
grateful for jane's long arm.
#blacktie
#redlip
by @
ashleyparklady
Barber Shop bop bop
@broadway_style beautiful night with @ashleyparklady & @cailaquinn
#broadway
#bway
#fitforbroadway
#nightout
#slateandwillow
#myrtr
by @
fitforbroadway
These gals
@bystyles @ashleyparklady @cailaquinn Thank you @broadway_style & @toddsnyderny for a beautiful night!!
#fitforbroadway
#bway
#broadway
#broadwaystyleguide
#MYRTR
by @
fitforbroadway
Empower, Unleash & Respect One Another
. Strong woman stand for, and lift, each other up. By speaking up for what they believe in [LOVE] and for one another
#sisterhood
* * * I believe woman are bold, beautiful, unique and unstoppable. Especially when they come together and celebrate our similarities, differences and super powers. I also believe in LOVE, and sending out a giant acknowledgement to my girl's @cailaquinn courage for standing up for all the
#bachelorette
in the world. Taking the lead, and encouraging us all to never give up in finding true love. * * * Speaking up and celebrating all woman's beauty, in all her unique stories, shapes and sizes. Be bold, be beautiful and be you ladies. * * *
#strong
#woman
#empower
#respect
#unleashed
#integrity
#share
#stories
#speak
#truth
#love
#honesty
#sisters
#mother
#family
#connected
#female
#energy
#bollyx
#ryu
#heart
#passion
#health
#fitness
#loveu
#relationships
#bachelorette
#lift
#up
by @
dias_dancefit
Happy Friday!! Don't forget to grab a friend and get that last workout in of the week! . . .
#happyfriday
#workoutbuddy
#bollyx
#friends
#dance
#dancefitness
#cardio
#cardioworkout
#getoutside
#fitfam
#fitgirl
#sfs
#bayarea
#sanjose
#bxnamisha
#bollywood
#buddy
#weekend
#stayfit
by @
bollyx_sf
Thank you again to New York City Blogger, Andrea Pion @asliceopi A Slice o' Pi, for posting this adorable picture of her wearing her Sarah Alexandra Signature Shirt in Perfect Prepster whilst ice skating at The Standard Hotel in New York City with her darling friend and NYC influencer Caila Quinn @cailaquinn!!
#asliceopi
#cailaquinn
#friendship
#blogger
#contentcreator
#influencer
#NYC
#TheStandardHotel
#Standardhighline
#sarahalexandrashirts
#MySAShirtTravels
#lifestyle
#lifestyleblogger
#streetstyle
by @
sarahalexandrashirts
Winter on Maui is a beautiful thing. You know what else is beautiful? Reversible swimsuits by @maajiswimwear
and awesome SUP boards by @jimmylewisboards Model: @cailaquinn by @
dabelynn
Coffee and crepes for days at @bellesurfcafe
#instadaily
#bellesurfcontest
#waileaphotographer
#coffee
#muglife
#happy
#maui
#shoplocal
#cafe
#dametraveler
#kihei
by @
dabelynn
Now I'm convinced brunettes have more fun...
#bsgxtoddsnyder
#bsgholidaygala
#wcw
by @
bystyles
Throwback when I was complaining how hot it was on this day. And now I'm complaining Bc it's 0 in Chicago. Oh and I miss @cailaquinn way to much.
by @
amberj22chi
FWIW, her hair really is that perfect in person
#thebachelor
#bachelornation
#rockafellercenter
#nyc
by @
wolffem90
Weekend celebrations for my fellow halfie's bday
@cailaquinn wishing you a year of happiness, success and love!
#haroldsnyc
by @
brittany.lo
by bluwavz

on Thu Dec 15, 2016 6:24 pm
Replies: 745
Views: 39837
@Ash2214

wrote:Sorry if this was already mentioned, but Vanessa was tagged in a picture on IG tonight with a friend who said "missed her so" which makes it seem like they reunited, although it could be old so who knows:

https://instagram.com/p/BN2y9syj6gm/
She posted this 2 hours ago which was probably last night.
https://www.instagram.com/p/BN4jn33jUKx/?taken-by=scaramousch
IG scaramousch Gorgeous girls out celebrating! Team Vanessa
And this one, notice the hashtag I bolded.
No need to post the picture IMO. She has the same dress on so it must have been at the same time.
https://www.instagram.com/p/BN4krATjcQK/?taken-by=scaramousch
scaramouschMy posse, my babes! @katraposo @carolinedruffner
#outcelebrating
#bigthingspoppin
#shaynasdirty30
#milestones
#fourtifiedunited
#missingoneofourangels
#montreal
#bordelle
#party
#outandabout
#beautifulpeople
#kindpeople
#lovethem
#lovemygirls
#bff
#girls
#beauties
#throughthickandthin
#friendship
#myfriendsarecoolerthanyours
But now that I caught up on posts, I doubt they would be out at a party/event doing mannequin challenges.
on Sun Dec 11, 2016 2:38 pm
Search in: Bachelor 21 - Nick Viall - Media SM Vids
Replies: 964
Views: 47064
At least you guys were able to play the game ... idk if it was because I didn't pay enough attention or something but seems like it went too fast for me to even attempt
Loving all the birthday pics!  
Happy Quarter Century Birthday to Caila!
Happy birthday sweet @cailaquinn your such a doll  
#25
and @oliviacaridi wins for best Christmas sweater of all time  
by @
ritablais
Brunchin birthday babe.  
Happy birthday, my love. I'm so glad you moved here. I love you more than all the sparkly cakes in the land. by @
abbydephilips
#bachelornation
#lastnight
#fridaynight
#reunion
#reunited
#NYC
#ladies
#weekend
#tgif
#friday
#saturday
#sopretty
#friendship
#goals
#friendshipgoals
@leahblock @oliviacaridi @laurenhimle @cailaquinn @izzygoodkind by @
bachelorxnation
on Sat Dec 10, 2016 10:01 pm
Replies: 745
Views: 39837
New on the blog! My personal Acoustic Christmas Playlist (Link in bio) On Withlovecaila.com or find on Spotify at:
bit.ly acousticchristmas
*** Please let me know your favorite song! & maybe tag a few friends you think would enjoy it too
#withlovecaila
http://liketk.it/2pKZX
#acousticchristmas
#christmasplaylist
#merrychristmas
: @nmb_photographs by @
cailaquinn
Aloha Friday got me like
With always pretty @cailaquinn
by @
angiediazphotography
Rings on rings on rings
#gorg
#gold
#stackables
#boston
#l4l
#streetstyle
#blogger
#model
#bachelor
#abc
#loves
#weekend
#shoplocal
by @
passiana_jewelry
And next season on the bachelor...
@jetsetcandy by @
michaelcraig41
Ladies night!
#bachelornation
#ladiesnight
#goals
#NYC
#friendship
#nightout
#thursday
@oliviacaridi @cailaquinn @sharleenjoynt (
via @oliviacaridi snapchat) by @
bachelorxnation
Thanks @cailaquinn for tolerating our fan girl moment and getting us to the top of our 2016 bachelor bracket
by @
allie.coop
#bachelornation
#ladiesnight
#goals
#NYC
#makeup
#glam
#sopretty
#nightout
#tgif
#friday
#vibes
@sharleenjoynt @cailaquinn @oliviacaridi @izzygoodkind by @
bachelorxnation
GNO done right with these beautiful babes!
#bachelorfamily
#dancingqueens
#tearinupthedancefloor
// Coat: @trinaturk by @
oliviacaridi
by bluwavz

on Fri Dec 02, 2016 12:52 pm
Replies: 745
Views: 39837
I just saw this and felt the need to bring it to the discussion thread. I feel this woman states perfectly how judging a person based solely on what we see on SM or a TV show can misrepresent who they really are.  She just spent time with Josh and was obviously so impressed with him that she devoted two IG posts to him.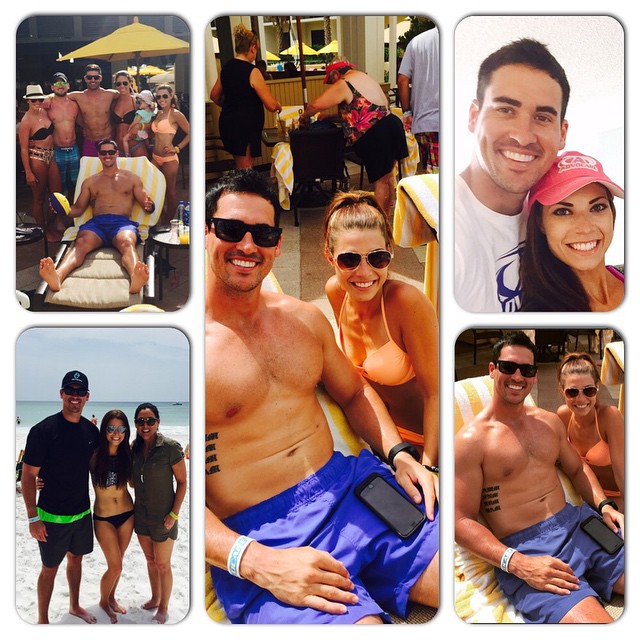 meganleighland
2 hours ago
1 of 2 posts @joshmurray11 Some people want fame & fortune while others just want to make a significant difference in the lives of others on a daily basis. The biggest thing in life that I've learned is, perception is not reality. Some may know Josh as the former bachelor who won on the bachelorette, others may know him as an incredible athlete, or because of his extremely talented & caring family, I for one, feel blessed to know him now as my friend. But for whatever way you may know of him, I believe to truly know Josh, for Josh, is to know his heart, by watching his eyes get big & light up when he speaks about the things he is most passionate about & the activities & people who hold the most value to him. Prior to this week, I didn't know who Josh was other than what little I heard from others. He is very down to earth, you'd never know he had done so much or was so well known just by talking to him other than all the attention he receives when out publicly. Standing beside Josh on any given day, you will see many flocking around him, asking questions, people sharing special family moments they shared cheering him or his family on, or others asking for pictures & autographs. However, you will never see a cocky or arrogant nature about him. In fact, it's the total & complete opposite. He always has a smile a mile wide across his face as he takes the time & truly engages in every conversation he has with anyone who approaches him even if while eating or just trying to relax, he won't turn anyone away. Although others praise his talents or achievements, he does not draw attention to himself but puts the attention & praise back on the other individual whom he is speaking with. He is always full of thanks & gratitude. He is never looking for an ego boost or putting himself out there for recognition. If you listen only for a few minutes to what he expresses, you will quickly catch onto his heart, his passion to help others & desire to make a difference in someone's life. He is involved, along with his brother & family, in multiple charities that have stolen his heart, along with his strong connection, love, & devotion for his family.
meganleighland
3 hours ago
2 of 2
There are some people who stand out in a crowd, one's that when you look at them you can tell that they will be a difference maker & leave an impact on every persons life they come in contact with. A person who is not cocky, but confident in themselves, that knows who they are & what they are about & then humbly goes & lives their life that way & to its fullest. Josh is one of those unique & rare individuals.
Although I haven't known Josh long, it's evident to see that possibly the perception some may have of him, is not reality at all. When you just perceive a person or situation without truly taking the time to know for yourself, it is easy for a person to grow jealous, envious or even put others down for their accomplishments & make all kinds of assumptions about a persons true character. Personally, I am happy for him, his success, & his heart to help others. He may be in a position where he is well recognized & his name well known, but he is not self seeking, he is selfless. He has a platform to do great things that'll only increase the value of & the joy of other people's lives along his journey. Not many people can be in the spotlight yet remain so humble & at his core truly, truly loves caring for others. God bless you on your journey & future success my friend. @joshmurray11 {#}perception{/#} {#}leader{/#} {#}humble{/#} {#}bachelor{/#} {#}Advocare{/#} {#}success{/#} {#}faithfamilyfitness{/#} {#}family{/#} {#}
friendship
{/#} {#}lifestyle{/#} {#}joshmurray{/#}
by Guest

on Sat May 16, 2015 12:43 am
Replies: 830
Views: 44169