Current date/time is 23.08.19 16:12
Search found 337 matches for 1
This from Artem
theartemc
Verified
I just want to say how sad it makes me feel not to be part of Season 28 of DWTS. It's been 10 years since I have joined this absolutely, one of a kind, incredible show! It has given me recognition as a dancer, choreographer and a teacher. I have had so many beautiful memories with all of my celebrity partners! They all have shaped me into the person that I am today. Special thank you goes to all the people behind the camera who work extremely hard to not only impress our fans but to make our pro dancer's visions come to life. What I will miss the most is working along side my coworkers, the heroes of the show. I want to wish them and their new celebrity partners the best of luck this season! I want you all to make it better than it ever was before! Because our DWTS Fans, who mean SO much to me, want DWTS to continue going strong for many, many years to come. To all the fans, I want to thank you SO much for supporting me all these years! I simply couldn't have done it without you! Without your love! Without your connection! And most importantly without your support! You all have no idea how much I will miss you all this season! I'm already missing you all so much! Even though this is so hard on me, I will be DWTS
#1
fan, cheering you all on every Monday night! Good luck to everyone on Seasons 28!
With lots of Love
Artem 
#dwts
@dancingabc
by emiusacska

on 21.08.19 13:40
Search in: DWTS - Discussion - *Sleuthing Spoilers*
Replies: 58
Views: 2745
Smartness - Nikki is out.
Passion - (Abbie again puts herself in
#1
). Sogand is out.
on 21.08.19 3:07
Replies: 859
Views: 23233
@Sundy
well, I'll check that out...I started watching BIP
#1
yesterday.... and couldn't stop... watched 3 episodes so far, and it includes people from a lot of previous seasons of Bachelor and Bachelorette.
Very entertaining, even if it's starring all new people to me. I decided to jump in with the Fiji location and see how it's different from the US version.
I was hoping to see other International versions as well like the French or Italian but maybe this is only the English speaking ones.
Here goes the rest of my summer...
Thank you all for the info.
by Astrobach

on 18.08.19 15:04
Topic: Bachelor Australia - Matt Agnew - Season 7 - Viewing Links - Minimal Discussion - *Sleuthing Spoilers*
Replies: 17
Views: 1815
Also want to say that Tyler is 100% allowed to do whatever he wants, date whoever he wants, sleep with whoever he wants. 100%
However, we all saw that instagram post he made after the season, saying he would be her
#1
fan etc. He knows posting a post like that with a caption like that would mislead users to think that Tannah isn't over. I also believe Hannah was blindsided by this (based on some of her social media). Tyler could have 100% told Hannah after ATFR that he's not interested anymore, that he's moved on but that he'll support her as a friend etc. Yet he still decided to go on the date with her (still unsure whether those pics were staged or not of him and Hannah).
I think it's quite obvious that Tyler is the typical single guy... also I'm refusing to call him a certain term but I think you all know what it is. He's nothing special at all or close to the pedestal that we all put him on which is all our own fault and not his. Just really not interested in Tyler at all post show.
on 14.08.19 21:15
Replies: 600
Views: 38119
OK.... I am doing some SC and I may change my mind on who is F1.
I have now a feeling it may be Helena.
Episode 4 should be named ABBIE ABBIE and all about ABBIE, the world of ABBIE. Dear L! it is all about her her her.
But in the middle of it, I saw many zoom on Helena, but more importantly, I cared about who was looking at the cameras and who was looking at Matt.
It is clear as day that the thrill every girl had about the photoshoot was mainly imo because the majority came on the show to have either a modeling career or become the next influencer like Kiera. yes yes I am talking to you Mary, Rachael (why is she still here?)... and Emma!!
Emma was constantly looking at the camera to check if it was on her. When she was standing among the girls or on a shoot. So even if she had a hometown, it was a mistake. I think they may have picked her because Ellie and Kristen left. Or maybe because of the location of where she could do the hometown. It is a cheap place to go? Is it easy to shoot? Pretty enough? Something truly happened for Emma to be in the top 4..... unless the bench and dog is NOT a hometown. But I hardly see anything else.
so going all thru the SC, Helena very very focused on Matt. But Matt was very VERY focused on Abbie. From the time the girls arrived, from the time he was speaking, form the time they shoot. I mean no doubt why Abbie was confident on episode 2 when she said she was confident to get a rose... but got called the last one (eh prods, always good to teach those girls a lesson of humility and soooooo good to obtain a reaction on camera during the RC!!)
Anyway.
Yes, Chelsea was not on group date and did not have a date... unless during the real timeline Chelsea got a date the following day of this photoshoot. for us, viewers it seems she was put aside but in real-time, it was just a day.
But edits definitely push Abbie F1, Helena F2 right now... then Sagand F3 with a Monique F4. This is what prods want us to believe anyway.
But for me, Abbie is now a sure F2. She is way way too obvious to be F1. Her edits are so weird though but maybe matt had only eyes on 3 girls: Abbie, Helena, and Chelsea
Chelsea gets the rose on GD and always called on top of the RC. Matt can hardly fake his reaction.
The thing I notice is that Helena is always on top of the 3rd line at the RC row, which is often the hidden
#1
spot while Abbie and Chelsea are now front and center along with Kristen which so far is as hidden as Helena and Chelsea by the way. Thank L no more chinese lessons! Or she is behind the group. She does not go front line like Abbie. She remains behind. The cameras zoom on her but it is never in a middle of drama. mostly we see her upset but not gossiping.
versus Abbie.
Abbie is all over the place. I am not sure she is genuine though. I see her quite mean and I am thinking that she is a bit of a liar or just rearranging the truth to fit her needs. I think when she saw Sngand having this chemistry she made sure that she did better... and Matt fell for it big time.
Of course, she was picked to present the sponsors... champagne and beer and makeup? along with Vakoo and Rachael and Nichole. Which I think are the villains of the season. During this episode, Abbie was seen as a sexual  girl, a mean gossiping girl... but not as a girl falling in love with Maytt at all. Matt was a prize and it was competition.
I have this nagging feeling that Abbie is acting. I do not think she had any interest in Matt really.
Helena is in my opinion more genuine but at this point of the season, I think she stood a bit behind lurking what was going on and just use her time with Matt wisely. I do not see Helena forcing anything. However, I see many zooming on her so I know she is top 3.
So I am thinking F1 maybe?
I believe the next date is Chelsea on roof jumping and Abbie swimming pool... because swimming pool means kisses and rubbing bodies underwater. Right, Matt?
I am very confused about Abbie edits but I know she is not F1. I know prods wanted to make sure that the audience see a love story versus the mess with nick cummings but where is the mystery to put Abbie everywhere on each episode. This is why I thought she was F3. Tara got this kind of edits: many many ITM and seen everywhere. Laura ignored and Elise only emerged right before hometown.
Here we have Abbie front and center, Helena almost ignored and Chelsea who?
I get it that Abbie is sensual pretty and good camera. I get it that she is loud and great for edits. I get it that Matt want to have sex with her. I get it that she wants to win the prize. But edit wise? I am confused.
But at this point, no way Matt want Abbie out of his sight. I think at episode 4, Abbie was the frontrunner... lust anyway. Intellectually? How can anyone have one interesting conversation in this environment?
Then, Helena and Chelsea pushed her away. I think Helena will fall in love with Matt. I think once little Matt will calm down under the shower, Big brainy Matt will take a step forward. Maybe he is just enjoying the moment of being the bachelor.
Again... I want to know why an astrophysicist came to this franchise. I mean this is truly not a good point on his resume for sure? This is honestly not great and not serious. Why? What did he expect to gain in doing this show? Is he a real astrophysicist? Is it a hobby? Does he want to get a job like the first bachelor Tim Robards in the TV business? Something is fishy here.
And if it is fishy, then the F1 may not turn into a long term happy ending but a happy for now during the show .
So Helena F1? Yes she has chances but in the teaser she is crying, as well as Chelsea. I did not see Helena sunburned like Chelsea in front of the mirror and Matt do have subburn when kissing Abbie on beach (yep, this is Abbie no longer Ellie as I thought)
bam. i changed my mind again
F1 Chelsea
F2 Abbie
F3 Helena
That is the only logical order I see now. It is possible that the edits mean that Matt changed his mind a la Blake after the finale? That would explain why we see Abbie being front and center and 2 girls being edited relatively identically for now?
Wow... if Matt plays another Blake move, I am not sure Australia will ever recover !!
by HEA

on 10.08.19 7:19
Search in:

Bachelor Australia - Season 7 - Matt Agnew - All Topics - *NO SPOILERS SLEUTHING* - * Discussion*

Replies: 51
Views: 2325
@TheWrongReasons

wrote:

@dee

wrote:Don't see a fan thread for him, so I'll just post it here:

Tyler is now the most followed male contestant in this franchise and third over all

Wishing him the best on his future endeavours. I can see him thriving in NYC working on projects he is passionate about.

Niiice. He'll be

#1

for sure if there's a TSwift Labor Day weekend photoshoot at the cottage. Manifest it!
LOL. A pity tag from her can give him a little boost.
by dee

on 07.08.19 12:53
Replies: 600
Views: 38119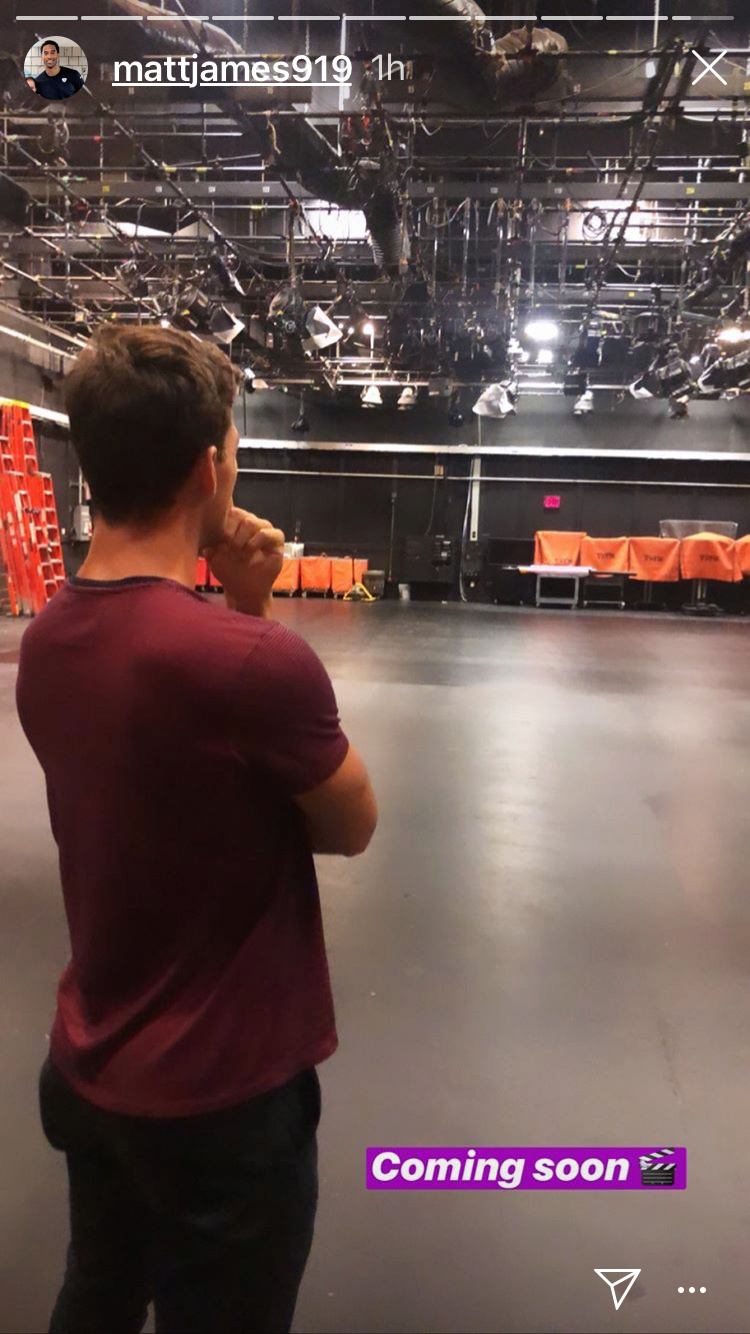 source: @mattjames919 IG story
@dee

wrote:Don't see a fan thread for him, so I'll just post it here:

Tyler is now the most followed male contestant in this franchise and third over all

Wishing him the best on his future endeavours. I can see him thriving in NYC working on projects he is passionate about.
Niiice. He'll be
#1
for sure if there's a TSwift Labor Day weekend photoshoot at the cottage. Manifest it!
on 07.08.19 12:45
Replies: 600
Views: 38119
Well dang. Figured it was definitely romantic. He schedules their first date on his first weekend after the finale and were probably talking for weeks (before the follows). Hope fans can leave him alone, and I hope Hannah gets left alone too.
by bleuberry

on 05.08.19 19:38
Search in: Bachelorette 15 - Hannah Brown - Media SM
Replies: 863
Views: 45780
@Just Looking I can see Jed maybe not knowing much about the show. My guess is he played the odds that he would not be the
#1
of the 25 men and he could get just enough exposure, get booted, no harm, no foul. But of course good old Murphy's Law struck and he developed feelings as did she and now this is the outcome. I agree with you about the whole engagement thing. The expectation of it for EVERY ending actually takes excitement and suspense away as well as puts alot of pressure on such new relationships
by MonicaJM2001

on 05.08.19 17:18
Replies: 197
Views: 15626
I just can't believe Jed is still trying to peddle his "I am not a cheater or a liar" story. His ego is just on another level.
He is 100% the loser of the season, exposed as a bad boyfriend, a liar, a cheater, a manipulator, a bad fiance, and if that wasn't enough, karma came crashing down to publicly mock him as a terrible singer/songwriter, the thing he is most proud of.
At some point, Jed will be humbled and do some self-reflection and hopefully stop lying, manipulating and become a good human.
Also, it must tick him off to no end to see Tyler be adored by the public. His reaction to hearing the Browns preferred Tyler to Jed was quite telling. He is used to being
#1
and people fawning over him.
All IMO.
by North

on 04.08.19 14:11
Search in: Bachelorette 15 - Hannah Brown - Contestants
Replies: 389
Views: 28183
@Billysmom

wrote:I have actually been wondering if the way he referenced his past mistakes had alarmed Hannah unnecessarily... He spoke with nick that he was not attentive to sarah....which is not great, but not unforgivable, especially from someone in a tough place emotionally with no dating experience. I wonder if Hannah was picturing far worse, though. I do wonder if she knew how relatively inexperienced Tyler was.
Quite possibly.
Especially if Tyler didn't get to tell her all that was going on in his life at that time. His relationship was not
#1
in his life, football was.
Or she was picturing someone that didn't take time to have long relationships because he didn't want to be tied down. The epitome of "player". With his looks and if he mentioned he had done modeling work, she could very reasonably assumed that he had women hitting on him all the time and that he was receptive to it.
Too bad the FSD conversation couldn't have happened a couple of weeks earlier...
IMO
by HavaDrPepper

on 02.08.19 8:06
Search in: Bachelorette 15 - Hannah Brown - Contestants
Replies: 320
Views: 23490

Page 1 of 29 • 1, 2, 3 ... 15 ... 29