Page 28 of 29 •

1 ... 15 ... 27, 28, 29


CarrieA




Posts

: 3478


Join date

: 2011-03-22



Here's the blog. It has a totally hot picture at the top too, maybe someone can bring that over?

Going into this final week, I was feeling certainty with my decision and was excited for my family to meet both Ben and J.P. I still had a few unresolved concerns, but I knew my sister would provide me the insight that I needed. Not only that, seeing my family at this point was going to be the exact thing I needed. Being away from your normal life, friends and family for as long as I had been, you feel alone. I could not wait to see them!

I thought my family would love both of these guys – who wouldn't? But to my surprise, my sister, the person I was looking forward to seeing the most, had a very strong opinion about J.P. I didn't need for my family to see everything right away and confirm my feelings, but I did need support from them. My sister told me that J.P. wasn't the one for me even before she had even sat down to talk to him!

Of course, this was a shock to me and immediately I felt emotional. I didn't understand how she could feel this strongly without even talking to him! You would think she would quietly be cautious and ask questions to resolve her uncertainty. Nope, she told J.P. straight out that he wasn't the one for me. What bothered me the most was not that she didn't approve, but how aggressive and unsupportive she was. All I needed at this point was someone to be supportive of whatever I was feeling ... and she wasn't.

In a way, it made me feel alone and full of questions. Was there something I wasn't seeing? Was my heart leading me in the wrong direction again? These are all questions I had only a few days to figure out.
Ben Meets the Parents

After this family date with J.P. crashed and burned, I had no idea what to expect with Ben. He is such a likable guy so I figured my family would love him. They did. This date went so smoothly! Though my sister still wasn't convinced Ben was the right one for me either, she was more supportive of this relationship. She felt as if I was more like myself around Ben. I subconsciously wanted my family to tell me that J.P. was the one for me, and I was crushed when my sister didn't approve, even though the rest of my family did. This alone showed me that I had to use the rest of the time I had to reevaluate my relationships so I could feel 100 percent confident in my decision, even if it meant going home without either man.

One might think that these family dates would lead me to feel so uncertain about J.P., but it made me realize that I had to trust myself and my feelings. I couldn't be influenced by what my sister had to say. I used her uncertainty to make me ask the questions I was scared to ask, but by no means did it change the way I felt about him. I always said that it is important to judge people based on what YOU know of them, and to take other people's opinions or warnings with a grain of salt.

The first time I did this I was wrong, but this time, I was so right. There were definitely times along this journey that I thought I could marry Ben and have a very exciting life with him. He is an incredible man – smart, charismatic, hilarious, warm and thoughtful. I pictured a life with him and knew we had a very special connection and comfort with one another that I want to have with my husband. But there was some feeling that was missing when I was with him that I always had with J.P. – and I knew I didn't want to lose that feeling.

You would think that the hardest part about this was trying to figure out who you loved but in the end, the hardest part was trying to figure out how to say goodbye to someone you really care about. Once I knew I would be saying goodbye to Ben, I didn't know how to act. My heart ached knowing that I would be causing heartbreak to someone. I've always preferred being broken up with than having to do it.
The Big Day

Waking up on proposal day, I had a mix of emotions. I had feelings of anxiety and relief. Anxiety knowing that I had to say goodbye and potentially hurt someone I care about, and relief knowing that everything was drawing to an end. I regained confidence in my ability to find a great man, and this is exactly what I had found. The proposal setting was the most beautiful thing I had ever seen. As Ben walked up, I did not know what to say, or how to act. I was speechless. Having to say goodbye to Ben was the hardest thing I've probably ever done in my life. And his reaction was certainly not what I expected. Then again, in a situation like this, you never know what to expect. I felt awful. It killed me to know I hurt him as much I did. I thought, how could I go ahead and find such happiness on a day that I caused Ben so much pain? I knew I had to clear my mind and refocus my energy on J.P. I wanted that day to be the most romantic day of my life. I knew as soon as I saw J.P.'s gorgeous smile, all would be well. And it certainly was!

Watching the proposal and all that followed I have a couple things to say: One, I completely fumbled over my words when I was trying to tell J.P. how much I loved him at the proposal. He says it's a moment that he will never forget, and he wishes everyone had been able to see it. It was pretty hilarious. And two, the montage brought tears to both of our eyes. We are so grateful to have our love story documented for the world to see, and want to thank everyone for the support and love.

I also want to say a personal thank you to Cassie Lambert, Alycia Rossiter, Ashley Spivey and Ali Fedotowsky for being such a great support system and offering words of wisdom through the hard times. Thank you from the bottom of my heart.
After the Final Rose

I was not sure how seeing Ben at the After the Final Rose special would be. The last time we spoke, he was angry and told me that things don't really end unless they end badly. I hoped his mindset had changed since then. I felt a sense of calmness when I walked onstage. As soon as we said hello, I had a feeling things would go well. It's always hard to tell someone that you once cared about that you fell in love with someone else. I don't think there is a good way to say that, but my goal was to be honest and open with him and provide him with the closure that he might need. Talking to Ben felt like old times. We were even joking around a bit. I answered his questions as honestly as I could and I think the meeting went as best as it could have. I wish him the best and thank him for being such an important part of this journey. I know even though things turned out this way, he learned so much about himself and has opened himself to love again. I wish him great love in the near future!

mnmhughes




Posts

: 8112


Join date

: 2011-03-23



CarrieAlexander wrote:

Link please? :awesome:
Think this is it.
http://www.people.com/people/article/0,,20514936,00.html
That is a totally hot picture too. From Jimmy Kimmel. I don't know how to do pictures can someone cap it pretty please.

gurlbrit




Posts

: 3470


Join date

: 2011-05-23



picture from the blog :awesome: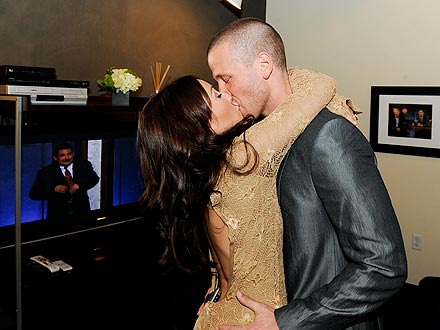 CarrieA




Posts

: 3478


Join date

: 2011-03-22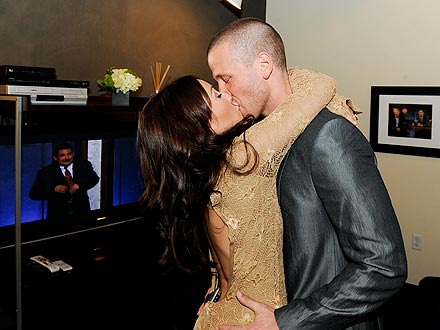 Even though I hoped she would talk more about falling in love like Ali, it was so sweet to focus on Ben. She's such a sweetie and I hope Jash is always as happy as they are now.
ETA: You beat me Carrie! :P
It was also so sweet of her to thank Cassie, AshleyS, and Ali. How cute! I knew she'd become friends with Ali. :D

Alanna




Posts

: 18352


Join date

: 2011-03-23



@Alanna

wrote:

Even though I hoped she would talk more about falling in love like Ali, it was so sweet to focus on Ben. She's such a sweetie and I hope Jash is always as happy as they are now.
I agree, Alanna. I found that very sweet of her. I wish her so much happiness.

bluwavz

Moderator





Posts

: 10703


Join date

: 2011-05-27


Location

: South Carolina



Ha. Right after the proposal, when both my husband and I were remarking that it left us a little cold, I told him that I was positive we didn't see the first take. I was right!! Anyway, I wish them the best in getting out of the spotlight and into real life. She looked exhausted at the AFTR - it really overshadowed the happiness of the moment, at least in this viewer's opinion. They've actually looked better today.

sushifan




Posts

: 268


Join date

: 2011-07-14



The Bachelorette Travel Guide

Take a closer look at the destinations The Bachelorette traveled to this season. Get a sneak peek at the upcoming destinations and read Ashley's blog as she journeys through these exotic locations.

Viti Levu, Nadi
It seems every time I'm ready for a fresh start emotionally, we head to a new destination and I get that much-needed feeling of starting anew. My final destination on this journey was the beautiful island of Viti Levu in Nadi, and I was thrilled to experience another one of Fiji's 322 islands (of which 110 are inhabited). After such an amazing time in Savu Savu I was overwhelmed with the excitement of seeing my family and sharing my journey with them. Despite being surrounded by a group of great guys, I really did get lonely being away from family and friends! And I knew my family would be so excited to experience a once in a lifetime destination like Fiji. I arrived on the private island of Vomo Resort by boat, and as soon as I stepped onto the 225 acres of white sand beaches that edge the entire island, I knew I was in paradise. Warm water, cool ocean breezes; it really does feel like paradise. I loved to go right outside my beachfront villa and climb into the hammock there and just think. I definitely need to invest in a hammock when I get settled back in the States!

It was time for the guys to meet my family and I was so excited that I couldn't contain myself. I was especially happy that it was happening at the spectacular Residence on Vomo Island. This 4-bedroom house gave us ultimate privacy and total luxury, though part of me wanted to meet right there in the pool because it was so hot that day! My poor family was sweating like crazy before they even met the guys. My brother, Eliot, kept toweling himself off like he was at the gym!

When I hugged my mom, step-dad, brother, and sister I felt a sense of home that I really needed, and it allowed me to relax when introducing them to JP and Ben. Thank goodness we were in paradise because my sister had some hard-hitting questions for these guys, especially JP. It definitely wasn't what I was expecting from her, and getting through my family's visit was emotionally intense. But in the end, I'm so glad they traveled all the way from Maine to support me. And I'm glad they got to visit Fiji!

I wanted my final dates here in Fiji to be simple and special so we could just focus on our relationship. For my last date with JP we kayaked to Little Vomo Island and just shared some quiet conversation. There is something about beaches and private islands when it comes to me and JP, and this was another spectacular experience. After some intense conversation on the beach we headed to The Westin Denarau Island Resort and Spa to end the night. This time JP was hosting me and he invited me up to his suite that overlooked the ocean. The suite was so spacious and decorated with natural Fijian elements. It was so nice to be in his living space, and he gave me the sweetest photo of us on the beach. I really enjoyed my last date with him; it was just like it's always been between us--easy and romantic.

For my last date in Fiji, I wanted to have a little bit of fun and get down and dirty so I took Ben to the Sabeto Hot Water Springs by helicopter. As I mentioned last week, you can't beat the view of Fiji's islands from the sky. It is amazing! We indulged in the natural therapeutic hot springs and had a blast rubbing mud all over each other. Fiji has so many hidden gems on its islands and that is definitely one of them. We had a great time being silly with each other, and the reward was that my skin was glowing after I rinsed off in the springs! Hey, it was a great way to have glowing skin for the proposal I was hoping for (wink, wink). After a truly fun time at the springs we went back to The Shearton Denaurau Villas for some alone time in Ben's villa. Ben's room had a beachfront view and felt so romantic and cozy. It was a great setting to top off the night and share some meaningful conversation. He gave me some beautiful Fijian pearls and I felt like a princess. I had told Ben that I really wanted to leave Fiji with some unique Fijian pearls, and it was so sweet of him to remember that.

The most important day of my life was upon me, and I couldn't have asked for a more beautiful proposal location than Vomo Island. Once I got through the hard part of letting one guy go, I looked out onto the water and couldn't believe how beautiful my surroundings were. To be standing in the most beautiful setting I've ever seen made me want to pinch myself to see if I was dreaming. I saw that sea plan circle the island and I knew the moment was near. During his proposal there was a soft breeze, and I was now looking into my new fiancé's eyes thinking about how this moment couldn't be more perfect. We held each other and looked out at the sun setting over little Vomo Island. It was seriously the most brilliant hues of oranges and pinks. It totally took our breath away. We still talk about that sunset and how we can't imagine one more beautiful. That final moment on the beach felt like a perfect reflection of our relationship--effortless and naturally beautiful. Fiji was my dream destination where my dreams actually came true!!!

Love_Me




Posts

: 32396


Join date

: 2011-03-22



Okay. This blog is hilarious. She was so confused on whether or not it was okay to reveal her F1 so she just played it safe. Gosh, she's adorable.

Alanna




Posts

: 18352


Join date

: 2011-03-23



@Alanna

wrote:Okay. This blog is hilarious. She was so confused on whether or not it was okay to reveal her F1 so she just played it safe. Gosh, she's adorable.
She's so used to keeping the secret, she doesn't know what to do!

mnmhughes




Posts

: 8112


Join date

: 2011-03-23



Someone is spell checking her blogs I caught a "me and JP" thrown in there

CarrieA




Posts

: 3478


Join date

: 2011-03-22



I was expecting so much more out of her final blog IMO, I was left a little dissapointed but hey all the post show interviews are SO awesome, I'm already over it.
She is such a sweet girl and I am SO happy she found a great guy like JP and really trusted in what they had.
Ben is going to go so far in life! Based on what Ash is saying, I think he's the next Bach.

Diana




Posts

: 7418


Join date

: 2011-03-23



Page 28 of 29 •

1 ... 15 ... 27, 28, 29

Ashley Hebert's Blogs - Discussion - Spoilers
---
Permissions in this forum:
You
cannot
reply to topics in this forum