Page 2 of 79 •

1, 2, 3 ... 40 ... 79


notarose




Posts

: 8060


Join date

: 2014-02-24



Bach/ette wrote:Is she teaching in LA?
When Nick started DWTS he said in an interview that they were working on the visa process which is known to be lengthy.  Vanessa has no green card or work visa yet (unless something "miraculous" sped up the process) so she can't legally teach in the US or stay beyond the annual visitor visa number of days.

notarose




Posts

: 8060


Join date

: 2014-02-24



@Skates

wrote:http://www.eonline.com/news/857573/nick-viall-returns-to-montreal-to-visit-vanessa-grimaldi-s-family

       "Another source told E! News Grimaldi is planning and organizing a July fundraiser for her charity No Better You. The source added that after she and Viall fly to Los Angeles, she will return to Canada for the event and does not plan on staying in Los Angeles permanently as of now."

       I guess the source has forgotten to mention Nick will be joining Vanessa in her foundation's July fundraiser event...they make it sounds like she is breaking up with him, thus she is not staying in LA permanently...Vanessa has already mentioned she will be living in LA with Nick...if she is looking at staying in Montreal longer than necessary, I don't think she would have planned to leave with him when he is heading back to LA...did Nick or Vanessa say that in one of their interviews??
Not to mention that she can only stay in the US for 6 months of the year due to immigration requirements. One of the first things they talked about was working on sorting out the legalities with regard to that.

Sprite




Posts

: 9747


Join date

: 2011-12-04


Location

: London ON



Hi! Please like to ask if someone can post the fan
photos of Nick & Vanessa in Montreal, also the ones from her Uncle's nightclub? Also wishing Nick a very happy time in Montreal with his girl!

mistygracie74




Posts

: 303


Join date

: 2017-03-28



Vanessa Grimaldi @VanessaGrimaldi
Sunday lunch, here we come!!!
https://mobile.twitter.com/VanessaGrimaldi/status/868847110602575872

notarose




Posts

: 8060


Join date

: 2014-02-24



Nick having Sunday lunch with Vanessa and her family!! To think they were talking about this on the show and now it's happening! Food, family, and love!
Sunday lunch, here we come!!!

— Vanessa Grimaldi (@VanessaGrimaldi) May 28, 2017

AllAboutLove

Moderator





Posts

: 26534


Join date

: 2014-09-26



http://elitedaily.com/dating/how-likely-nick-viall-and-vanessa-grimaldi-get-married/1956679/

      "...matchmaker and dating coach/expert Julia Bekker, found Nick and Vanessa's love to appear pretty "real." Opposites are supposed to attract, after all.

       "I think their differences can bring strength to one another and their relationship," Bekker tells Elite Daily. "Vanessa is vulnerable and cautious, emotionally, and Nick has a way of giving her the validation she needs to feel safe and reassured. Nick has a pretty laid back personality, and Vanessa seems to have a way of motivating him and lighting a spark under his butt."

       In order for them to truly last, it looks like they need to step out of their comfort zones, live their lives out of the spotlight, and grow up a little bit. "

       These seem to hold true in their relationship... they are seemingly alike and yet different...

       The ending notes in the article, I think, are more the writer's opinion as based on what he sees from the outside since he is speculating that the relationship is not that real or they are not that serious with each other if they are staying in the limelight...I don't think a relationship should be gauge on whether they are in the limelight or not, it is more on personalities... people who are grounded or down to earth as long as they stay grounded all through and through will stay together unless their lifestyles or goals/directions in life change...

Skates




Posts

: 420


Join date

: 2017-01-20



Cute poster on Vanessa's aunts ig.... https://www.instagram.com/p/BUkWL1ghvQk/

Billysmom




Posts

: 705


Join date

: 2017-03-03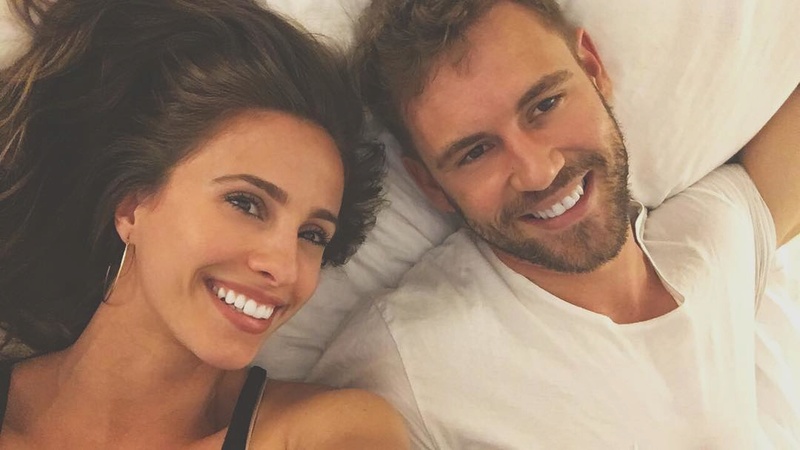 https://www.instagram.com/p/BUmfJgTFuN1/?taken-by=vanessagrimaldi30
But that photo!!!!
Love love love them.
Radiates love. It looks to me like Nick has recently stopped crying with joy or relief. Whatever happens there can be no greater image of their love.
Ideally I want them to just get married/ elope this winter and move to their chosen city next year. Nothing on camera, all private except some official photos.
...on other news, since I was barely on sm for a few weeks I missed James Gunn liking one of my comments on Nick& V. :shocked!:

ukglasgowkiiss




Posts

: 563


Join date

: 2016-08-06



When has Vanessa ever said she wasn't moving to LA? I know the visa thing is an issue but other than that I feel like they've both stated they are moving to LA together. Hmmm

Julie81




Posts

: 674


Join date

: 2016-01-26



@Billysmom

wrote:Cute poster on Vanessa's aunts ig....  https://www.instagram.com/p/BUkWL1ghvQk/
That's so adorable!
I will admit a part of me was scared if Nick's fiance's family would judge him based on the edit of the previous seasons. I now realize I had nothing to worry about. V's family and friends accepted Nick and welcomed him with open arms.  
My heart melts everytime I see this video of V's nephew and niece cheering for Nick on DWTS.  
https://www.instagram.com/p/BTkcSzSB_sx/?taken-by=catmcgregor

coolangel




Posts

: 2473


Join date

: 2016-09-17



Page 2 of 79 •

1, 2, 3 ... 40 ... 79

Bachelor 21 - Nick Viall & Vanessa Grimaldi - FAN Forum - Discussion #24
---
Permissions in this forum:
You
cannot
reply to topics in this forum