Page 10 of 10 •

1, 2, 3, 4, 5, 6, 7, 8, 9, 10
@GuardianAngel

wrote:

She is so beautiful, he's busy working and they are so in love. They looked stunning on the Red Carpet. What was that for?

Also, Giovani Gentile, I cannot find any information on him other than the website in Ukrainian? I translated it but couldn't find information on him. Who is he and did Irakli get his outfits from him?
The red carpet thing was at the Ukrainian Film Festival.
Don`t bother to search for the Giovani guy he is just some random stylist. Irakli is getting his outfits from the wife of his best friend. She is a designer in Georgia. And Irakli helped her out with some of his ideas. She is designing most of the time clothes for women. That dress Alyona is wearing was also designed by her.
That`s her....with Irakli and that`s her husband sitting next to her and you can also see Alyona and Irakli holding hands.
I´m gonna refresh the topic with some new pics.
Goofing around...
Irakli is talking about his new project he is currently filming in Ukraine.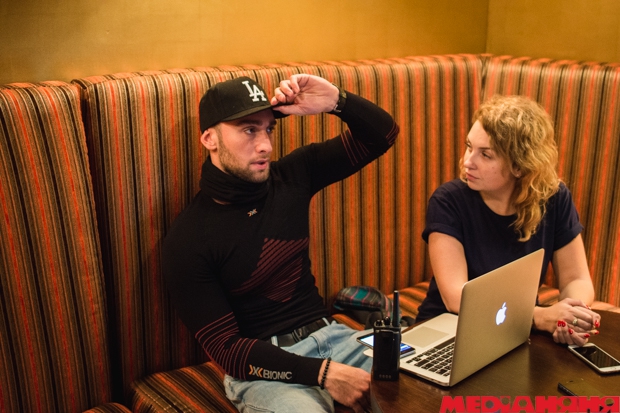 Alyona`s work....on the catwalk of Wedding Fashion UKRAINE
And new photoshoots...
And new artwork by me...
Source:
https://www.facebook.com/Tekunia
https://www.facebook.com/irakli.makatsaria.9
https://vk.com/alyona.lesik
https://www.instagram.com/maqatsa/

natik




Posts

: 656


Join date

: 2015-02-26



Stunning, she is just stunning. He's so sweet, holding her hand at the table! Thanks for the designer info, it didn't make sense to me.
They always looks so good in whatever they are wearing, red carpet, or just casual! Thanks
@natik
!
___________________________________________________________________________________________________
"Have a nice life"
.
Gord Downie #TheHip
Follow @BachSpoilersFan
All Rules
Posts without source will be deleted.
NO SPOILERS in any threads other than those titled Spoilers.  
Page 10 of 10 •

1, 2, 3, 4, 5, 6, 7, 8, 9, 10
Irakli Makatsaria - Alyona Lesyk - Bachelor Ukraine - Season 6 - Fan Forum
---
Permissions in this forum:
You
cannot
reply to topics in this forum