Page 58 of 78 •

1 ... 30 ... 57, 58, 59 ... 68 ... 78

We shall see and if so, I'm on board with that

Stone_Hedge




Posts

: 1464


Join date

: 2018-01-22



Sure, Fleiss. Nothing screams romance like having a guy in your F4 who was getting it on with one of your best friends about a month and a half ago. IMO, of course.

For real though, while none of the guys blow me away yet in the looks department, I hope she's having a great time.

Ash2214




Posts

: 6380


Join date

: 2014-04-28



Yawn...do we have such emoji?
Looks are subjective, IMO. Peter looks good in some pictures, but I hate his eyebrow game. Jordon, I still don't find him attractive. Even prince Chris whom I greatly admire, does nothing for me look wise. I thought Kiptyn, Drew were good looking, so what do I know?

sdmom




Posts

: 5820


Join date

: 2012-07-23



The locations have screamed romance this season.
My doctor asked me: "Does anyone in your family suffer from mental illness?" My answer:"No they all enjoy it immensely."" Let's all take a moment and put our petty Team This and Team That aside and remember when all is said and done we should be Team BBF first.   
 
Life really is too short. This is a show. " - Kasha 
RIP my little one. I will miss you. 

Kashathediva

Moderator





Posts

: 31869


Join date

: 2011-03-23



Fleiss tweeted similar things about Emily's season. So yeah...
But maybe back then he was just secretly tweeting about his love affair with Bojangles chicken

Al




Posts

: 514


Join date

: 2011-07-09



source
I'm thinking this is Colton since he got the first date according to RS. Maybe this is one of those shorter dates that happen when they first arrive.
The guys I find the most attractive hardly ever make the f3 or 4. I believe attraction is as much about personality as looks so that's why I'm waiting to see the show. I just hope that Becca found someone who has what she's looking for.
I'm pretty sure that there has been at least one season where 2 HTDs were in CA. I don't see why there would be a rule against it in any case. That would unneccessarily limit who the lead could pick. JMO


"Love is the Only Reality" -Ed Lambton

albean99

Moderator





Posts

: 12835


Join date

: 2011-06-01


Location

: Plano, Tx



I agree that it looks like Colton. But, I also think she is holding a phone in her left hand...and seems to be talking to someone as the guy is looking. Conclusion: producer???

Astrobach




Posts

: 29


Join date

: 2018-04-14



Checking in with her family aboutHTD!

Astrobach




Posts

: 29


Join date

: 2018-04-14



Colton's a lot more buff than that guy in the pic. I don't think that's him Imo.

Al




Posts

: 514


Join date

: 2011-07-09



If you look at the pic of all 6 guys, 3 of them are dressed in black t-shirts and light colored shorts. I don't know but guess we'll have to wait for the show unless other pics show up.


"Love is the Only Reality" -Ed Lambton

albean99

Moderator





Posts

: 12835


Join date

: 2011-06-01


Location

: Plano, Tx



JMO that is the same out Becca was wearing on the 12th during her intro. Colton's one on one wasn't until Friday the 13th so it wasn't him. (JMO)

Diana




Posts

: 7410


Join date

: 2011-03-23



@albean99

wrote:

source

I'm thinking this is Colton since he got the first date according to RS. Maybe this is one of those shorter dates that happen when they first arrive.

The guys I find the most attractive hardly ever make the f3 or 4. I believe attraction is as much about personality as looks so that's why I'm waiting to see the show. I just hope that Becca found someone who has what she's looking for.

I'm pretty sure that there has been at least one season where 2 HTDs were in CA. I don't see why there would be a rule against it in any case. That would unneccessarily limit who the lead could pick. JMO
This picture was taken and posted on April 12 on Facebook. RS said that Colton's date was on the 13th so this isn't him. imo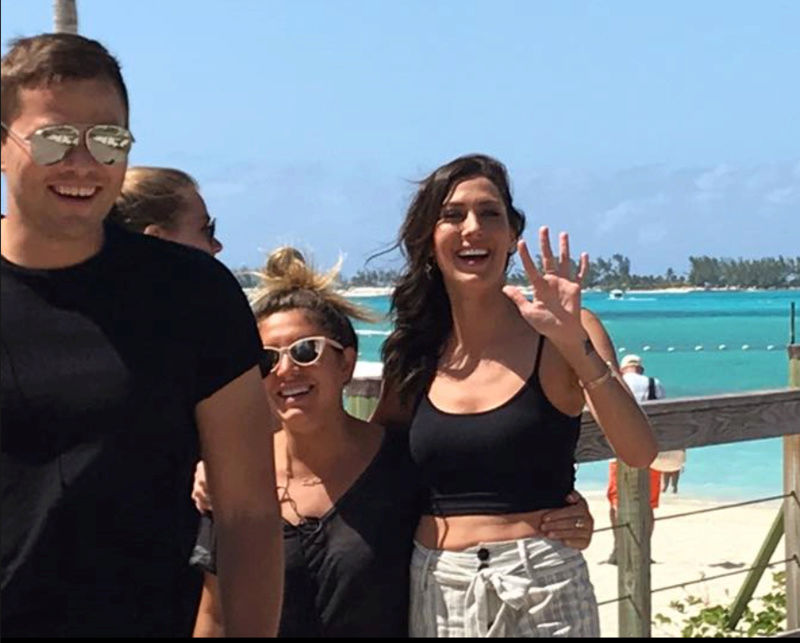 https://www.facebook.com/photo.php?fbid=10213871059363682&set=pcb.10213871060243704&type=3&theater

richmondrose




Posts

: 2518


Join date

: 2011-05-28



Page 58 of 78 •

1 ... 30 ... 57, 58, 59 ... 68 ... 78

Bachelorette 14 - Becca Kufrin - Media SM - Discussion - *Sleuthing Spoilers* #3
---
Permissions in this forum:
You
cannot
reply to topics in this forum