Current date/time is Sat May 30, 2020 11:31 am
Search found 8 matches for 22
@TheLurker

wrote:Love ya,

@Maddy

Before I get back to posting about their bachelor and bachelorette parties, here's another article that describes the weekend.

There are a few more hints about the wedding too:

E! wrote:Both Luyendyk and Burnham dished the details to E! News about their special Las Vegas weekend. "To kickoff the weekend, I gave all my groomsmen their wardrobe for the wedding!" the former Bachelor star said.

According to Luyendyk, "Kenneth Cole monogrammed all their initials into these awesome black travel bags. It was kinda their kit for the upcoming wedding—the suit, shoes, cufflinks, dress shirt, and bowtie." He called it a "really cool surprise for everyone."

Not sure what the full groomsmen list is, but I would guess at least his twin brothers Alec and Luca, and John Wolfner.

I'm still betting that Sean is the officiant.
It's a fairly safe bet that Arie & Lauren don't want Chris Harrison to officiate, even though he's begged/demanded an invite on SM.
It would be fun for Bachelor
#17
to officiate the wedding of Bachelor
#22
after they first became friends on the Bachelorette
#8
's season.
by FLChica

on Tue Nov 27, 2018 12:53 pm
Replies: 341
Views: 17575
I agree with all of above. Mostly. But you guys. It's been like 4 weeks since the finale (if that), and these peeps have only really been a couple since like January 10th or something ridiculous. I have edible stuff in my refrigerator older than their relationship, for goodness sake.
 They also have yet to get to the real world: Arizona and blending a life, uprooting another... that's where $hit gets real. For now, they are still globe trotting, avoiding the paps (
), and are basically in dream land. Add in the historically awful track record for our Bachelors (I mean, come on. We are talking a 4% rate here, 8% if you count Jason), plus the 6 year sketchy history we know of our esteemed Bachelor
#22
... and I have yet to call these two a match made in heaven. Sure, maybe. Like it could happen. But they've got a long way to go before I put them in the same category with T/R, J/M, A/J, S/C, D/C, or even K/S, or J/J. Even the couple before them... R/B are still in prove it mode, as are the two long term unmarrieds to me, somewhat. So... let's slow our roll and see how they handle the next real life chapter before we declare them perfect for each other.
 IMO 
I could see them getting married. I could see a huge meltdown also. Really, infant stages here and time will tell. 
JMO.
by sosleepy

on Mon Mar 26, 2018 3:08 pm
Replies: 952
Views: 49156
by Linds911

on Wed Oct 18, 2017 9:47 pm
Replies: 14
Views: 3942
Ahhhh.... 4 times and counting! I don't think we can rule him out for
#22
just yet, and Winter Games has his name all over it.
Can't let a rendition of this franchise slip by without the Nickster putting his mark on it.
As for Dancing, it's been a while since they had an all star rendition. Maybe he can squeak on there too. You gotta have goals in life, people.
by sosleepy

on Fri Aug 25, 2017 11:57 pm
Replies: 644
Views: 45631
Really nagging feeling that won't go away that he is
#22
.
Also, Ben, I was a big fan. Spare me. You aren't hurting my feelings when you talk about anything.
How silly.
by sosleepy

on Thu Jul 20, 2017 11:29 pm
Replies: 950
Views: 58369
Yep IA that's our girl
#22
, great find
ETA - in the Diimex swimming suit photoshoot, I am now convinced our unicorn princess was the one in the red swimming suit. She was standing beside girl in red
#4
in your picture profile
@Bobette
. Since they were sitting at the same area during the M&G as seen in Elora's intro vid; I won't be surprised if they were room mates along side Lisa and our
#22
girl....jmo.
by mercieme

on Tue Jul 18, 2017 12:49 pm
Replies: 318
Views: 13930
@Bobette
, well done girl
Thanks to you and everyone for identifying the girls.
So I think your
#22
is the 3rd lady in black. I counted 3 girls dressed in black as Leah, Tara and the girl sitting in between Lisa and the girl I believe to be Elise.
The 3rd girl in black IMO is wearing a strapless black dress which is a low sweetheart cut versus the plunging cut for Tara and definitely different from Leah's dress which has a gold zipper around the cleavage. I can only see her side view at the 0:13 mark on Elora's intro vid, seen below here IMO.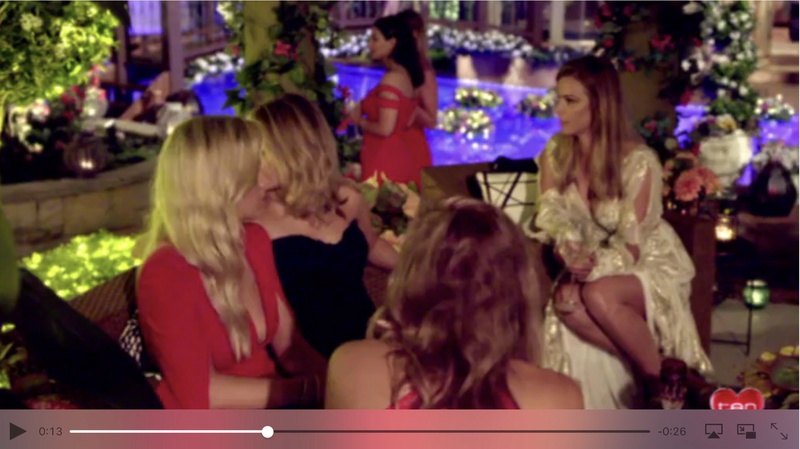 Source
by mercieme

on Tue Jul 18, 2017 8:41 am
Replies: 318
Views: 13930
@Bobette

wrote:Updated headshots with number 20 replaced:

Source: Screencaps from TenPlay preview

BTW I'm assuming the girl in the very middle of the SC above (blonde, head down, hardly visible) is the same girl as number 19. Would everyone agree? If so we are still down 2 girls - Elise and one other.  
I think all the girls shown are different girls. So only two girls missing.
Girl
#21
. The blonde-ish girl in strapless red dress with a middle part in her hair is missing in the collage pic. She's shown in promo and in your post above
@Bobette
(and whom I think is Florence as posted in her thread).
Girl
#22
. If girl
#13
is the cartwheeler then the only girl missing is Elise. Things that make me go hmmmm....
ETA: SC of blondish middle part in hair, strapless red-dress girl (possibly Florence)
@Bobette

wrote:

Source: TenPlay preview
by AllAboutLove

on Tue Jul 18, 2017 5:56 am
Replies: 318
Views: 13930