Current date/time is Thu Jul 09, 2020 4:00 am
Search found 16 matches for realitytv
Latest Leah Update:  It appears we have all been punked.
Source
leahpcosta In an era of fake news and 'unreal' tv, we are all constantly left questioning what to believe.

Editing and manipulation are often highlighted when we are discussion the media. But what about the power of suggestion? This is the most important because without actually saying anything, you can position individuals to create and accept their own version of the truth. We have seen this done in countless political campaigns, wars, media and now reality tv.

Now let's focus in a little more on bachelor in paradise. Can I have a show of hands how many people truly believed they would see a same sex relationship form between @eloratahiti and @megan.leto.marx ? Without ever having said it was, by carefully suggesting that the dark haired figure of @thomasmichaelperras in the water kissing Megan could be in fact Elora, you all created and accepted your own version of the truth, without the producers ever having actually lied.

Over the past few weeks I've been positioning you all to buy a particular truth, to try and raise the issue and get you talking about how often this occurs and just how much emphasis everyone puts on their version of the truth.

You may have all seen a sparkly ring appear on my finger. Without having ever said I am engaged and without having ever confirmed or denied it, without even used the term myself and even despite clearly stating last night on the project "your putting words in my mouth" I have managed to show you all the power of suggestion. For you to then go and create your own version of the truth based upon the little information suggested.

I ask you all to understand the power of television and the integrity of the media. Educate yourselves about the things you are watching and the power of suggestion, but most of all take it with a grain of salt.

Happy Watching

#media #education #powerofsuggestion #realitytv #politics #unreal #fakenews #truth #lies #manipulation #noimnotengaged
I'm a bit miffed TBH.  Don't get pissy just because people warmed to you and wanted to see you happy, girl.  
I hope you enjoy the view from up there on your high horse.  
ETA:  I guess she's probably just still dating David "I'm an international model" Witko then?
Good luck with that.
by Bobette

on Tue Apr 24, 2018 4:39 am
Replies: 600
Views: 21433
According to this, filming ends tomorrow.  And with cast/crew of 220, I'm sure it's been great for the economy of the area!!
Credit: @
Philip Jr.
vtexec TV shoots can't be ALL work! The cast and crew leave tomorrow, all 220 of them (yeah, this was a megashoot). Such fun people. Thank you and looking forward to seeing the final show air in February. Proved that any production is possible here in Vermont.
#tv
#networktv
#Hollywood
#crew
#setlife
#team
#realitytv
#Vermont
#production
#filming
#friends
#bar
#late-night
Source
by ishkabaha

on Fri Dec 15, 2017 8:44 pm
Search in: BWG - Episodes
Replies: 945
Views: 42965
I've found another Instagram account that has several bts photos of the set up from the past week, might be a good one to keep an eye on for future posts.  Here's one from today, I think Chris Harrison is in.  
Credit: @
Philip Jr.
vtexec Celebrity on set! Oh, and there's a moose here too.
#setlife
#moose
#tvlife
#realitytv
#stars
#vermont
#tv
Source
by ishkabaha

on Mon Dec 04, 2017 10:57 pm
Search in: BWG - Episodes
Replies: 945
Views: 42965
cgriep
Shooting in northern Finland (Lapland) for "The Bachelor". Last November. It was 2 weeks of saunas, northern lights and very, very short days. I think the sun rose after 10:30am and set right around 2:30pm. . . .
#thebachelor
#lapland
#laplandfinland
#finland
by Maddy

on Tue Feb 28, 2017 1:54 am
Search in: Bachelor 21 - Nick Viall - Episodes
Replies: 567
Views: 30425
@dee
 how you are Canadian. So many great folks, I know from Canada! Yes, I am an American but not an American Idiot one
 So many crazy things happening here in my country! Thanks, I will! Sending you good vibes to do very well on exams and ace them. Stay warm in the winter Dee Dee!Oh, where in Hawaii would you head 2?
@GuardianAngel
the important thing you tried and took pics looks like u had fun exp doing ur thing on the lift bridge GA! No matter the takes! It's better to practice for in the future when u need to take a great pic u will more exp with selfie pic!
you are Canadian like Dee and WR! Nice vid! Keep perfecting ur next bridge pics! U have til Jan to get the Festival Lights right? Have a lovely night GR!
@TheWrongReasons
Thank You! Get the deals for for Black Friday girl.What r u looking to buy? I love more Cyber Monday deals  for teach deals.Have a great night WR!
Have a lovely night all! You all are amazing peeps!
Caila and her parents do dubsmash tog!All are so precious!
by SunnyRachel

on Tue Nov 22, 2016 9:33 pm
Replies: 702
Views: 38612
@Baseball Mom

wrote:All I can say is, WOW.....way to go, Ladies!

@siena

and

@Joy15

your work is very much appreciated.

A few observations...in that adorable twirling scene, Mike did get the F1 music, although this doesn't seem to be a solid clue anymore since the last few years its been used a little too liberally, just thought  I'd put it out there ...

My favorite is that last GIF of Jasmine kissing Mike while they were dancing, it almost makes me feel like I'm intruding into their world and  just the look on Jasmine's face  

But what makes this date really stand out to me are the things they said, both to each other and ITMs not VOs  that have been reinforced in Jasmine's post show interviews. As

@siena

has stated a few times the narrative is pretty clear

Btw, have you guys seen Mike's latest IG story?  This guy's sense of humor is something else

Of course, all this is JMHO
@Baseball Mom
hey.my pleasure..
 . Great catch on the twirling scene  
..can you recall when it was heard on past seasons?  . When i was researching Brad season, i think i caught that the riff over Jasmike's FIR scene and their SD was the one used in B/B 2nd date..so...
i just have a hunch that Jasmike would proof that they are 'different' than the former 2 Bach CA couples..in lasting department. At least i hope!  
to back up my 'hunch'..here is Erich 's IG the photographer over the presumed ATFR (which i believe took place on Thursday)
2 days
erichsaidevFeel so honored to have worked with an AMAZING CREW on @bacheloretteca this season! Finished shooting last episodes yesterday with Bachelorette: @jasmine.lorimer Host: @noahcappe @erichsaide Assistant: @prudencegogh HMU: @jesshaisinger Stylist: @janinemetcalfe Wicked Production Company @goodhumanprods just nailed it this season!! @clairefrlnd @miewah
#bachelorette
#dreamteam
#vancouverphotographer
#vancouver
#roses
#bacheloretteca
#toronto
#canada
#madeincanada
#tvshows
#reality
#realitytv
https://www.instagram.com/p/BMHlJVThMSE/?taken-by=erichsaide
Note his comment
Production Company @goodhumanprods just nailed it this season!! @clairefrlnd @miewah
>THIS just give me high hope over Jasmike!  
by Joy15

on Sun Oct 30, 2016 10:37 pm
Search in: Bachelorette Canada - Season 1 - Contestants
Replies: 154
Views: 9999
by bluwavz

on Fri Oct 21, 2016 1:02 pm
Replies: 166
Views: 10559
And on the 8th day, God said Let There Be Chad! LOL Just a lil Dancing and few Dolla Dolla Billz
. . . . Video made by @jaubreyphotography
#TheChadelor
#JimmyKimmel
#JimmyKimmelShow
#JimmyKimmelABC
#dwts
#RealityTV
#RealityShow
#RealityShows
#TheBachelor
#TheBachelorette
#BachelorNation
#Fitness
#MakeItRain
#DollaDillaBillzYall
by @
realchadjohnson
by bluwavz

on Mon Jun 20, 2016 7:47 pm
Search in: The Bachelorette - Season 12 - Contestants
Replies: 685
Views: 32459
Another Instagram post with Sasha getting fitted for a suit for today's Melbourne Cup - his first attendance of the most important horse race in Australia. A race which brings the country to a virtual stop.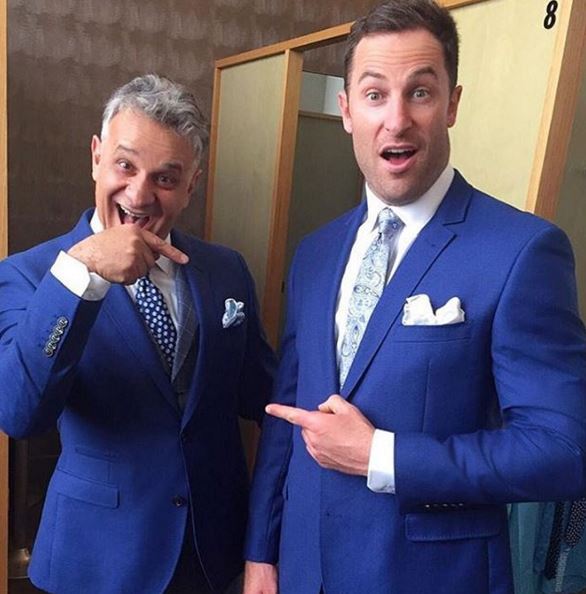 @sashandsam
#bts
look at our main man @sash1313 getting suited up for today's Race!
by AmandaVictor

on Mon Nov 02, 2015 8:29 pm
Replies: 464
Views: 20820
@Ladybug82

wrote:I'm pretty neutral on Nick, or have been.  But I think if you give or even consider giving TPTB and MF control of your life 3 times to go on this silly show, you deserve pretty much whatever they do to you.  You know they aren't your friends and they'll manipulate you and any other cast they can, situations, and the edit to make you look any way they want to.  I personally would be running away from any one and thing associated with this show as fast as I could but, then again, I'd never go on it to begin with.  Sometimes I wonder what any of them that go on the show were thinking when they decided to go, fan favorite or not.  
Agree. Watch what you wish for when playing with the devil.
#mikefleiss
Oh well, it is his life and his choice. Wonder what his family thinks.
#slipperyslope
#realityTV
Still think TPTB will choose someone new from this season. ;)
by soccermom333

on Thu Jul 02, 2015 3:38 pm
Search in: Bachelorette 11 - Nick Viall - Threads
Replies: 938
Views: 35086
It is pretty great HGL and glowworm to follow this story from the beginning until now and sleuth along with you both and others and be supportive of them as a couple.  
Super happy for both of them.  
This has hands down been my favorite show of any bachelor franchise. It really gelled with me and was so much more realistic than any of the other shows I have watched. Just so sweet and special. There was no drama really and people saying even the ATFR was boring shows that it really was not much drama. Everyone just getting along and Matilda and Art just falling in love from the moment they met each other night one.
Definitely also my favorite couple thus far from any of the franchises.  
And what I mean is not only did I really like them from the very start as
individuals
I also love them together as a
couple
as well. That hasn't happened for me before on
any
bachelor show (did happen for Ready For Love with T&J). Usually I like one of the girls or the lead but not the couple or it takes me a while to like the lead or the F1 or I like the lead because of the F1 or vice versa. With Bach Aussie I liked Sam from the start and only liked Blake because of Sam. And even though I really loved Tim and April together, it took me a while to warm up to April and while I really liked Tim because he was so romantic on the show towards April, I personally didn't find him attractive as an individual (not my type) and his intensity, while so wonderful with April on the show was too much for me personally even though I loved the show itself.
Art and Matilda are such a unique couple and vastly different, imo, from the other couples seen on this show. I think it is because of their dorkiness/humor that it made the show and them as a couple so endearing. They reminded me so much of Tim and Jenna from Ready For Love (another fav of mine, individually and together as a couple) and I think are more like Tim and Jenna than the other Bachelor couples from any of the franchises. Just down to earth and quirky and original. They are their own people. I am very impressed with Art and Matilda and while they are both young for this franchise with Art being 27 this month and Matilda 24, they seem to have their head on their shoulders and a mature approach to life that balances so well with their fun, dorky, humorous side. Love both of them individually and especially together and hope it lasts since they seem like a really good match. They just have whatever *it* is that couples have.
Funny how soooo many people including myself thought she was F1 just by her bio photo. It was that obvious to people. Something about her face just shouted "I am F1" :cutesmile!:  
It certainly bodes well for both of them that she is a public favorite and that hundreds of thousands of viewers had pegged her as the winner like Mike the host said. It is great that they have a majority of support and it was nice to hear Art say that he liked that. No wonder he followed pro-Matilda accounts on Twitter from when the show aired, including The Spinoff who are HUGE fans of Matilda and fav'd tweets about Matilda and him. Also recall how he said how great it was that people were calling him and Matilda
#Marthur
after the first show aired. So sweet!
@nzgirlhq We've loved Matilda since day 1! Was Art happy that Matilda was a public favourite and that everyone liked her!?

#TheBachelorNZ #love #TheBachelor #nz #couple #art #matilda #teammatilda #rose #realitytv

11h

Video response where Art says that Matilda being favorite made him think "Thank God!" he made the right decision and that it was cool that the majority wanted him to pick her.

So sweet! hahahaha!!!

Video link:

https://scontent.cdninstagram.com/hphotos-xfa1/t50.2886-16/11214974_1637863803125798_696087442_n.mp4
by AllAboutLove

on Wed May 13, 2015 3:04 pm
Replies: 922
Views: 32230
Page 1 of 2 • 1, 2