Current date/time is Sun Aug 09, 2020 11:46 am
Search found 3 matches for relationships
Gotta say I didn't think Kiptyn and his baby mama were still together
. She talks a bit about their relationship, you know, in case we didn't already assume it was an oops pregnancy..
Happy family, happy life! We are that indeed but we weren't always. @kiptyn and I found ourselves in a surprise pregnancy early on in our relationship. Let me be more clear, we barely knew each other. But we committed to making it work and creating a beautiful family unit, not only for our son, but because that is what both of us want for ourselves and each other. The ride from finding out we were pregnant to where we are now was exciting but terrifying for both of us. We were so excited to have a baby but unsure how to go about it! Fear dictated most of the moves in our relationship, because neither one of us knew how exactly to handle this and showed up the best we could. Miscommunication and holding in the way we felt lead to speed bumps on our journey. (Aka - poop was intense and hard) Once we were able to be open, honest and vulnerable with one another we experienced huge shifts. We got really clear on what we wanted, why we wanted it and then began to cultivate what we desired! We now have a wonderful life! And We wouldn't want it and can't imagine it any other way. We continue to have hiccups because we are human but we can work through them with much more ease. We now continue to grow together, to ensure that we show up the best for each other and our son. Life is pretty amazing! A situation that could have ended up a completely different way has transformed our reality into something beautiful because we decided that's what we wanted and were committed to doing anything to make it happen! -
#family
#growth
#relationships
#liferocks
#createwhatyouwant
by @
samm_i_is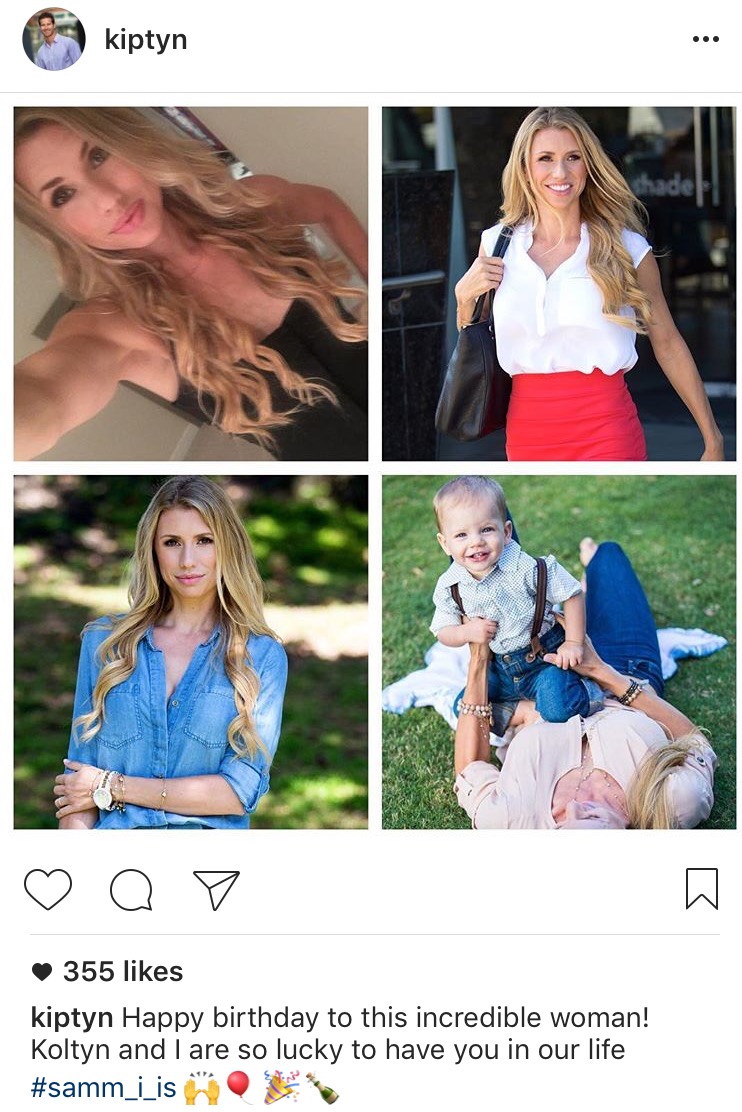 by bleuberry

on Mon Jan 30, 2017 4:20 pm
Replies: 941
Views: 61135
New Blog Post! Gift Sets for All - A Molton Brown Story
**** Lapp pine bark with crisp juniper berries and oakmoss
Love reading the descriptions on the back of each scent... Molton Brown's limited edition Fabled Juniper Berries & Lapp Pine Collection even has bells around each bottle
the cutest thing... feel like I'm walking through the arctic forests of Laponia in Sweden that inspired this holiday fragrance
Wrapped a few gifts in @MoltonBrownUSA Soho store.. and picked up a few things for my own home - Read more about all of their opulent gift sets on the blog
link in bio
#AFestiveFable
#moltonbrownpartner
by @
cailaquinn
#ootd
http://liketk.it/2pSpR
#liketkit
: @nicolebalsamophoto by @
cailaquinn
MUSE PAINTBAR GIVEAWAY
For those of you who need last minute gift ideas
I just picked up a few @Muse_Paintbar certificates for my family & friends for this Christmas. It's perfect, because they have locations all over the East coast! *** In the holiday spirit of togetherness - I wanted to thank you all for an amazing year, so I'm gifting two lucky winners certificates for 2
. Tag a friend you would like to go to Muse with - no limit to the number of entries, just tag each friend's name in a new comment to increase your chances! Winner will be announced Friday at 10am on Instagram Live.
#withlovecaila
by @
cailaquinn
When it's your friends birthday (@cailaquinn )and your other friend (@teejsterific ) surprises you coming from Chicago and you have no clue!!!  
by @
andrewbudsock
Lieblings Leute!! Happy 25th @cailaquinn !!!
by @
andrewbudsock
LOVES
by @
andrewbudsock
Had a pretty great view of the bday girl. So did the clementines...
#happybirthday
#latergram
#welcometo25
#loveyou
by @
ashleyparklady
Yesterday was fun y'all! @broadway_style sure knows how to throw a soirée!
#BSG
#myrtr
#loves
#oscardelarenta
(
: everyone's fave @abbydephilips) by @
ashleyparklady
12*12*16
grateful for jane's long arm.
#blacktie
#redlip
by @
ashleyparklady
Barber Shop bop bop
@broadway_style beautiful night with @ashleyparklady & @cailaquinn
#broadway
#bway
#fitforbroadway
#nightout
#slateandwillow
#myrtr
by @
fitforbroadway
These gals
@bystyles @ashleyparklady @cailaquinn Thank you @broadway_style & @toddsnyderny for a beautiful night!!
#fitforbroadway
#bway
#broadway
#broadwaystyleguide
#MYRTR
by @
fitforbroadway
Empower, Unleash & Respect One Another
. Strong woman stand for, and lift, each other up. By speaking up for what they believe in [LOVE] and for one another
#sisterhood
* * * I believe woman are bold, beautiful, unique and unstoppable. Especially when they come together and celebrate our similarities, differences and super powers. I also believe in LOVE, and sending out a giant acknowledgement to my girl's @cailaquinn courage for standing up for all the
#bachelorette
in the world. Taking the lead, and encouraging us all to never give up in finding true love. * * * Speaking up and celebrating all woman's beauty, in all her unique stories, shapes and sizes. Be bold, be beautiful and be you ladies. * * *
#strong
#woman
#empower
#respect
#unleashed
#integrity
#share
#stories
#speak
#truth
#love
#honesty
#sisters
#mother
#family
#connected
#female
#energy
#bollyx
#ryu
#heart
#passion
#health
#fitness
#loveu
#relationships
#bachelorette
#lift
#up
by @
dias_dancefit
Happy Friday!! Don't forget to grab a friend and get that last workout in of the week! . . .
#happyfriday
#workoutbuddy
#bollyx
#friends
#dance
#dancefitness
#cardio
#cardioworkout
#getoutside
#fitfam
#fitgirl
#sfs
#bayarea
#sanjose
#bxnamisha
#bollywood
#buddy
#weekend
#stayfit
by @
bollyx_sf
Thank you again to New York City Blogger, Andrea Pion @asliceopi A Slice o' Pi, for posting this adorable picture of her wearing her Sarah Alexandra Signature Shirt in Perfect Prepster whilst ice skating at The Standard Hotel in New York City with her darling friend and NYC influencer Caila Quinn @cailaquinn!!
#asliceopi
#cailaquinn
#friendship
#blogger
#contentcreator
#influencer
#NYC
#TheStandardHotel
#Standardhighline
#sarahalexandrashirts
#MySAShirtTravels
#lifestyle
#lifestyleblogger
#streetstyle
by @
sarahalexandrashirts
Winter on Maui is a beautiful thing. You know what else is beautiful? Reversible swimsuits by @maajiswimwear
and awesome SUP boards by @jimmylewisboards Model: @cailaquinn by @
dabelynn
Coffee and crepes for days at @bellesurfcafe
#instadaily
#bellesurfcontest
#waileaphotographer
#coffee
#muglife
#happy
#maui
#shoplocal
#cafe
#dametraveler
#kihei
by @
dabelynn
Now I'm convinced brunettes have more fun...
#bsgxtoddsnyder
#bsgholidaygala
#wcw
by @
bystyles
Throwback when I was complaining how hot it was on this day. And now I'm complaining Bc it's 0 in Chicago. Oh and I miss @cailaquinn way to much.
by @
amberj22chi
FWIW, her hair really is that perfect in person
#thebachelor
#bachelornation
#rockafellercenter
#nyc
by @
wolffem90
Weekend celebrations for my fellow halfie's bday
@cailaquinn wishing you a year of happiness, success and love!
#haroldsnyc
by @
brittany.lo
by bluwavz

on Thu Dec 15, 2016 8:24 pm
Replies: 737
Views: 39465
joncotayevents Excited to do some

#collaboration #collaborationwork

with

#chicago #native

@nickviall

#nickviall #thebachelor

on insights on

#dating #relationships #fashion #staytuned

in the next upcoming months 5min
http://websta.me/p/1087048436668616751_282204531
by bluwavz

on Fri Oct 02, 2015 2:24 pm
Replies: 946
Views: 41486