SELECT CONTENT
Page 13 of 13 •
1, 2, 3 ... 11, 12, 13
@Sprite
omg that's horrible you got caught right in it. Some people got weather alerts but literally no time to do anything that's how fast it came.
@Norcalgal
there have been sporadic tornados in Ontario but not very common. It seems the last 10 years ago it's seems more often. Even in my little city of 19000 people a couple of years ago we had a tornado. No where near the damage this last one caused. It's a result of the Michigan tornado. I saw the weather pattern and it came straight across right to Ottawa.
Nearly half of Canada's population hit by derecho, why it was harmful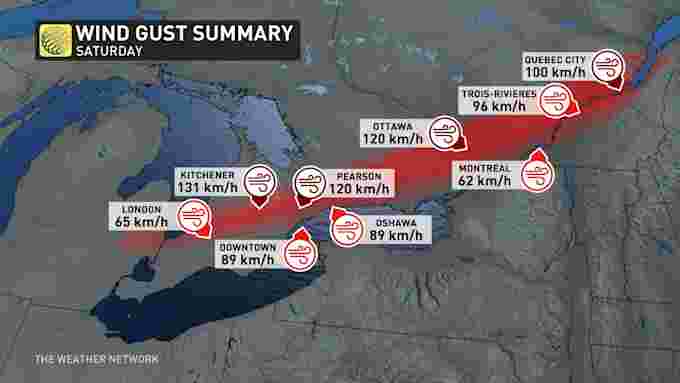 https://www.theweathernetwork.com/ca/news/article/nearly-half-of-canadas-population-hit-by-derecho-why-it-was-harmful
________________________________________________________________________________________________
Follow @BachSpoilersFan
All Rules
Posts without source will be deleted.
NO SPOILERS in any threads other than those titled Spoilers.  
"You cannot do kindness too soon, for you never know how soon it will be too late." —Ralph Waldo Emerson
@GuardianAngel
@Norcalgal
Yup, it used to be about 12 a year in Ontario, but for the last few years we have seen a large increase to over 40.
We knew that a storm was coming...rain, hail, thunder, lightning. They said it would be a big storm, but not like this. I had checked the weather network and they were predicting the rain would start about 2 pm so I thought I had time. I was driving with the radio on and no warnings came on. Only on my way back did they issue a warning, but by that time they were issuing that it was heading for Brampton, Hamilton, Halton and Toronto. I called my parents since Oakville is in the Halton area, telling them to stay home. A little late for me and my area. It must have picked up super quick, because there was barely a cloud in the sky when I left. Next time I will stay home!
You could be the juiciest, most ripe peach, but there is still going to be someone who doesn't like peaches.

Sprite

Moderator





Posts

: 16634


Join date

: 2011-12-04


Location

: London ON



@GuardianAngel
@Sprite
Thank you for explaining all that. Climate change is real when you face those threats - just like us with wildfires.


Been watching this crap show like forever

Norcalgal

Moderator





Posts

: 4718


Join date

: 2011-06-04


Location

: Northern California



Page 13 of 13 •
1, 2, 3 ... 11, 12, 13
Weather - Discussion
---
+10
HavaDrPepper
Newto
Sprite
Norcalgal
smartcat
albean99
Astrobach
Kashathediva
Linds911
GuardianAngel
14 posters
Permissions in this forum:
You
cannot
reply to topics in this forum